In the ever-evolving world of technology, Apple has always been at the forefront of innovation. From groundbreaking devices to cutting-edge displays, the company has consistently pushed boundaries to deliver exceptional user experiences. Among Apple's remarkable creations is the Apple AudioVision 14-inch Display, a product that revolutionized the market during its brief but impactful existence from 1993 to 1995.
The AudioVision 14-inch Display was a game-changer in its era, offering users a high-quality viewing experience that was unparalleled at the time. Boasting a 14-inch color RGB monitor, this display delivered crisp images with resolutions of up to 640 x 480 pixels and supported an impressive range of 16.7 million colors. The result was a vibrant and immersive visual experience for users.
What set the AudioVision 14-inch Display apart from its contemporaries was its exceptional audio capabilities. Equipped with two stereo speakers, accompanied by an active equalizer, the display produced rich and full-bodied sound. Apple strategically positioned these speakers for "near-field use," ensuring that users could enjoy an optimal audio experience while sitting at their computers.
Moreover, the Apple AudioVision 14-inch Display featured a built-in unidirectional microphone, enabling voice annotation within programs like Microsoft Word. This innovative addition was a testament to Apple's commitment to enhancing user productivity and convenience.
In terms of connectivity, Apple introduced the groundbreaking HDI-45 connection with this display. This unique connector allowed seamless transfer of video, audio, and Apple Desktop Bus (ADB) signals through a single cable, simplifying the setup process for users. The plug-and-play support made it effortless to connect the display to Macintosh Performa, Power Macintosh, and Workgroup Server computers, catering to the needs of professionals and enthusiasts alike.
While the AudioVision 14-inch Display is now 30 years old, its influence on the world of technology remains significant. Apple's commitment to innovation was evident in the design and features of this display, setting a new standard for future generations of displays. Its introduction paved the way for advancements in audio-visual experiences, leaving a lasting impact on the industry.
The AudioVision 14-inch Display's technology and design were not only ahead of its time but also served as inspiration for subsequent developments. Apple's unwavering dedication to creating cutting-edge products has shaped the tech landscape we know today, and the AudioVision 14-inch Display played a crucial role in this journey.
The Apple AudioVision 14-inch Display was a groundbreaking product that showcased Apple's pioneering spirit and commitment to delivering exceptional user experiences. With its impressive features, including high-quality visuals, immersive audio, and integrated connectivity, the display was a true game-changer for its time.
Although it has been discontinued for nearly 28 years, the legacy of the AudioVision 14-inch Display lives on, serving as a reminder of Apple's innovative technology in the 1990s. Its impact on the industry and subsequent advancements in audio-visual experiences are testaments to Apple's enduring influence and commitment to pushing the boundaries of technology.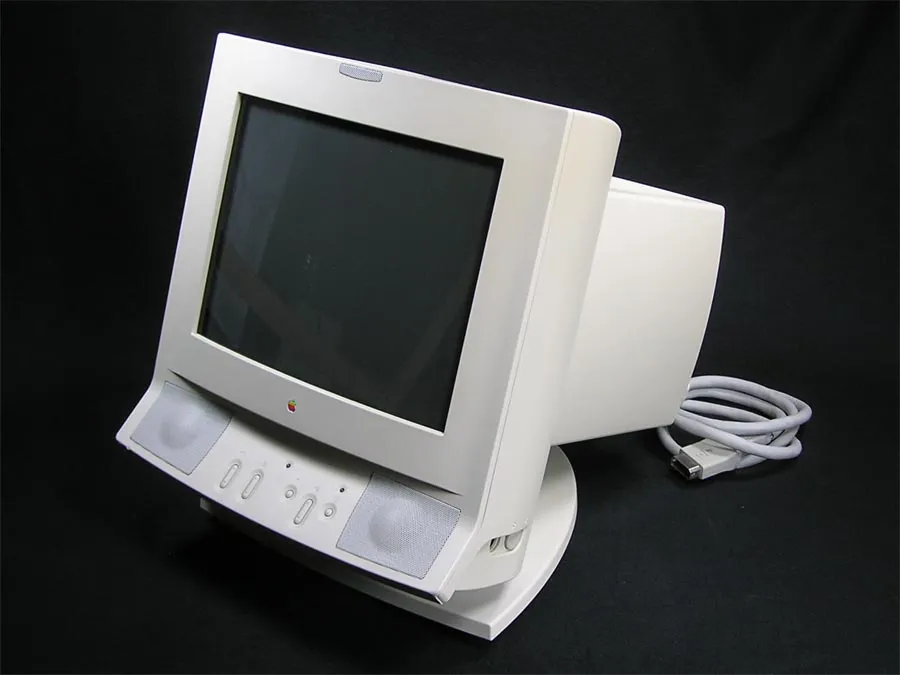 AudioVision 14-inch Display Details
Introduced
August 1, 1993
Discontinued
August 7, 1995
Model Number
M2001
Order Number
Unknown
Original Price
$799
Colors
Platinum
Weight
25 Ibs.
11.339 KG
Dimensions
15.2" H x 13.4" W x 16.6" D
38.6 cm H x 34.03 cm W x 42.16 cm D
System Requirements
Display Specs
| | |
| --- | --- |
| Type | CRT (Trinitron) |
| Size | 14" |
| Viewable Area | 12.4" |
| Colors | 16.7 million |
| Brightness | Unknown |
| Resolutions | 640 x 480 pixels at 66.7 Hz |
| Viewing Angle | Unknown |
| Contrast Ratio | Unknown |
| Response Time | Unknown |
| Pixel Pitch | 0.26 mm |
| Pixel Density | 68 dpi |
Connections
Connection
HDI-45
Audio
2 – Stereo Speakers
1 – Unidirectional Microphone
Camera
None
Ports
Unknown
Power
| | |
| --- | --- |
| Maximum Continuous Power | 55 W |
Further Reading and References
Would you like to know more about Apple products? Stay up-to-date with the latest Apple News. Check our blog for the latest releases, rumors, and updates in the world of Apple.
Disclaimer: The data presented in this article is under continuous development and has been manually collected from various sources based on their availability. The author of this article may revise this dataset as additional research is conducted and reviewed. Please note that the information is provided "as is" and "as available" without express or implied warranties. The author cannot be held responsible for any omissions, inaccuracies, or errors in the published information. Any warranties relating to this information are hereby disclaimed.
Last updated: July 8, 2023