In the early 1990s, Apple was on a mission to revolutionize the display market, and one of their notable attempts was the Apple Basic Color Monitor. Unveiled on February 10th, 1993, this monitor was part of the Apple Display series and boasted impressive specifications for its time. With its 14-inch Color RGB Monitor, a resolution of up to 640 x 480 pixels, and the ability to display an impressive 32,000 colors, it was a significant step forward in display technology.
The Apple Basic Color Monitor was specifically designed to complement the Macintosh LC III, ensuring seamless compatibility with the system. Its .39-millimeter dot pitch and high resolution made it perfect for a range of tasks, from text documents to graphic images. Additionally, the built-in tilt-and-swivel base allowed users to adjust the display to their preferred angle, offering a comfortable and ergonomic experience.
Unfortunately, despite its potential and impressive specs, the Apple Basic Color Monitor had a brief existence. Merely eight months after its debut, the monitor was discontinued on October 21, 1993. This short-lived existence has turned the Apple Basic Color Monitor into somewhat of a rare collector's item, with only a limited number of units still in circulation.
Nevertheless, even though it's no longer in production, the Apple Basic Color Monitor holds an essential place in Apple's history. It served as a testament to the company's dedication to innovation and pushing the boundaries of technology at the time.
At its release, the Apple Basic Color Monitor was considered Apple's most affordable Macintosh color monitor. It catered to a wide range of users who sought a color display but were conscious of their budget. The monitor was compatible with several Macintosh models, including the Macintosh LC line, the Macintosh Centris line, the Macintosh Quadra line, and numerous Macintosh PowerBook computers. The plug-and-play simplicity made it easy for users to set up and use the monitor without any hassle.
One of the standout features of the Basic Color Monitor was its compliance with low-frequency ELF and VLF requirements for magnetic and electric emissions. This was a noteworthy feature at the time, considering that many electronic devices struggled with meeting such stringent regulations.
Despite its positive attributes, the Apple Basic Color Monitor faced stiff competition from other display options, including Apple's own Macintosh Color Display. The Macintosh Color Display, which was part of the Macintosh half-page display family, offered superior resolution, brightness, color definition, and clarity thanks to its Trinitron picture tube. It was a more expensive alternative, but users who sought brighter colors and exceptional resolution could opt for this alternative.
Today, the Apple Basic Color Monitor holds a unique place in the hearts of Apple enthusiasts and collectors alike. It stands as a reminder of a time when display technology was rapidly evolving, and Apple was eager to make its mark on the industry. While its production may have been short-lived, its impact remains notable.
As we look back on the 30-year-old Apple Basic Color Monitor, we can appreciate the strides Apple has made in display technology over the years. The company's commitment to innovation has led to the creation of stunning displays that are integral to our daily lives. From the humble beginnings of the Basic Color Monitor to the cutting-edge displays found in today's Mac lineup, Apple continues to push boundaries and redefine what's possible in the world of technology.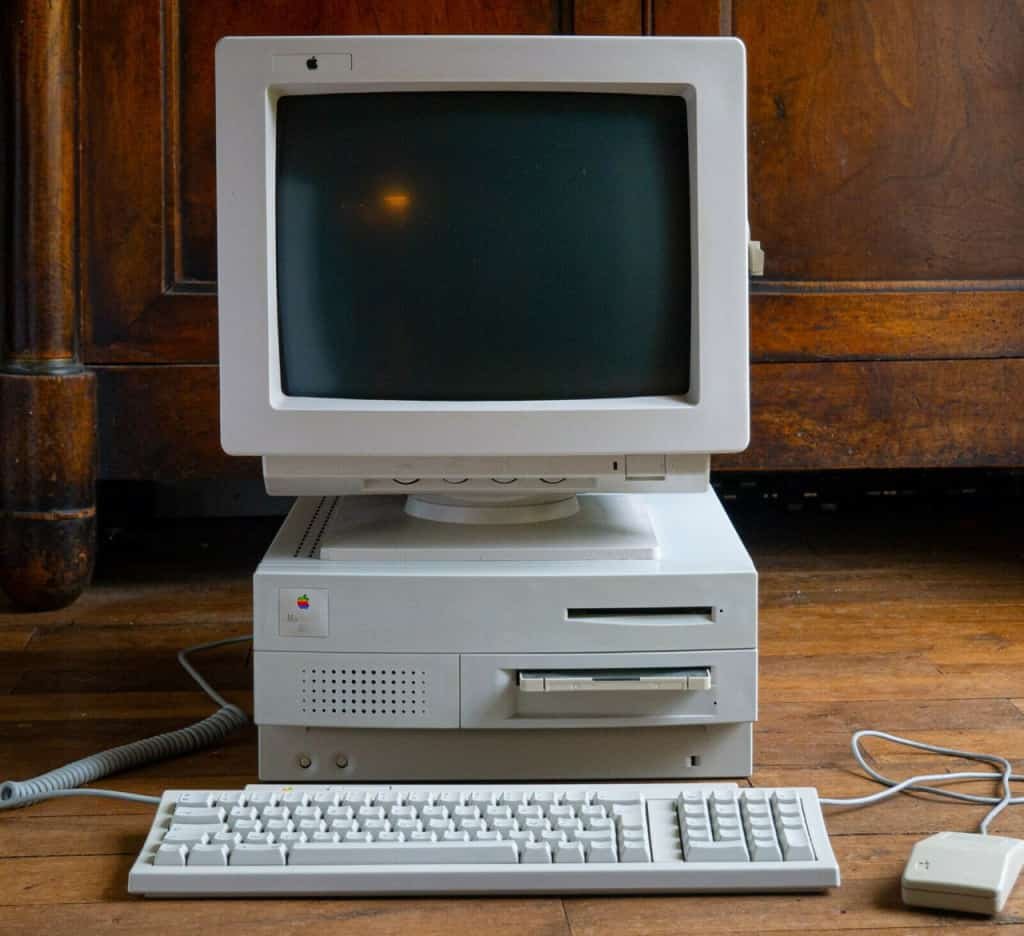 Apple Basic Color Monitor Details
Introduced
February 10, 1993
Discontinued
October 21, 1993
Model Number
M9103
Order Number
M1595LL/A
Original Price
Unknown
Colors
Platinum
Weight
25 Ibs.
11.339 KG
Dimensions
13" H x 13.4" W x 14" D
33 cm H x 34.03 cm W x 35.56 cm D
System Requirements
Display Specs
| | |
| --- | --- |
| Type | Shadow Mask CRT |
| Size | 14" |
| Viewable Area | 13" |
| Colors | 32,000 |
| Brightness | N/A |
| Resolutions | 640 x 480 pixels at 67 Hz |
| Viewing Angle | N/A |
| Contrast Ratio | N/A |
| Response Time | N/A |
| Pixel Pitch | 0.39 mm |
| Pixel Density | 68 dpi |
Connections
| | |
| --- | --- |
| Connection | DA-15 |
| Audio | None |
| Camera | None |
| Ports | Unknown |
Power
| | |
| --- | --- |
| Maximum Continuous Power | 70 W |
Further Reading and References
Would you like to know more about Apple products? Stay up-to-date with the latest Apple News. Check our blog for the latest releases, rumors, and updates in the world of Apple.
Disclaimer: The data presented in this article is under continuous development and has been manually collected from various sources based on their availability. The author of this article may revise this dataset as additional research is conducted and reviewed. Please note that the information is provided "as is" and "as available" without express or implied warranties. The author cannot be held responsible for any omissions, inaccuracies, or errors in the published information. Any warranties relating to this information are hereby disclaimed.
Last updated: July 1, 2023