On January 1st, 1993, Apple made a bold move by stepping into the world of color printing with the introduction of the Apple Color Printer. While its lifespan was short, just over a year, this device marked an important chapter in Apple's journey and played a significant role in the advancement of color printing technology. Today, the Apple Color Printer stands as a collector's item, cherished by Apple enthusiasts and a nostalgic reminder of the company's early foray into the printing industry.
The Apple Color Printer broke new ground with its vibrant four-color printing capabilities. Unlike its monochrome counterparts, this printer offered a wider range of color options for users' printed documents. Powered by the Canon P691 Color Bubblejet printing engine, it harnessed the potential of inkjet technology to produce vivid and visually appealing prints. This departure from the traditional black-and-white printers was a remarkable step forward for Apple, showcasing its commitment to innovation and user experience.
Beyond its color capabilities, the Apple Color Printer boasted impressive features that were ahead of its time. With a high resolution of 360 dots per inch (dpi), it delivered sharp and crisp prints, elevating the quality of documents produced. Moreover, its printing speed of up to 0.5 pages per minute was commendable for the era, making it a suitable choice for users handling large volumes of print work. The printer's compatibility with Apple computers was seamless, thanks to its SCSI connection port, ensuring effortless connectivity and efficient workflow for users.
Regrettably, the Apple Color Printer's reign was cut short. Despite its technological advancements and capabilities, the printer faced challenges that hindered its success. One of the primary issues was its price, as it proved to be an expensive option for consumers. Coupled with its relative unpopularity, Apple made the decision to discontinue the printer on February 1st, 1994, after just over a year on the market. While its discontinuation was disheartening for Apple enthusiasts, it was a pivotal moment that allowed the company to redirect its focus and resources toward other ventures.
30 years have passed since the Apple Color Printer first made its debut, yet its significance remains intact. Today, the printer has become a treasured item among collectors and Apple aficionados. It's limited availability and nostalgic value have turned it into a sought-after artifact. Owning an Apple Color Printer represents a connection to Apple's early years, a time when the company was exploring new territories and experimenting with technology beyond computers.
As we commemorate 30 years of the Apple Color Printer, it is essential to recognize its impact on the evolution of color printing technology. Although it may not have enjoyed a lengthy existence, this printer served as a stepping stone for future advancements in printing. Apple's dedication to pushing boundaries and enhancing user experiences continues to shape its endeavors today. With each new product release, we witness the company's commitment to innovation and its drive to provide cutting-edge technology to its users.
The Apple Color Printer may have been a short-lived chapter in Apple's history, but its legacy endures as a testament to the company's unwavering pursuit of excellence. As we reflect on its colorful journey, we appreciate its place in the annals of technology and eagerly anticipate the future advancements that Apple has in store for us.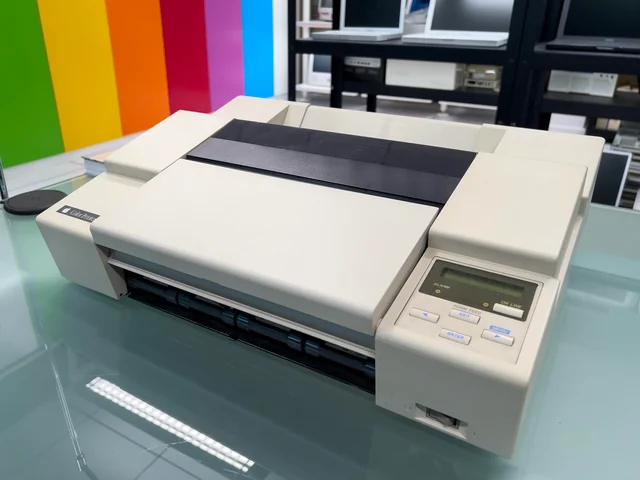 Apple Color Printer Details
Introduced
January 1, 1993
Dimensions
February 1, 1994
Original Price
Unknown
Model Number
Unknown
Order Number
Unknown
Weight
22 Ibs.
9.979 KG
Demensions
6.7" H x 20.5" W x 16" D
17 cm H x 52.07 cm W x 40.64 cm D
Printer Specs
Type
Thermal ink-jet
Colors
4
Pages Per Minute
0.29 color
0.5 mono
DPI
360
Language
QuickDraw
Cartridge
M6901G/A (Black)
M6902G/A (Yellow)
M6903G/A (Magenta)
M6904G/A (Cyan)
Hardware
| | |
| --- | --- |
| Processor | None |
| Processor Speed | N/A |
| ROM Size | N/A |
| Maximum Memory | N/A |
| Memory Slots | N/A |
| Minimum Speed | N/A |
Connections
Power
| | |
| --- | --- |
| Maximum Continuous Power | 48 W |
Further Reading and References
Would you like to know more about Apple products? Stay up-to-date with the latest Apple News. Check our blog for the latest releases, rumors, and updates in the world of Apple.
Disclaimer: The data presented in this article is under continuous development and has been manually collected from various sources based on their availability. The author of this article may revise this dataset as additional research is conducted and reviewed. Please note that the information is provided "as is" and "as available" without express or implied warranties. The author cannot be held responsible for any omissions, inaccuracies, or errors in the published information. Any warranties relating to this information are hereby disclaimed.
Last updated: June 26, 2023