In the rapidly transforming realm of technology, where the next big thing often overshadows yesterday's innovations, there exists a rare gem that defies the odds – the Color StyleWriter 2200 printer from Apple. Harkening back to June 1, 1995, this remarkable printer made its debut and has since etched its name as an enduring icon within Apple's illustrious printer series.
Apple's dedication to excellence and innovation is a legacy that spans decades, and the Color StyleWriter 2200 stands as a testament to this commitment. Now, after 28 years, this printer still radiates an aura of superiority. Boasting a palette of four vibrant printing colors, a resolution that reaches a staggering 360 dpi, and a printing pace that achieves up to 5 pages per minute, the Color StyleWriter 2200 emerges as an exemplar of reliability and efficiency in the printing realm.
In a world where the cutting-edge swiftly become obsolete, the Color StyleWriter 2200 bucks the trend with its enduring relevance. Time has been unable to tarnish its capabilities, making it a mainstay for those who demand both longevity and modernity. This printer stands as an affirmation that innovation can indeed stand the test of time, navigating the turbulent waters of ever-evolving technology with unwavering grace.
The Color StyleWriter 2200 found its way into the hands of eager PowerBook users on that fateful day of June 19, 1995, marking it as Apple's second and final battery-powered printer. Remarkably lightweight, it was an embodiment of Apple's penchant for combining functionality with elegance.
Featuring a remarkable 720×360-dpi resolution, the Color StyleWriter 2200 was capable of printing at a pace that held its own even by today's standards. Producing 5 pages-per-minute in black or a mere 3 minutes-per-page in color, it showcased a balance between speed and precision that was nothing short of exceptional.
Compatibility often defines a device's versatility, and the Color StyleWriter 2200 was no slouch in this aspect. Compatible with Apple M3909/M3908 or Canon BC-10/BC-11 (black/color) bubblejet cartridges, it proved its adaptability to varying printing needs. It even flaunted its mobility with a rechargeable nickel-metal hydride battery, enabling portable operation that was a boon for those on the move.
The Color StyleWriter 2200 went beyond mere printing. It embraced connectivity through the ColorShare software, allowing it to dance within the realms of networking. This feat was made possible with the aid of a host Macintosh computer, a testament to its adaptability to collaborative workflows.
Adding a cherry on top, the printer came adorned with a treasure trove of 64 TrueType fonts, delivering versatility not just in printing but in typography as well. Support for PostScript Type 1 font through Adobe Type Manager broadened its horizons, making it a delight for design enthusiasts and professionals alike.
Fast-forward to today and the Color StyleWriter 2200 still stands tall. For collectors and tech aficionados, owning this printer is akin to possessing a piece of history that continues to breathe. It's not just a device; it's an emblem of Apple's undying spirit of innovation.
The Color StyleWriter 2200 printer is more than just an artifact; it's a bridge connecting Apple's rich past with its ever-evolving present. Its longevity and prowess are an ode to the company's unwavering commitment to quality and excellence. In a world where today's innovation is tomorrow's memory, the Color StyleWriter 2200 defiantly holds its ground, reminding us that true excellence is timeless.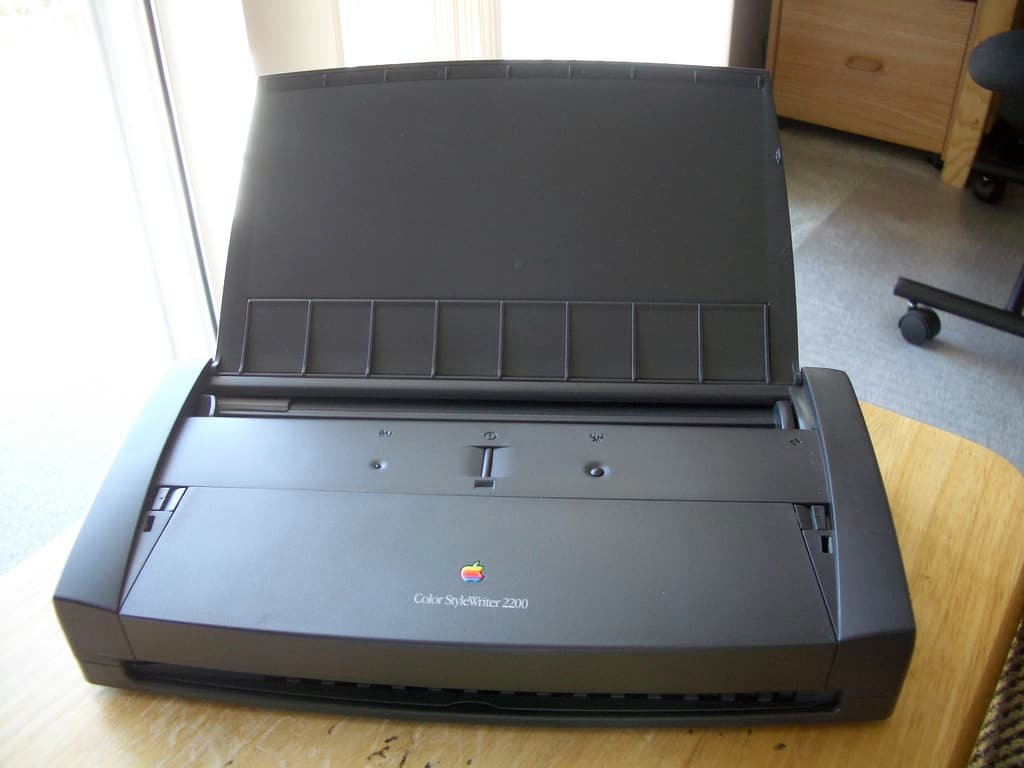 Color StyleWriter 2200 Details
Introduced
June 1, 1995
Discontinued
Unknown
Original Price
Unknown
Model Number
Unknown
Order Number
Unknown
Weight
3.1 Ibs.
1.406 KG
Dimensions
2.2" H x 11.8" W x 6.2" D
5.58 cm H x 30 cm W x 15.74 cm D
Printer Specs
Type
Thermal ink-jet
Colors
4
Pages Per Minute
5 – black and white
0.3 – color
DPI
720 x 360
Language
QuickDraw
Cartridge
Apple M3909G/A or Canon BC-10 Black
Apple M3908G/A or Canon BC-11 Color
Hardware
| | |
| --- | --- |
| Processor | None |
| Processor Speed | None |
| ROM Size | None |
| Maximum Memory | None |
| Memory Slots | None |
| Minimum Speed | N/A |
Connections
Power
| | |
| --- | --- |
| Maximum Continuous Power | 31.5 W |
Further Reading and References
Would you like to know more about Apple products? Stay up-to-date with the latest Apple News. Check our blog for the latest releases, rumors, and updates in the world of Apple.
Disclaimer: The data presented in this article is under continuous development and has been manually collected from various sources based on their availability. The author of this article may revise this dataset as additional research is conducted and reviewed. Please note that the information is provided "as is" and "as available" without express or implied warranties. The author cannot be held responsible for any omissions, inaccuracies, or errors in the published information. Any warranties relating to this information are hereby disclaimed.
Last updated: August 21, 2023