June 16, 1997, marked a pivotal moment in Apple's history as it unveiled the Color StyleWriter 4500, a revolutionary addition to the Apple Printer series. In the late 90s, amidst the dawn of the digital age, Apple ventured into the world of printing with the Color StyleWriter 4500. A color inkjet printer that wasn't just a piece of hardware; it was a statement, a fusion of technology and design that captivated Apple enthusiasts and left an indelible mark on the history of printing.
Manufactured and exclusively sold by Apple, the Color StyleWriter 4500 was a groundbreaking inkjet printer designed for home users and small businesses. Boasting four printing colors, a printing resolution of up to 600 dpi, and a printing speed of 5 pages per minute in black and white, it quickly became the go-to choice for those seeking a cost-effective alternative to color laser printers.
The Color StyleWriter 4500 was more than just a printer; it was a technological marvel of its time. With a DPI of 600, it could produce crisp, high-quality prints at a speed of 1.7 pages per minute in color. For those seeking photographic perfection, a special Color PhotoGrade print cartridge allowed for high-quality image printing at a rate of approximately 4 minutes per page.
One standout feature was its capability to print continuous-feed banners up to an impressive 20 pages in length, showcasing Apple's commitment to versatility and innovation.
Even technological triumphs faced challenges, and the Color StyleWriter 4500 was no exception. Initially grappling with compatibility issues with "beige" Power Macintosh G3 computers, an updated printer driver was necessary for seamless integration. Additionally, an optional StyleWriter EtherTalk Adapter II, intended to provide Ethernet connectivity for faster networking, failed to materialize in August 1997 as expected, highlighting the unpredictable nature of technology development.
What set the Color StyleWriter 4500 apart was not just its technical prowess but its design philosophy. As an Apple product, it reflected the company's dedication to aesthetic appeal and user experience. Compact in size with a sleek design, it was not just a printer; it was a piece of art that seamlessly blended with the Apple ethos.
Fast forward 26 years, and the Color StyleWriter 4500 stands as a nostalgic relic from an era when Apple boldly entered the printer market. Despite being technologically surpassed, its allure remains intact. Collectors and Apple enthusiasts seek out this piece of history, appreciating it for its enduring design, build quality, and its role in shaping Apple's legacy.
The Color StyleWriter 4500 may have been a product of its time, but its impact reverberates through the years. As we celebrate its 26-year anniversary, it's more than a printer; it's a symbol of Apple's innovative spirit, a testament to the company's commitment to quality, and a cherished piece of tech history. The Color StyleWriter 4500 reminds us that, even in the fast-paced world of technology, certain creations stand the test of time, leaving an indelible mark on the journey of progress.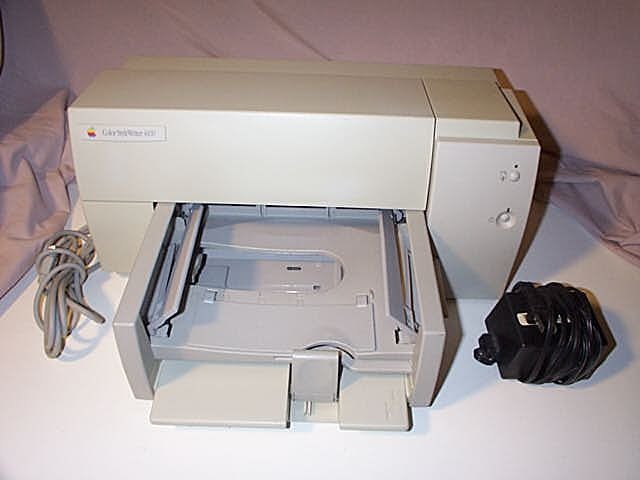 Color StyleWriter 4500 Details
Introduced
June 16, 1997
Released
July 1, 1997
Discontinued
1998
Original Price
$340
Model Number
M5663
Order Number
Unknown
Weight
11.7 Ibs.
5.307 KG
Dimensions
7.8" H x 17.2" W x 15.9" D
19.81 cm H x 43.68 cm W x 40.38 cm D
Printer Specs
Type
Thermal ink-jet
Colors
4
Pages Per Minute
1.7 – color
5 – black and white
DPI
600
Language
QuickDraw
Cartridge
Apple M5693G/A Black or HP 51629A Black
Apple M5694G/A Color or HP 51649A Color
Apple M5692G/A Color PhotoGrade or HP C1816A Color PhotoGrade
Hardware
| | |
| --- | --- |
| Processor | None |
| Processor Speed | N/A |
| ROM Size | N/A |
| Maximum Memory | N/A |
| Memory Slots | N/A |
| Minimum Speed | N/A |
Connections
Connection
Serial (RS-422-A)
LocalTalk
Power
| | |
| --- | --- |
| Maximum Continuous Power | 12 W |
Further Reading and References
Would you like to know more about Apple products? Stay up-to-date with the latest Apple News. Check our blog for the latest releases, rumors, and updates in the world of Apple.
Disclaimer: The data presented in this article is under continuous development and has been manually collected from various sources based on their availability. The author of this article may revise this dataset as additional research is conducted and reviewed. Please note that the information is provided "as is" and "as available" without express or implied warranties. The author cannot be held responsible for any omissions, inaccuracies, or errors in the published information. Any warranties relating to this information are hereby disclaimed.
Last updated: November 26, 2023