In the fast-evolving landscape of technology, where devices become obsolete in the blink of an eye, there are certain innovations that stand the test of time. One such milestone is the Apple Color StyleWriter 6500, a printer that made its mark on June 16, 1997.
Back in the late '90s, the printing world was fairly monochromatic. However, Apple disrupted the status quo with the Color StyleWriter 6500, a printer that brought life to documents with its four printing colors. Boasting an impressive resolution of up to 600 dpi, this marvel was the go-to choice for users who demanded nothing but the crispest and most vibrant prints.
In an era where time was of the essence, the Color StyleWriter 6500 outpaced its competition with a remarkable printing speed of up to 8 pages per minute. Whether you are a professional seeking efficiency or a home user with a need for speed, this printer delivers on both fronts. Its versatility made it a staple in a variety of settings, from bustling offices to creative home spaces.
The Color StyleWriter 6500 was not just about delivering stunning prints; it was about seamless integration into the Apple ecosystem. With a range of connectivity options, including Serial, LocalTalk, Parallel, and EtherTalk, users had the flexibility to connect the printer to their Macs effortlessly. This user-friendly approach was a testament to Apple's commitment to providing a holistic printing experience.
Compatibility with HP DeskJet cartridges (C6614A/51629A/51649A/C1816A) ensured that users had access to a wide array of ink options, allowing for a customized and cost-effective printing experience. The inclusion of TrueType fonts on the disk and support for PostScript Type 1 fonts through Adobe Type Manager showcased Apple's dedication to delivering a comprehensive printing solution.
Even in the realm of groundbreaking technology, challenges are inevitable. The optional StyleWriter EtherTalk Adapter II, designed to enhance networking capabilities through Ethernet connectivity, faced delays in shipment, missing its expected release in August 1997. Despite this hiccup, the Color StyleWriter 6500 continued to leave an indelible mark on the printing landscape.
As we celebrate 26 years since the unveiling of the Color StyleWriter 6500, its impact on the printing industry remains palpable. This printer wasn't just a device; it was a harbinger of change. Its introduction marked a turning point, paving the way for future printers to come. The blend of innovation, speed, and connectivity set a standard that resonates even in today's tech-savvy world.
While the Color StyleWriter 6500 may seem like a relic from a bygone era, it is essential to acknowledge its role in shaping the trajectory of printing technology. Its enduring legacy serves as a reminder of Apple's commitment to pushing boundaries and delivering products that stand the test of time. As we reflect on the 26-year anniversary of this iconic printer, we extend our gratitude to Apple for the Color StyleWriter 6500—a true trailblazer in the evolution of printing.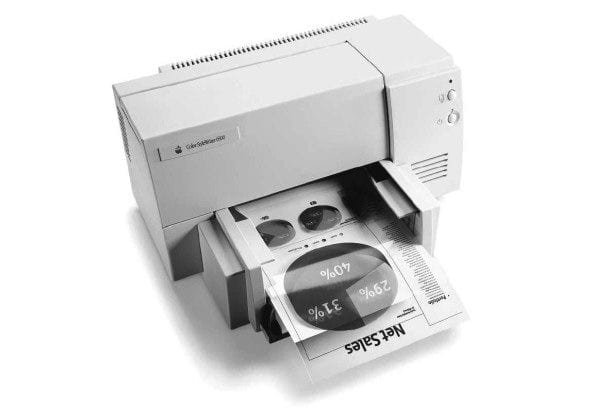 Color StyleWriter 6500 Details
Introduced
June 16, 1997
Discontinued
1998
Original Price
$465
Model Number
M5656
Order Number
Unknown
Weight
14.3 Ibs.
6.486 KG
Dimensions
6.9" H x 17.5" W x 15.6" D
17.52 cm H x 44.45 cm W x 39.62 cm D
Printer Specs
Type
Thermal ink-jet
Colors
4
Pages Per Minute
4 – color
8 – black and white
DPI
600
Language
QuickDraw
Cartridge
Apple M5658G/A Black or HP 51645A Black
Apple M5659G/A Color or HP 51641A Color
Hardware
| | |
| --- | --- |
| Processor | None |
| Processor Speed | N/A |
| ROM Size | N/A |
| Maximum Memory | N/A |
| Memory Slots | N/A |
| Minimum Speed | N/A |
Connections
Connection
Serial
LocalTalk
Parallel
EtherTalk (Optional)
Power
| | |
| --- | --- |
| Maximum Continuous Power | 48 W |
Further Reading and References
Would you like to know more about Apple products? Stay up-to-date with the latest Apple News. Check our blog for the latest releases, rumors, and updates in the world of Apple.
Disclaimer: The data presented in this article is under continuous development and has been manually collected from various sources based on their availability. The author of this article may revise this dataset as additional research is conducted and reviewed. Please note that the information is provided "as is" and "as available" without express or implied warranties. The author cannot be held responsible for any omissions, inaccuracies, or errors in the published information. Any warranties relating to this information are hereby disclaimed.
Last updated: November 26, 2023