In a dazzling showcase of technological prowess, Apple stole the spotlight at this year's Worldwide Developers Conference (WWDC) with the announcement of its latest innovation: the all-new MacBook Air. Boasting a larger 15.3-inch Liquid Retina display and powered by the groundbreaking M2 processor, Apple's latest addition to the MacBook family sets a new standard for portable computing.
Apple's claim of the "world's thinnest 15-inch laptop" is not an exaggeration. With a sleek profile measuring just 11.5mm thick and weighing a mere 3.3 pounds (1.5 grams), the new MacBook Air pushes the boundaries of design and engineering. Thanks to the cutting-edge M2 chip, it blazes past its Intel-based predecessor, delivering a mind-blowing 12x increase in speed. Apple confidently asserts that it is twice as fast as any competing laptop on the market.
An impressive array of features accompanies this technological marvel. The fanless MacBook Air is equipped with a 1080p FaceTime HD camera, a three-microphone array, and an "all-new" six-speaker system comprising two tweeters and two sets of force-canceling woofers. This audio setup provides an immersive soundscape, complemented by support for spatial audio. Moreover, Apple claims that the laptop boasts an extraordinary battery life, capable of lasting up to 18 hours on a single charge.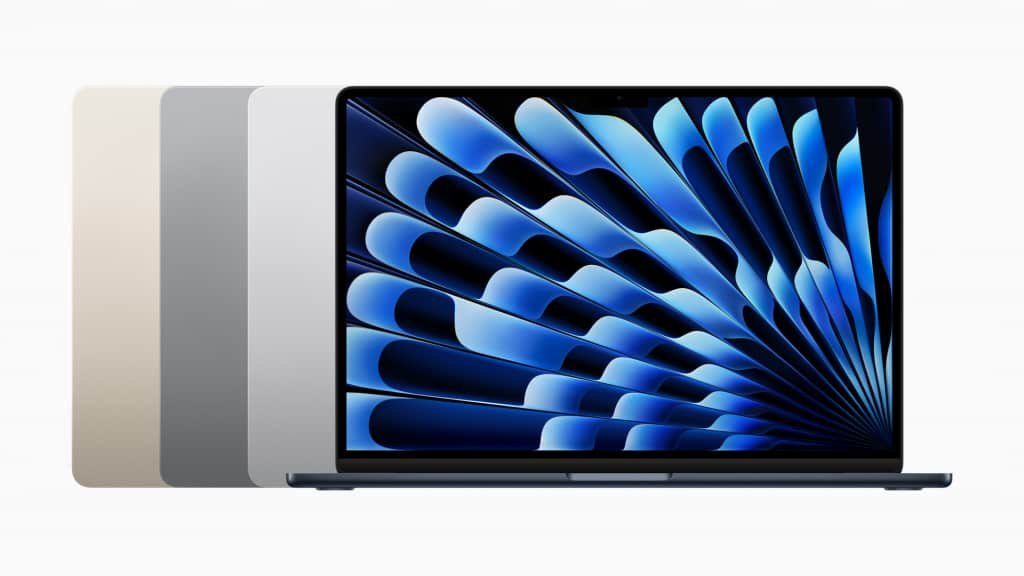 In terms of connectivity, the new MacBook Air incorporates the much-loved MagSafe technology, ensuring effortless and secure charging. It also offers two Thunderbolt ports, enabling users to connect a range of accessories, including up to a 6K external display. Not forgetting the traditionalists, Apple has retained the beloved 3.5mm headphone jack, allowing users to connect their favorite wired audio devices.
But what truly sets the MacBook Air apart is its stunning display. With a maximum brightness of up to 500 nits and support for an astounding 1 billion colors, the visuals leap off the screen with unparalleled vibrancy. The display boasts twice the resolution and a remarkable 25% increase in brightness compared to the best-selling Intel Core i7 PC laptop. Prepare to be captivated by the lifelike imagery this device delivers.
At the heart of the MacBook Air lies the mighty M2 chip. This powerhouse features an 8-core CPU, comprising four performance cores and four efficiency cores, a 10-core GPU, and a 16-core Neural Engine. With a memory bandwidth of 100GB/s and support for up to 24GB of fast unified memory, the M2 chip guarantees lightning-fast performance and seamless multitasking.
John Ternus, Apple's senior vice president of Hardware Engineering, expressed his excitement about the new MacBook Air, stating, "We're thrilled to introduce the first 15-inch MacBook Air. With its incredible performance and striking design, the new MacBook Air is the world's best 15-inch laptop. And it's only possible with Apple silicon."
Related articles
As expected, the MacBook Air retains Apple's signature attention to aesthetics, offering a choice of four stylish colors: Silver, Space Gray, Starlight, and Midnight. The new MacBook Air is available for pre-order starting today, with deliveries scheduled to commence next week. Priced at $1,299 ($1,199 for education customers), this remarkable device is sure to capture the hearts of consumers and professionals alike. Additionally, the 13-inch MacBook Air equipped with the M2 chip receives a significant price reduction, now starting at $1,099 — a generous $100 markdown.