In the ever-evolving world of technology, it's fascinating to look back at the products that shaped our digital landscape. On March 7, 1989, Apple introduced a remarkable addition to its Monitor series: the Apple High-Resolution Monochrome Monitor.
This 12-inch grayscale display was tailor-made for the Macintosh IIcx, offering Mac users a high-resolution monochrome experience at a time when color displays were gaining popularity. Although its existence was short-lived, the Apple High-Resolution Monochrome Monitor holds a special place in tech history, reminding us of the early days of Apple's innovation and design prowess.
When the Apple High-Resolution Monochrome Monitor hit the market, it instantly stood out as a unique offering from the tech giant. It was Apple's inaugural foray into the world of 640 x 480 grayscale displays for the Macintosh platform. With its fixed resolution and the use of Apple's proprietary DA-15 video connector, this display set itself apart from the growing number of PCs adopting the smaller, higher-density DE-15 VGA video connector.
The Apple High-Resolution Monochrome Monitor boasted an understated yet elegant design. The power button discreetly graced the back of the monitor, while the brightness and contrast controls were conveniently placed on the right side. Designed to sit atop most desktop Macs, Apple also offered an optional tilt-swivel base for users seeking an adjustable viewing experience.
Apple provided users with helpful guidelines to ensure the longevity of their Apple High-Resolution Monochrome Monitors. To prevent phosphor burn caused by static screen elements, such as the menu bar, drive icon, and Trash, Apple recommended the use of screen savers.
Cleaning the screen was a straightforward process, involving the application of household glass cleaner to a clean cloth or paper towel. However, caution was advised not to spray the cleaner directly onto the CRT, as it could potentially damage the internal electrical circuitry.
Although the Apple High-Resolution Monochrome Monitor may have had a short lifespan, it left a lasting impression on those fortunate enough to experience it. Priced at $898 during its release, it was considered a high-end option for Mac users at the time. However, on February 11, 1991, Apple made the difficult decision to discontinue the monitor, making it a rarity and collector's item today.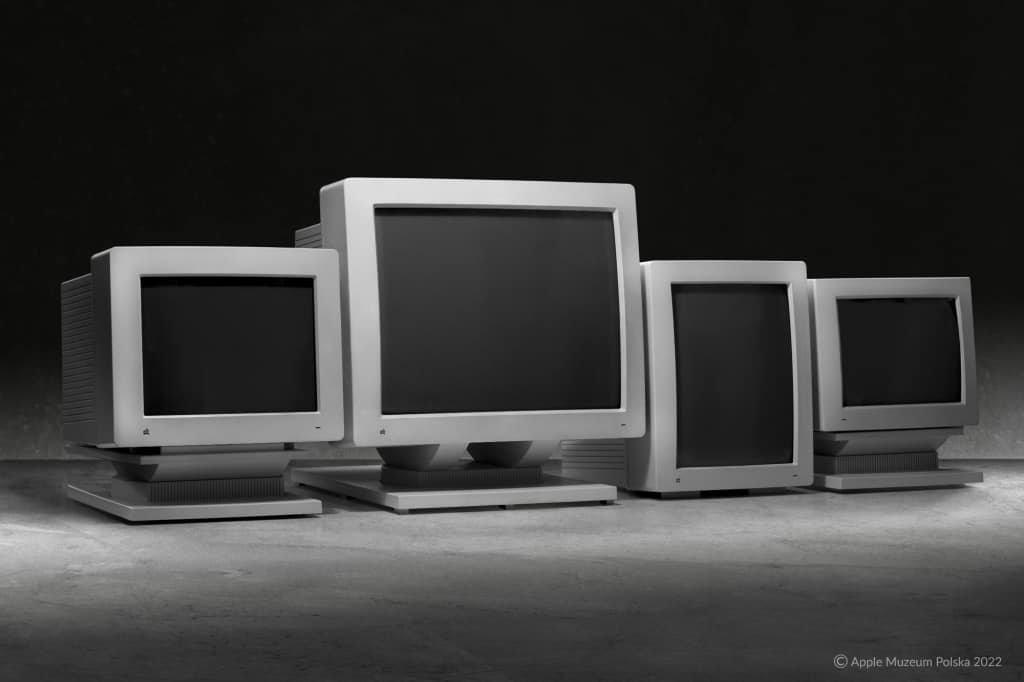 The Apple High-Resolution Monochrome Monitor's brief existence serves as a testament to the fast-paced nature of technology. As the industry embraced color displays, the grayscale monitor paved the way for more advanced and visually appealing options. However, its historical significance cannot be overlooked, as it represents an important milestone in Apple's journey to revolutionize the world of computing.
As we marvel at the cutting-edge displays and high-resolution screens that dominate the tech landscape today 34 years later, it's important to pay homage to the pioneers that laid the foundation for these advancements. The Apple High-Resolution Monochrome Monitor holds a special place in the history of both Apple and computer displays.
While it may have been short-lived, it showcased Apple's commitment to pushing boundaries and providing users with innovative solutions. As technology continues to progress, let us not forget the humble grayscale monitor that helped shape the vibrant digital experiences we enjoy today.

Apple High-Resolution Monochrome Monitor Details
Introduced
March 7, 1989
Discontinued
February 11, 1991
Model Number
M0400
Order Number
Unknown
Original Price
$898
Colors
Beige
Weight
17 Ibs.
7.711 KG
Dimensions
10" H x 12.2" W x 14.4" D
25.4 cm H x 30.98 cm W x 36.57 cm D
System Requirements
Macintosh II computer or newer
Display Specs
| | |
| --- | --- |
| Type | CRT (Trinitron) |
| Size | 12" |
| Viewable Area | 11" |
| Colors | Monochrome |
| Brightness | Unknown |
| Resolutions | 640 x 480 pixels at 66.7 Hz |
| Viewing Angle | Unknown |
| Contrast Ratio | Unknown |
| Response Time | Unknown |
| Pixel Pitch | Unknown |
| Pixel Density | 76 dpi |
Connections
| | |
| --- | --- |
| Connection | DA-15 |
| Audio | None |
| Camera | None |
| Ports | Unknown |
Power
| | |
| --- | --- |
| Maximum Continuous Power | 40 W |
Further Reading and References
Would you like to know more about Apple products? Stay up-to-date with the latest Apple News. Check our blog for the latest releases, rumors, and updates in the world of Apple.
Disclaimer: The data presented in this article is under continuous development and has been manually collected from various sources based on their availability. The author of this article may revise this dataset as additional research is conducted and reviewed. Please note that the information is provided "as is" and "as available" without express or implied warranties. The author cannot be held responsible for any omissions, inaccuracies, or errors in the published information. Any warranties relating to this information are hereby disclaimed.
Last updated: May 19, 2023