The Apple III was a personal computer produced by Apple Computer and was intended as the successor to the Apple II. It was released in 1980, but it was not as successful as the Apple II and was discontinued in 1984. The Apple III was designed to be a more business-oriented machine, with improved hardware and an operating system more suited to business applications.
Key Takeaways
Apple released the Apple III personal computer in 1980 as part of their Apple III series. It was made available for purchase on May 19th but did not start shipping until November of that year. The starting price for the computer was $4,340. The Apple III was produced and sold by Apple until 1984.
The computer is equipped with a 1.4 MHz MOS Technology 6502A processor, a choice of 128 KB or 256 KB of RAM, 4 KB of ROM, possible addition of a 5 MB Apple ProFile hard drive, a 140 KB 5.25" floppy drive, and an integrated 74-key ASCII keyboard.
This computer has been discontinued on April 24, 1984. Today Apple III is 43 years old!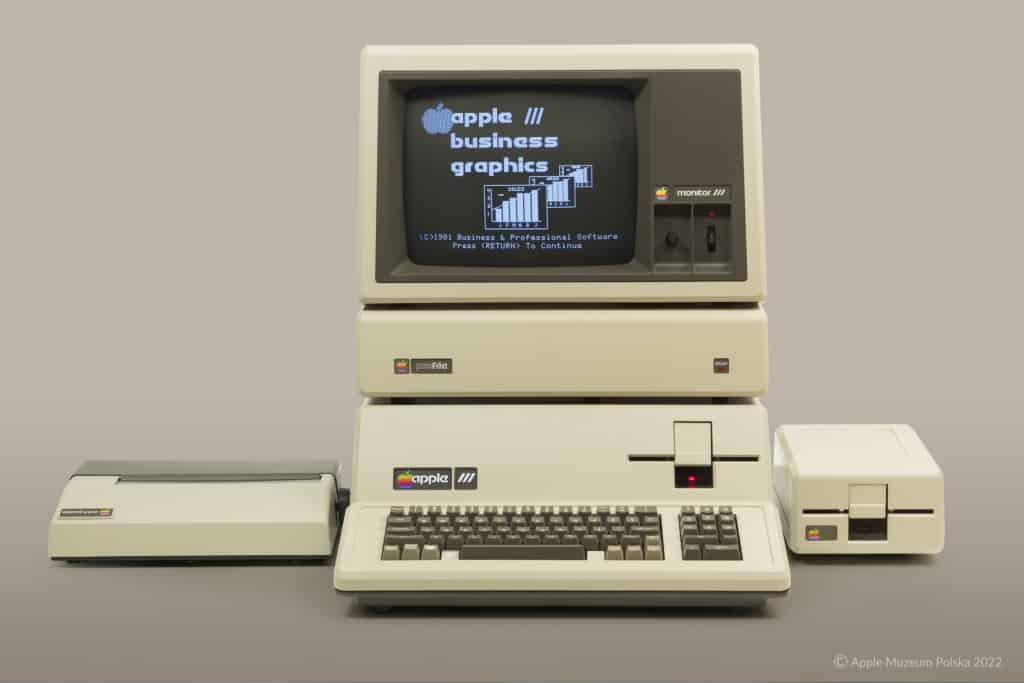 A Brief History of Apple III Computer
The Apple III was a personal computer produced by Apple Computer in 1980. It was intended as a business-oriented successor to the Apple II, but it was plagued with numerous technical problems and was ultimately a commercial failure.
The development of the Apple III began in 1977 when Apple co-founder Steve Jobs decided to shift the company's focus from hobbyist computers to the business market. Jobs believed that the personal computer market was about to take off and that Apple had the opportunity to become a major player in the industry.
To that end, Apple began work on a new computer designed specifically for businesses. The Apple III was designed to be more powerful and feature-rich than the Apple II, with a more robust operating system, improved graphics and memory capabilities, and a built-in floppy disk drive.
However, the development of the Apple III was fraught with problems from the start. The computer was originally intended to be released in 1979, but delays and technical issues pushed the release date back to May 1980.
When the Apple III finally hit the market, it was plagued with a number of serious problems. The computer was prone to overheating, which caused the system to crash and the hardware to fail. It also had a number of hardware and software bugs, which made it difficult to use and unreliable.
Despite these problems, Apple initially tried to market the Apple III as a high-end business computer. However, the computer's high price and lack of compatibility with the popular software programs of the time made it a tough sell.
In an effort to salvage the Apple III, Apple released a number of updates and fixes for this computer. They also redesigned the system to include a new motherboard and an upgraded operating system. These efforts had little effect, however, and the Apple III remained a commercial failure.
By the mid-1980s, the Apple III had been largely abandoned by both consumers and businesses. In 1984, Apple officially discontinued the Apple III and shifted its focus to the Macintosh line of computers.
In hindsight, the Apple III can be seen as a cautionary tale about the importance of quality control and the dangers of trying to rush a product to market. Despite its original intentions as a powerful business computer, the Apple III was ultimately a poorly-designed and poorly-executed product that was unable to compete in the rapidly-evolving personal computer market.
Today, the Apple III is largely forgotten and is remembered mostly as a footnote in the company's history. However, the lessons learned from the Apple III's failure have undoubtedly influenced Apple's approach to product development and have helped the company become the successful and innovative tech giant it is today.

Apple III Details
Introduced
May 19, 1980
Released
November 1980
Discontinued
April 24, 1984
Original Price
$4,340
$7,800
Colors
Beige
Weight
26 Ibs.
11.793 KG
Dimensions
4.8" H x 17.5" W x 18.2" D
12.19 cm H x 44.45 cm W x 46.22 cm D
Apple III Tech Specs
Processor
MOS Technology 6502A
Processor Speed
1.4 MHz average
1.8 MHz maximum
Architecture
8-bit
Number of Cores
1
Storage
5MB Apple ProFile hard disc drive (Optional)
Built-in Memory
128 KB
256 KB
Maximum Memory
512 KB with memory board replacement
Memory Slots
None
ROM
4 KB
Connections
Serial
1 – DB-25 RS-232C compatible
2 – DB-9
Audio Out
1 – 3.5-mm analog output jack
1 – Built-in speaker
Display Connection
1 – RCA composite positive video
1 – DB-15
Display
1 – RCA for composite video output (Display resolution 280 x 192 – 16 colors (with some limitations), 280 x 192 – monochromatic, 560 x 192 monochromatic)
Text Display
80-column, 24-line monochromatic,
40-column, 24-line, 16-color foreground and background,
40-column, 24-line monochromatic
Expansion Slots
4 – 50-pin Apple II peripheral
Media
1 – 140 KB 5.25-inch floppy drive
Accessories
| | |
| --- | --- |
| Keyboard | Built-in 61-key (main) 13-key (numeric) ASCII keyboard |
Software
Power
| | |
| --- | --- |
| Line Voltage | 110 or 110/220V AC |
Further Reading and References
Would you like to know more about Apple products? Stay up-to-date with the latest Apple News. Check our blog for the latest releases, rumors, and updates in the world of Apple.
Disclaimer: The data presented in this article is under continuous development and has been manually collected from various sources based on their availability. The author of this article may revise this dataset as additional research is conducted and reviewed. Please note that the information is provided "as is" and "as available" without express or implied warranties. The author cannot be held responsible for any omissions, inaccuracies, or errors in the published information. Any warranties relating to this information are hereby disclaimed.
Last updated: March 7, 2023