In the late 1980s, amidst a rapidly evolving personal computer market, Apple introduced the Macintosh IIcx as a part of their Macintosh II series. This powerful and innovative computer, released in 1989, showcased Apple's commitment to pushing boundaries and setting new standards in the industry.
Although it was eventually discontinued in 1991, the Macintosh IIcx remains a notable piece of technology history, leaving a lasting impact on Apple's product lineage.
On March 7, 1989, Apple unveiled the Macintosh IIcx, boasting impressive specifications that set it apart from its contemporaries. Priced at $5,369, the IIcx housed a 16 MHz Motorola 68030 processor and a Motorola 68882 FPU coprocessor.
Users had the option to choose between 1 MB or 4 MB of RAM, providing ample memory for demanding tasks. The computer was equipped with either a 40 MB or 80 MB hard drive, a 1.44 MB floppy drive, and even offered an optional Macintosh II video card for enhanced graphics capabilities.
One of the notable features of the Macintosh IIcx was its compact size. It was built on the success of the Mac IIx but managed to offer the same level of performance in a smaller case. Apple achieved this by eliminating three NuBus slots and implementing a 159 W power supply. Furthermore, the IIcx was specifically designed to be easily manufactured without the need for specialized tools, demonstrating Apple's commitment to efficient production processes.
The Macintosh IIcx represented a crucial milestone in Apple's computer lineup. Jim Seymour of MacUser magazine expressed his belief in August 1989 that the IIcx had the potential to be a breakout machine for Apple. He noted that while the original Mac II showcased Apple's ability to compete with System 6, the IIcx demonstrated the company's capability to integrate power and flexibility into the office environment. With its advanced features, the IIcx was a testament to Apple's dedication to creating innovative products that could rival and surpass its competitors.
Today, the Macintosh IIcx stands as a nostalgic reminder of Apple's history and its pioneering spirit. Despite its discontinuation over 32 years ago, this iconic computer remains a cherished artifact for technology enthusiasts. The IIcx represented a leap forward in computing power and demonstrated Apple's commitment to offering users a robust and versatile computing experience.
Moreover, the Macintosh IIcx played a pivotal role in the evolution of Apple's Macintosh line. It contributed to shaping subsequent models and laid the foundation for future advancements in the company's product portfolio. The IIcx's technical achievements and Apple's dedication to innovation have paved the way for the groundbreaking technologies and design aesthetics we see in modern Macintosh computers.
The Macintosh IIcx holds a special place in the annals of Apple's history. Despite being discontinued after only two years, its impact on the industry and the Macintosh product line cannot be overstated. With its powerful specifications and compact design, the IIcx showcased Apple's ability to deliver cutting-edge technology while emphasizing efficient manufacturing processes.
As we reflect on the 34 years old Macintosh IIcx, we recognize its place as a significant milestone in the ongoing story of Apple's dedication to innovation. It remains a symbol of the company's relentless pursuit of excellence, setting the stage for the remarkable advancements and products that continue to captivate technology enthusiasts worldwide.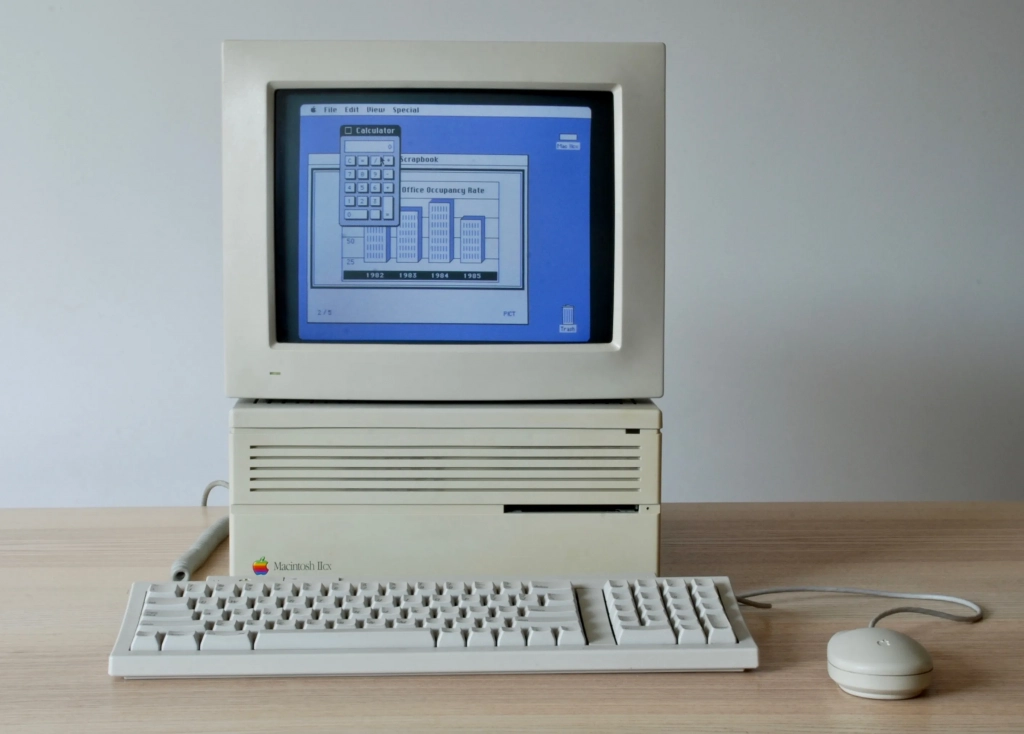 Macintosh IIcx Details
Introduced
March 7, 1989
Discontinued
March 11, 1991
Model Identifier
8
Model Number
M5650
Order Number
M5660
M5610
M5680
M5690
Original Price
$5,369
$7,069
Colors
Platinum
Weight
13.6 Ibs.
6.168 KG
Dimensions
5.5" H x 11.9" W x 14.4" D
13.97 cm H x 30.22 cm W x 36.57 cm D
Mac IIcx Tech Specs
Processor
| | |
| --- | --- |
| Processor | Motorola 68030 |
| Processor Speed | 16 MHz |
| Architecture | 32-bit |
| Number of Cores | 1 |
| System Bus | 16 MHz |
| Cache | 0.25 KB L1 |
| Coprocessor | Motorola 68882 FPU |
Storage & Media
Storage
40 MB
80 MB
Media
1.44 MB Floppy
Memory
Built-in Memory
1 MB
4 MB
Maximum Memory
128 MB
Memory Slots
8 – 30 pin SIMMs (Groups of 4)
Minimum Speed
120 ns
ROM
Unknown
Interleaving Support
No
Display
Graphics
| | |
| --- | --- |
| Graphics Card | None |
| Graphics Memory | None |
| Display Connection | Unknown |
Expansion
| | |
| --- | --- |
| Expansion Slots | 3 – NuBus |
| Hard Drive Interface | SCSI |
Connections
| | |
| --- | --- |
| Ethernet | None |
| Modem | None |
| ADB | 2 |
| Serial | 2 |
| SCSI | 1 – DB-25 |
| Floppy Port | 1 – DB-19 |
| Audio In | None |
| Audio Out | 1 – 3.5-mm stereo output jack |
| Display | Unknown |
Accessories
Software
Power
| | |
| --- | --- |
| Backup Battery | 3.6 V lithium |
| Maximum Continuous Power | 159 W |
| Line Voltage | Unknown |
Further Reading and References
Would you like to know more about Apple products? Stay up-to-date with the latest Apple News. Check our blog for the latest releases, rumors, and updates in the world of Apple.
Disclaimer: The data presented in this article is under continuous development and has been manually collected from various sources based on their availability. The author of this article may revise this dataset as additional research is conducted and reviewed. Please note that the information is provided "as is" and "as available" without express or implied warranties. The author cannot be held responsible for any omissions, inaccuracies, or errors in the published information. Any warranties relating to this information are hereby disclaimed.
Last updated: May 14, 2023