Apple's legacy of pioneering technology and pushing boundaries in the tech industry is well-known. Amidst the multitude of cutting-edge products released over the years, one device from the 90s continues to shine as an emblem of Apple's innovative spirit: the Apple Multiple Scan 15-inch Display. Introduced on July 18, 1994, this display was a game-changer of its time, boasting features that left competitors in awe.
Today, 29 years after its launch and its eventual discontinuation on September 14, 1996, this exceptional piece of technology still holds a special place in the hearts of Apple enthusiasts, reminding us of the company's commitment to innovation and excellence.
In an era where display technology was rapidly evolving, Apple took the lead with the Multiple Scan 15-inch Display. Its vibrant 15-inch Color RGB Monitor was unparalleled, delivering crisp and clear visuals that brought images and videos to life. With a remarkable pixel density of up to 102 dpi and a resolution of up to 1024 x 768 pixels, the display offered a level of detail and clarity that was unheard of at the time.
The Apple Multiple Scan 15-inch Display was more than just a beautiful screen. It was a comprehensive multimedia solution tailored for users of the Macintosh LC 630 and Macintosh Performa 630 series. The inclusion of support for 32,000 colors ensured that graphics and visuals appeared true-to-life, making it a preferred choice for designers, artists, and creative professionals.
Moreover, the integration of two built-in stereo speakers provided a surprising audio boost for its time. Whether users were watching a movie, playing a game, or listening to music, the display offered a complete multimedia experience. For added convenience, the inclusion of 3.5-mm jack input and output ports allowed users to connect their headphones or external speakers seamlessly.
The Apple Multiple Scan 15-inch Display featured a DA-15 video connection, streamlining connectivity with compatible devices. The ease of connection and the display's compatibility with the Macintosh LC 630 and Macintosh Performa 630 series made it a user-friendly and versatile choice for Apple enthusiasts.
As technology continued to advance, the Multiple Scan 15-inch Display, though beloved, eventually met its end on September 14, 1996, as newer, more advanced display options emerged. While it was discontinued, the impact of this remarkable product remains engraved in the memories of many loyal Apple fans.
Though it has been almost three decades since the Multiple Scan 15-inch Display was introduced, its legacy endures. The display serves as a symbol of Apple's unwavering dedication to innovation and delivering high-quality products that revolutionize the way we interact with technology. To this day, Apple enthusiasts fondly remember the excitement and joy of using this remarkable piece of technology, a true testament to its enduring appeal.
Apple's Multiple Scan 15-inch Display, with its cutting-edge features and revolutionary capabilities, remains an iconic milestone in the company's history. It showcased Apple's unyielding commitment to providing innovative, high-quality products that shaped the tech industry's trajectory.
Even after its discontinuation, the display continues to evoke nostalgia and admiration, reminding us of the profound impact that one product can have on an entire generation of technology users. As we continue to witness Apple's constant pursuit of excellence, we can't help but look back at the Multiple Scan 15-inch Display with fondness and gratitude for the way it changed our perception of visual experience forever.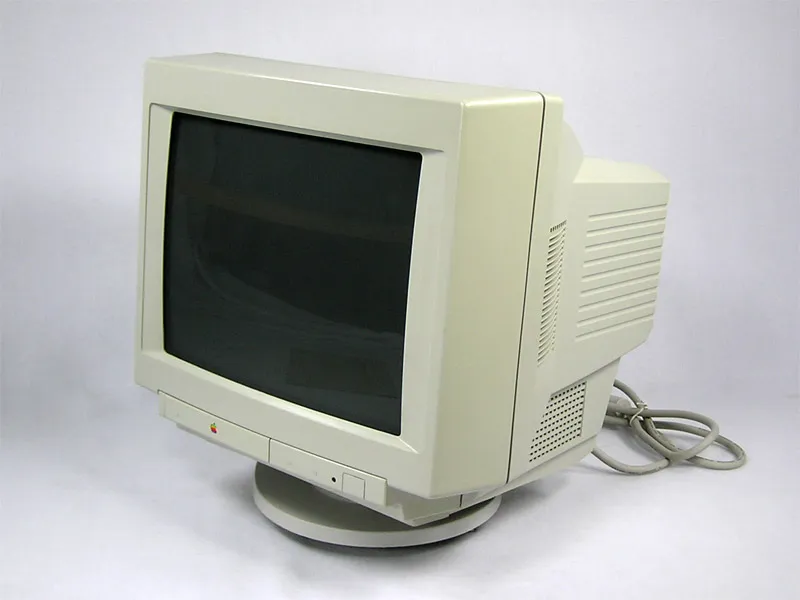 Apple Multiple Scan 15-inch Display Details
Introduced
July 18, 1994
Discontinued
September 14, 1996
Model Number
M2943
Order Number
Unknown
Original Price
$500
Colors
Platinum
Weight
31 Ibs.
14.061 KG
Dimensions
16.7" H x 15.9" W x 17.8" D
42.41 cm H x 40.38 cm W x 45.21 cm D
System Requirements
Display Specs
Type
Shadow Mask CRT
Size
15"
Viewable Area
13.3"
Colors
32,000
Brightness
N/A
Resolutions
640 x 480
800 x 600
832 x 624 (Mac / PC)
1024 x 768 (PC)
Viewing Angle
N/A
Contrast Ratio
N/A
Response Time
N/A
Pixel Pitch
0.28 mm
Pixel Density
64 dpi
80 dpi
83 dpi
102 dpi
Connections
Connection
DA-15
Audio
2 – Built-in stereo speakers
Camera
None
Ports
1 – 3.5-mm analog input jacks
1 – 3.5-mm analog output jacks
Power
| | |
| --- | --- |
| Maximum Continuous Power | 90 W |
Further Reading and References
Would you like to know more about Apple products? Stay up-to-date with the latest Apple News. Check our blog for the latest releases, rumors, and updates in the world of Apple.
Disclaimer: The data presented in this article is under continuous development and has been manually collected from various sources based on their availability. The author of this article may revise this dataset as additional research is conducted and reviewed. Please note that the information is provided "as is" and "as available" without express or implied warranties. The author cannot be held responsible for any omissions, inaccuracies, or errors in the published information. Any warranties relating to this information are hereby disclaimed.
Last updated: July 31, 2023