In the ever-evolving world of technology, it's easy to forget the groundbreaking innovations that paved the way for the sleek devices we use today. One such innovation that deserves recognition is the Apple Multiple Scan 15AV Display, a 15-inch Color RGB monitor introduced by Apple in 1996. On September 14, 1996, Apple unleashed this marvel, priced at a modest $499, and forever changing the way we experienced computing.
Picture the tech landscape of 1996—a time when cathode ray tube (CRT) monitors ruled the scene, and Apple was on the brink of a resurgence under the visionary leadership of Steve Jobs. In the midst of this era, the Apple Multiple Scan 15AV Display emerged as a beacon of innovation.
With a pixel density of 93 dpi and resolutions reaching up to 1024 x 768 pixels, this display was ahead of its time, offering a staggering 32,000 colors. It was tailor-made for Power Macintosh computers, designed to complement the evolving Macintosh ecosystem.
What set the Multiple Scan 15AV Display apart was its multifunctional design. Not only did it serve as a high-quality monitor, but it also sported two built-in stereo speakers, a microphone, a 3.5-mm jack input port, and a 3.5-mm jack output port. This integrated audio setup was revolutionary for its time, making it ideal for multimedia tasks.
The display was versatile too. Its multiple-scan technology allows users to select the ideal resolution for their tasks without the need to restart the system. Whether you were crafting a presentation, enjoying a QuickTime movie, or delving into page-layout design, the 15AV Display had you covered.
One standout feature was the flat, square shadow mask screen, providing a larger viewing area compared to many other 15-inch monitors. Its ColorSync profiles ensured precise color matching, a testament to Apple's commitment to delivering outstanding image quality.
But it wasn't just about what you saw; it was also about what you heard. The front-facing integrated stereo speakers and headphone jack made it a go-to choice for multimedia enthusiasts.
Setting up and using the Apple Multiple Scan 15AV Display was a breeze. Advanced antistatic and antiglare coatings minimized static electricity buildup and distortion. User-friendly controls allowed adjustments for brightness, contrast, speaker volume, and screen positioning, ensuring optimal viewing performance.
Additionally, this display complied with the Environmental Protection Agency's Energy Star guidelines, emphasizing Apple's commitment to power conservation.
Sadly, all good things must come to an end. The Multiple Scan 15AV Display was discontinued on August 5, 1997, but its impact continues to resonate in the hearts of tech enthusiasts and Apple aficionados. Today, 27 years later, this display stands as a piece of Apple's rich history, offering a nostalgic glimpse into the brand's early days in the computer industry.
As we marvel at the cutting-edge displays and technology of the present, let's not forget the groundbreaking innovations like the Apple Multiple Scan 15AV Display that paved the way for the digital world we know today.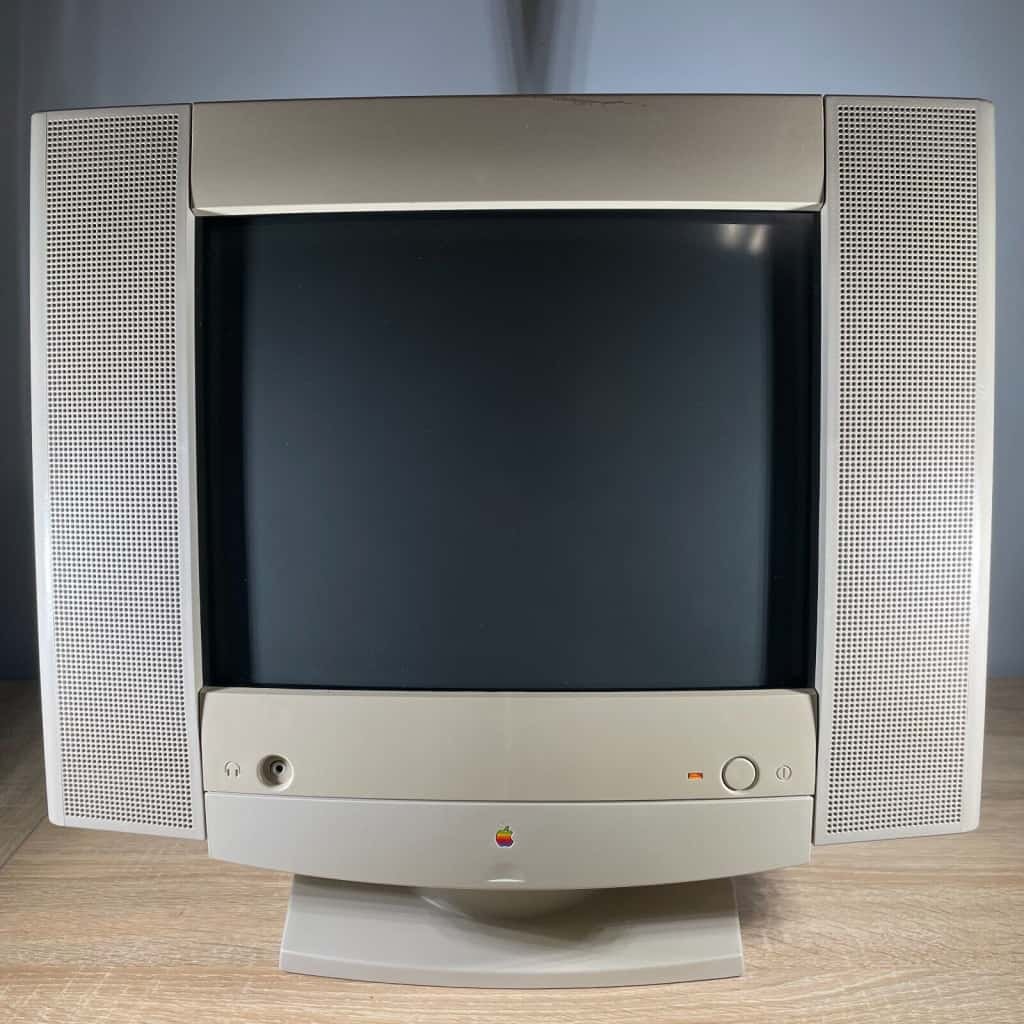 Apple Multiple Scan 15AV Details
Introduced
September 14, 1996
Discontinued
August 5, 1997
Model Number
M4681
Order Number
Unknown
Original Price
$499
Colors
Platinum
Weight
30 Ibs.
13.607 KG
Dimensions
15.3" H x 14.8" W x 15.8" D
38.86 cm H x 37.6 cm W x 40.13 cm D
System Requirements
Display Specs
Type
Shadow Mask CRT
Size
15"
Viewable Area
13.75"
Colors
32,000
Brightness
N/A
Resolutions
640 x 480
800 x 600
832 x 624
1024 x 768
Viewing Angle
N/A
Contrast Ratio
N/A
Response Time
N/A
Pixel Pitch
0.28 mm
Pixel Density
58 dpi
73 dpi
76 dpi
93 dpi
Connections
Connection
DA-15
Audio
2 – Built-in stereo speakers
Camera
None
Ports
1 – 3.5-mm analog input jack
1 – 3.5-mm analog output jack
Power
| | |
| --- | --- |
| Maximum Continuous Power | 75 W |
Further Reading and References
Would you like to know more about Apple products? Stay up-to-date with the latest Apple News. Check our blog for the latest releases, rumors, and updates in the world of Apple.
Disclaimer: The data presented in this article is under continuous development and has been manually collected from various sources based on their availability. The author of this article may revise this dataset as additional research is conducted and reviewed. Please note that the information is provided "as is" and "as available" without express or implied warranties. The author cannot be held responsible for any omissions, inaccuracies, or errors in the published information. Any warranties relating to this information are hereby disclaimed.
Last updated: September 23, 2023