In the early 90s, the digital camera market was still in its infancy, with few models available to consumers. However, Apple sought to change this with the launch of its QuickTake 100, which hit the shelves in 1994.
Unveiled at MacWorld in Tokyo on February 17, 1994, the Apple QuickTake 100 was one of the first digital cameras aimed at a consumer market. With a price starting at $749, it was an affordable option for those who wanted to take the leap into digital photography.
In the fast-paced world of technology, milestones often go unnoticed as innovations come and go. However, there are moments that mark a turning point in an industry, and one such moment occurred in 1994 when Apple introduced the QuickTake 100. It was a groundbreaking step towards making digital photography accessible to the masses.
The QuickTake 100 was more than just a digital camera; it was a game-changer. Designed with the consumer in mind, it boasted a user-friendly interface and intuitive controls. Even those unfamiliar with digital technology could easily navigate its features, making it the perfect entry point for photography enthusiasts.
Equipped with a 24-bit CCD image sensor and a fixed-focus lens, the QuickTake 100 produced images with a resolution of up to 640 x 480 pixels. While this may seem modest by today's standards, it was a significant achievement in the early 90s. Users marveled at the clarity and quality of the images captured by this innovative device.
Furthermore, the camera's flash ensured that moments could be immortalized with the perfect lighting, even in challenging conditions. The QuickTake 100's ability to take up to 120 pictures on a single set of batteries impressed users and photographers alike.
Apple's dedication to innovation didn't go unnoticed. In 1995, the Apple QuickTake 100 was awarded the prestigious Product Design Award, a testament to its seamless blend of functionality and aesthetics. Initial reviews were overwhelmingly positive, with critics praising the camera for its ease of use and the impressive quality of images it produced.
To cater to a wide range of users, Apple released two versions of the QuickTake 100—one for Macintosh computers and another for Windows users. This strategic move opened doors for countless photography enthusiasts to experience the joys of digital imaging, regardless of their preferred operating system.
Despite its initial success and critical acclaim, the QuickTake 100 was ultimately discontinued on May 8, 1995, merely a year after its release. This decision, however, does not diminish its significance in shaping the digital photography landscape. The QuickTake 100 remains a cherished piece of technology history—a window into the early days of digital photography.
Fast forward 29 years, and the QuickTake 100 still stands as an essential part of Apple's storied history. It may have been short-lived, but its impact on the industry was immense. The QuickTake line paved the way for future innovations and inspired a wave of digital cameras from other renowned brands.
Collectors and tech enthusiasts continue to treasure the QuickTake 100, recognizing its role in revolutionizing consumer digital photography. While Apple's QuickTake line may be a thing of the past, its spirit lives on in modern devices and serves as a reminder of the ever-evolving world of technology.
In the ever-changing landscape of technology, it's essential to acknowledge the pioneers who set the stage for today's innovations. The Apple QuickTake 100 was a stepping stone that led to the digital photography revolution, and its legacy will forever be etched in the history of consumer electronics.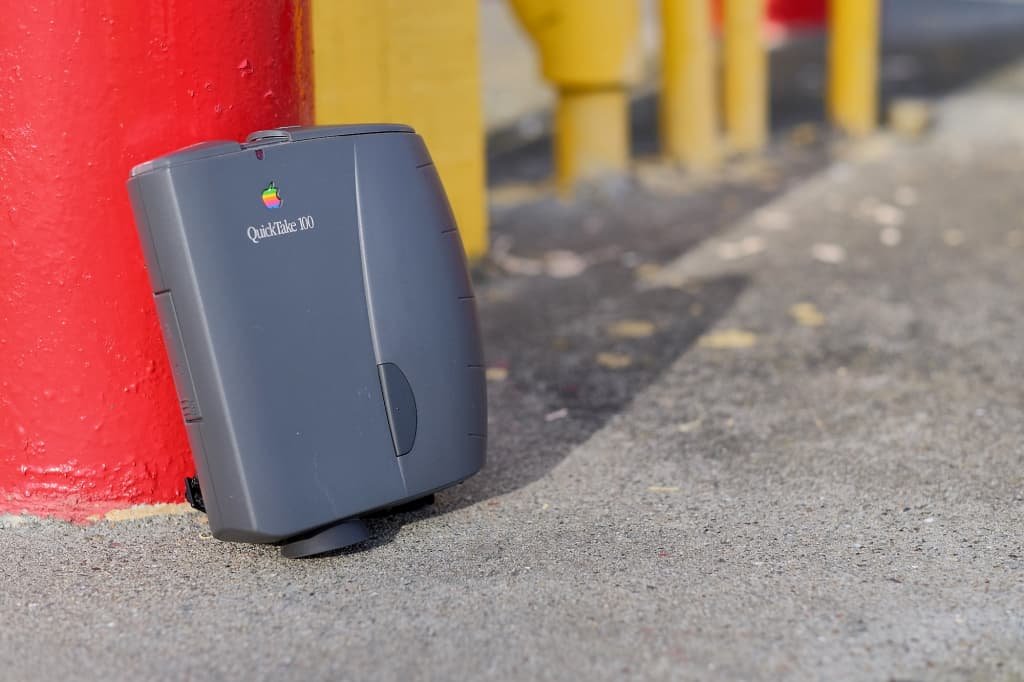 QuickTake 100 Details
Introduced
February 17, 1994
Released
June 20, 1994
Discontinued
May 8, 1995
Model Number
Unknown
Original Price
$749
Weight
1.0 Ibs.
1.224 KG
Dimensions
2.2″ H x 5.3″ W x 6.1″ D
1.87-4.06 cm H x 47.49 cm W x 19.55 cm D
System Requirements
Camera Specs
| | |
| --- | --- |
| Image | 24-bit |
| Resolution | Up to 640 x 480 pixels |
| Optics | Fixed-focus lens with flash |
| Lens Focal Length | 8 mm |
| Range | 4 feet to infinity |
| Shutter Speed | 1/30 to 1/175 of a second |
Media
Photo Formats
PICT
QuickTake
Connections
| | |
| --- | --- |
| Audio | None |
| Ports | 1 – RS-232C |
Power
Power
120 image takes with 3 rechargeable AA NiCd batteries Supports three 1.5 AA,
R6P,
LR-6 or SUM-3 NiCad or lithium batteries
Further Reading and References
Would you like to know more about Apple products? Stay up-to-date with the latest Apple News. Check our blog for the latest releases, rumors, and updates in the world of Apple.
Disclaimer: The data presented in this article is under continuous development and has been manually collected from various sources based on their availability. The author of this article may revise this dataset as additional research is conducted and reviewed. Please note that the information is provided "as is" and "as available" without express or implied warranties. The author cannot be held responsible for any omissions, inaccuracies, or errors in the published information. Any warranties relating to this information are hereby disclaimed.
Last updated: July 28, 2023