In 1995, Apple ventured into the world of printers with the groundbreaking StyleWriter 1200. As part of the Apple Printer series, this monochrome inkjet printer quickly became a favorite among home and office users due to its impressive features.
Now, 28 years after its launch, the StyleWriter 1200 remains a cherished collectible among Apple enthusiasts. In this article, we take a nostalgic journey back to explore the legacy of this iconic printer that helped establish Apple as a major player in the printing industry.
Upon its release on April 1st, 1995, the StyleWriter 1200 astonished users with its state-of-the-art features. With a maximum resolution of 720×360 dpi, it offered high-quality printing – a remarkable feat during its era. Coupled with a printing speed of up to 3 pages per minute, the StyleWriter 1200 was one of the fastest printers on the market, meeting the demands of time-conscious users.
Ideal for text-based documents, the printer boasted a single printing color that enhanced the clarity and readability of printed materials. Furthermore, its Serial connection port enabled seamless connectivity with a range of devices, making it a versatile choice for both home and office setups.
Over the years, the StyleWriter 1200 solidified its place as a cult classic among Apple enthusiasts. True to Apple's design philosophy, the printer boasted a sleek and elegant build that epitomized the aesthetics of the time. Its reliability and user-friendly nature further endeared it to loyal Apple fans.
Though discontinued eventually, the StyleWriter 1200 found new life among vintage Apple collectors and technology enthusiasts who sought to preserve a piece of Apple's history. As a symbol of Apple's commitment to innovation and quality, the StyleWriter 1200 stands as a testament to the company's early efforts in the printer market.
The StyleWriter 1200 was equipped with impressive technical specifications for its time. It featured a maximum resolution of 720×360 dpi, pushing the boundaries of print quality in its era. Operating at a speed of 3 pages-per-minute in draft mode and 2 pages-per-minute in best mode, it balanced speed and precision, appealing to a wide range of users.
Compatible with Canon BC-02 bubblejet cartridges, the printer ensured users had easy access to replacement ink. Additionally, networking capabilities were possible through GrayShare software, enabling connection to other devices with the support of a host Macintosh computer. The optional StyleWriter EtherTalk Adapter further expanded networking capabilities, allowing faster Ethernet connectivity without the need for a host computer.
To cater to diverse printing needs, the StyleWriter 1200 included 64 TrueType fonts on its disk. For those requiring PostScript Type 1 fonts, Adobe Type Manager support could be added, offering greater flexibility in font options.
Despite its impressive success, the StyleWriter 1200 was eventually succeeded by the Color StyleWriter 1500 on March 14, 1996. As Apple's foray into printers continued to evolve, the StyleWriter 1200's legacy lived on, forever etched into the annals of Apple's history.
The StyleWriter 1200 marked a pivotal moment in Apple's journey, establishing the company as a serious player in the printer market. With its advanced features, elegant design, and user-friendly nature, it quickly became a favorite among Apple fans and remains a cherished collectible to this day. As Apple's printer era may be long gone, the StyleWriter 1200 stands as a vintage gem, reflecting the company's relentless pursuit of innovation and dedication to producing quality products.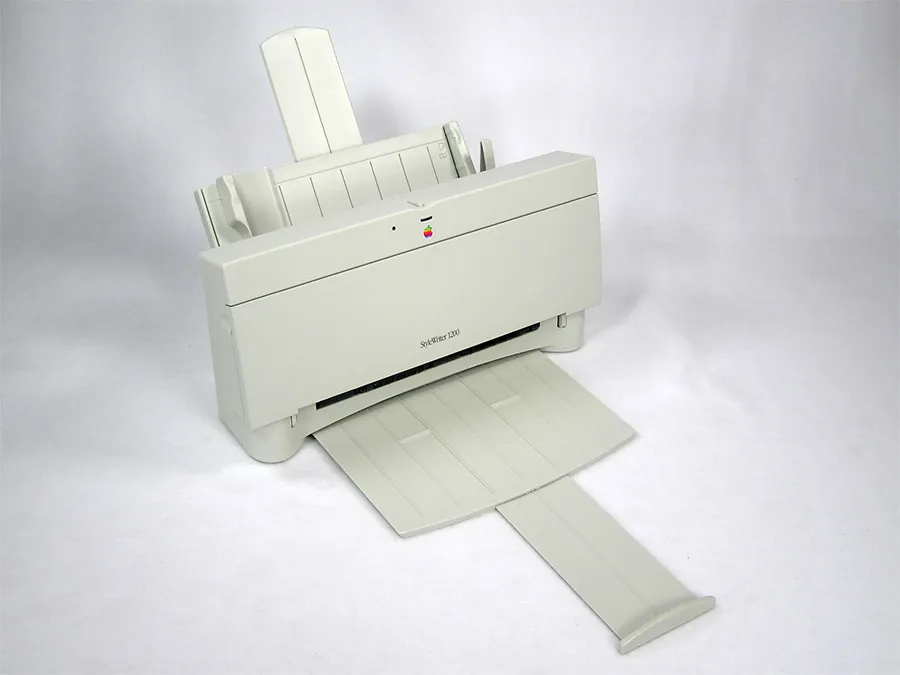 StyleWriter 1200 Details
Introduced
April 1, 1995
Discontinued
Unknown
Original Price
Unknown
Model Number
Unknown
Order Number
Unknown
Weight
6.6 Ibs.
2.993 KG
Dimensions
7" H x 13.6" W x 7.9" D
17.78 cm H x 34.54 cm W x 20 cm D
Printer Specs
Type
Thermal ink-jet
Colors
1
Pages Per Minute
3
DPI
720 x 360
Language
QuickDraw
Cartridge
Apple Black Cartridge M8041G/C
Canon Black Cartridge BC-02
Hardware
| | |
| --- | --- |
| Processor | None |
| Processor Speed | N/A |
| ROM Size | N/A |
| Maximum Memory | N/A |
| Memory Slots | N/A |
| Minimum Speed | N/A |
Connections
Power
| | |
| --- | --- |
| Maximum Continuous Power | 19.5 W |
Further Reading and References
Would you like to know more about Apple products? Stay up-to-date with the latest Apple News. Check our blog for the latest releases, rumors, and updates in the world of Apple.
Disclaimer: The data presented in this article is under continuous development and has been manually collected from various sources based on their availability. The author of this article may revise this dataset as additional research is conducted and reviewed. Please note that the information is provided "as is" and "as available" without express or implied warranties. The author cannot be held responsible for any omissions, inaccuracies, or errors in the published information. Any warranties relating to this information are hereby disclaimed.
Last updated: August 6, 2023