The highly anticipated Worldwide Developers Conference (WWDC) is in full swing, and Apple has just unveiled iPadOS 17, the latest iteration of its operating system for iPads. Alongside iOS 17 and other operating system updates, Apple is set to revolutionize the iPad experience with a focus on personalization and pro features.
One of the standout features of iPadOS 17 is the introduction of interactive widgets. Apple has brought the beloved Lock Screen widgets from the iPhone to the iPad, giving users the ability to customize and tailor their devices to their liking. These widgets can be stacked on the side of the iPad display and even display multiple timers, adding convenience and versatility to the iPad experience.
Live Activities, a feature previously exclusive to iPhones, are now making their way to iPadOS. With Live Activities, apps can showcase live previews of various data, such as sports scores, flight information, and more. This dynamic feature brings real-time information right to the user's fingertips, enhancing productivity and keeping users up to date with the latest information.
In a move that caters to health-conscious iPad users, Apple has brought its Health app to the iPad. With private data sync, the Health app offers a larger view that displays more data and interactive charts. This expansion of the Health app to the iPad platform ensures that users can conveniently monitor their health and well-being on their preferred Apple device.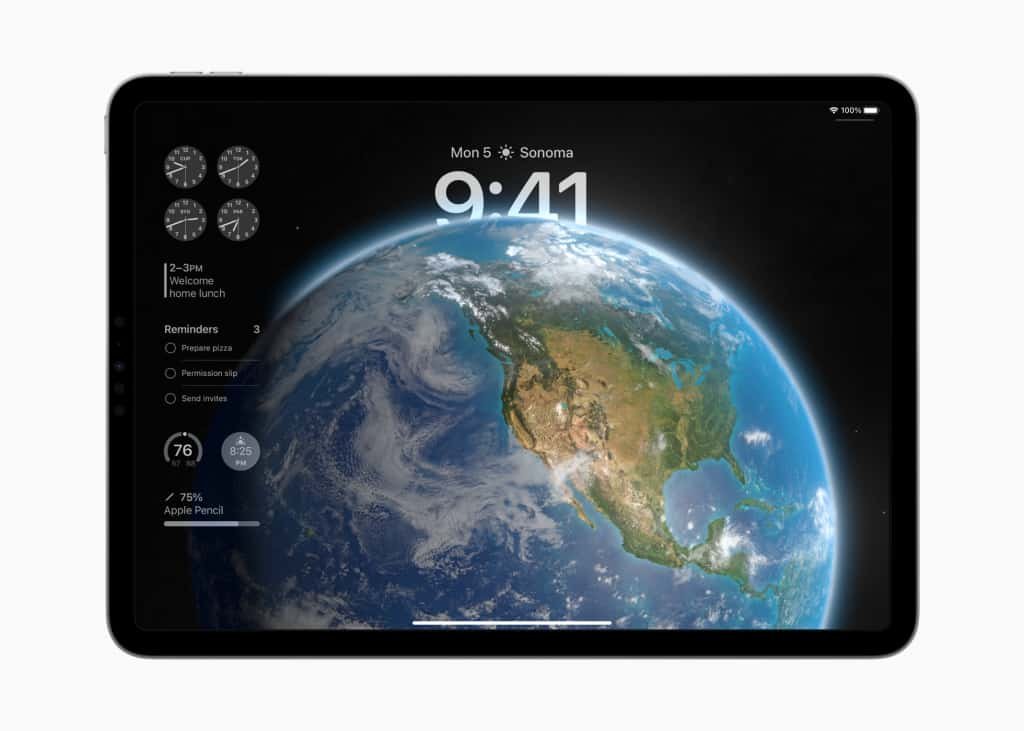 The Notes app has received a significant upgrade in iPadOS 17, gaining PDF support with full markdown capabilities. Users can now take advantage of collaboration tools and edit PDFs simultaneously, streamlining workflows and boosting productivity. Additionally, machine learning technology enables intelligent PDF auto-fill, simplifying the process of filling out forms and documents.
Apple also briefly touched upon updates to Stage Manager, introducing Flexible Layouts and enhanced abilities for connecting to external displays. Notably, iPads can now utilize webcams integrated into external displays, such as the Studio Display, further expanding the device's versatility and potential applications.
Craig Federighi, Apple's senior vice president of Software Engineering, expressed enthusiasm about the advancements in iPadOS 17, stating, "iPadOS powers our most versatile device and enables users to do so many things on iPad, and now with iPadOS 17, we deliver an experience that's even more personal and capable." Federighi highlighted the interactive widgets on the Lock Screen, PDF and Notes updates, and enhancements to Messages and FaceTime, emphasizing how iPadOS empowers users to accomplish tasks more efficiently than ever before.
Several features announced for iOS 17 will also be making their way to iPadOS 17, further unifying the Apple ecosystem. Notable inclusions are PDF support in the Notes app, improvements to phone calls and voice mail, iMessage updates with an enhanced app drawer and stickers experience, AirDrop changes including the "NameDrop" feature for Contacts, and the introduction of a new autocorrect with a transformer language model.
Related articles
While Apple unveiled a plethora of updates across its product lineup, some features were noticeably absent from the iPadOS 17 announcement. The highly praised StandBy feature, which showcases widgets while docked on the iPhone, was not mentioned for iPad. Nevertheless, Apple has still managed to deliver a significant update that caters to the unique capabilities and needs of iPad users.
iPadOS 17 will be available to the public in the fall. However, registered and paid developers can get their hands on the developer beta starting Monday afternoon. With its focus on personalization, enhanced productivity, and an array of new features, iPadOS 17 is set to elevate the iPad experience to new heights. Apple continues to innovate, reaffirming its commitment to providing users with cutting-edge technology that seamlessly integrates into their daily lives.