In a much-anticipated announcement, Apple has introduced watchOS 10, the latest major update to its groundbreaking Apple Watch software. Packed with a host of innovative features and redesigned apps, this update is set to revolutionize the way we interact with our smartwatches. From comprehensive app overhauls to a new and exciting way of viewing information across various watch faces, here's everything you need to know about watchOS 10.
With watchOS 10, Apple has breathed new life into watch faces, making them even more dynamic and informative. The introduction of widgets in a smart stack ensures that even watch faces without complications can provide users with a wealth of useful information. Simply spin the Digital Crown and a plethora of widgets will be unveiled, offering a seamless and intuitive way to access essential data.
To further enhance customization options, widgets can now include groups of complications, allowing users to tailor their watch faces to their exact preferences. Additionally, two new faces have been added to the mix: Palette, a visually striking face that revolves around vibrant colors, and the beloved Snoopy & Woodstock from Peanuts, sure to evoke a sense of nostalgia among users.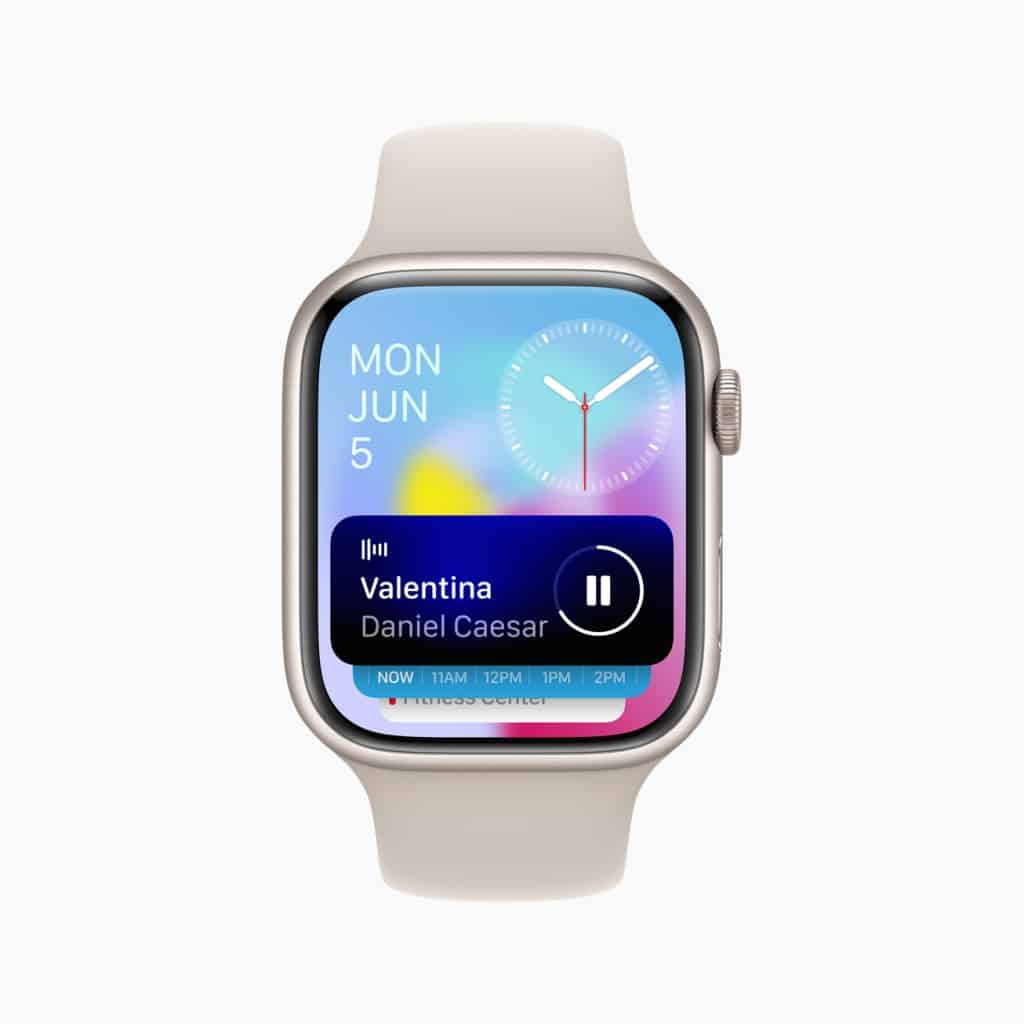 Apple's relentless commitment to improving user experience shines through in the app redesigns that come with the watchOS 10. World Clock, for instance, now features background colors that change dynamically based on the time of day, providing a visually captivating way to keep track of different time zones.
Fitness enthusiasts are in for a treat as the Workout app receives a major overhaul. A new trophy case and full-screen videos accompanying each Activity ring serve as motivational tools, keeping users engaged and inspired on their fitness journeys. Third-party apps have not been left behind either, as they receive full-screen layouts, ensuring a more immersive and seamless experience.
Apple Watch's prowess in the fitness tracking realm gets a significant boost with watchOS 10. Cyclists will be delighted to know that the device can now connect to cycling power accessories via Bluetooth, resulting in improved workout tracking accuracy. Furthermore, power zones based on FTP (Functional Threshold Power) are set to revolutionize cycling workout tracking, providing users with deeper insights into their performance.
Cycling workouts become even more immersive with the introduction of Live Activity on the iPhone. By tapping into this feature, cyclists can view real-time speed and workout metrics on their iPhone's display while pedaling away. For hiking enthusiasts, the experience is enhanced with the addition of the Compass feature, which offers a 3D view of waypoints, making navigation a breeze. Additionally, Maps on Compass now boast trail routes and a topographical view, ensuring users can explore the great outdoors with confidence.
Apple recognizes the importance of mental health, and watchOS 10 reflects this by introducing state-of-mind logging on the iPhone and iPad in the Health app. By combining data from the Apple Watch, this new feature provides users with a comprehensive understanding of their mental well-being in a contextualized manner.
Furthermore, standardized assessments integrated into the Health app will help individuals discover their risks of anxiety and depression, empowering them to seek timely care from healthcare providers. Vision health also takes center stage in watchOS 10, with a particular focus on myopia. The incorporation of ambiance sensors allows users to measure their time spent outdoors, helping them maintain a healthy balance between screen time and natural daylight.
In addition to these impressive updates, watchOS 10 brings a range of other enhancements to the Apple Watch. Users can now leverage the TrueDepth camera on their iPhone or iPad to measure screen distance, reducing digital eyestrain and uncovering potential vision constraints.
Related articles
And that's not all—Group FaceTime audio has made its way to the Apple Watch, making it easier than ever to connect with friends and family. With watchOS 10, Apple has once again proven its commitment to innovation, pushing the boundaries of what a smartwatch can do.
In summary, watchOS 10 promises an exciting future for Apple Watch users worldwide. With its comprehensive app redesigns, innovative watch faces, and enhanced fitness and health tracking capabilities, this major update is set to redefine the way we interact with our smartwatches. Stay tuned as Apple continues to revolutionize the wearable technology landscape, one update at a time.