Back in 1994, Apple launched the AppleDesign Keyboard, a product that promised to redefine the user experience for Macintosh users. With its modern and sophisticated design, quieter interface, and compatibility with the latest Power Macintosh computers, the keyboard seemed like a game-changer. However, as time passed, it became evident that the AppleDesign Keyboard fell short of expectations, leading to its eventual discontinuation in 1998.
When the AppleDesign Keyboard made its debut on March 14, 1994, it represented Apple's earnest attempt to reinvent its keyboard design. The sleek and stylish appearance featured smooth curved lines, aligning perfectly with Apple's new product aesthetics. Apple users were thrilled with the keyboard's quieter key interface, providing a more pleasant typing experience compared to its predecessors.
However, despite its appealing design and improved key interface, the AppleDesign Keyboard had one significant drawback that affected its popularity. The keyboard featured just one ADB (Apple Desktop Bus) mouse port, hidden away at the bottom, with a permanently attached cable. In contrast, the contemporaneously released Extended Keyboard II offered ADB ports on both sides, offering users the flexibility to connect the mouse to their preferred side. This single design choice turned out to be a decisive factor, causing many users to opt for the Extended Keyboard II instead.
The AppleDesign Keyboard came in two color options: black and platinum. These colors were selected to complement various Macintosh models, such as the Macintosh TV, Macintosh Performa 5420, and Power Macintosh 5500. Additionally, the keyboard had four variants, each with subtle differences in keycap mount and screw hole placement. Notably, some variants featured a fixed cable, while others had detachable cables and compatibility with Alps sliders.
Part number M2980, the AppleDesign Keyboard was Apple's first low-cost full-size Macintosh keyboard with a function key row and navigation cluster. While it used rubber domes for key switches, the high-end Apple Extended Keyboard boasted Alps SKCL/SKCM series mechanical switches. The distinction between the two keyboards led some users to choose the more premium model for a superior typing experience.
Despite its promising start, the AppleDesign Keyboard couldn't maintain its momentum. As of today, the keyboard is 29 years old and has long been discontinued. The rise of newer and more advanced keyboard designs eventually eclipsed the AppleDesign Keyboard, relegating it to the annals of Apple's history.
The AppleDesign Keyboard was undoubtedly a pivotal moment in Apple's pursuit of design excellence. It represented the company's early efforts to combine aesthetics and functionality, setting a precedent for future products. However, its limitations, such as the single ADB mouse port and competition with higher-end alternatives, hampered its success.
As Apple continues to innovate and push the boundaries of design, the legacy of the AppleDesign Keyboard serves as a reminder that every product contributes to the evolution of technology. Though its story may not be one of triumphant success, it remains an important chapter in Apple's journey toward creating devices that resonate with users worldwide.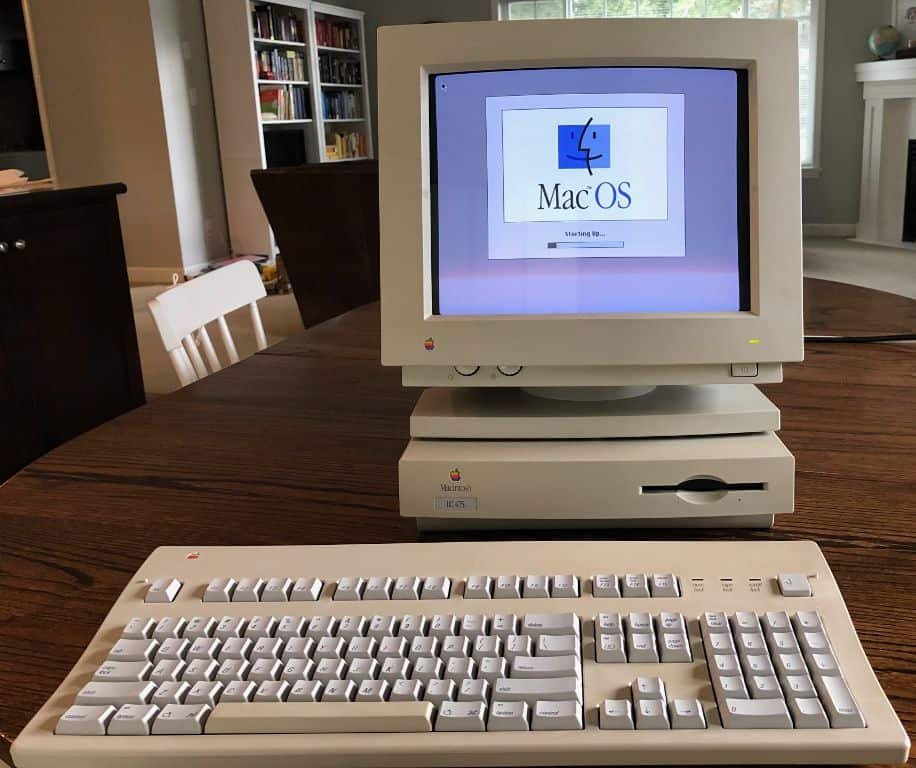 AppleDesign Keyboard Details
Introduced
March 14, 1994
Discontinued
May 6, 1998
Model Number
M2980
Original Price
Unknown
Weight
2.7 Ibs.
1.224 KG
Dimensions
0.75″-1.6″ H* x 18.7″ W x 7.7″ D
1.87-4.06 cm H* x 47.49 cm W x 19.55 cm D
*Dimension front-rear
System Requirements
Keyboard Specs
Keys in Total
105
Alphanumeric
48
Special
1 – Power
15 – Function keys
Numeric
18
Cursor-control
4 (T-style)
Connections
Power
Further Reading and References
Would you like to know more about Apple products? Stay up-to-date with the latest Apple News. Check our blog for the latest releases, rumors, and updates in the world of Apple.
Disclaimer: The data presented in this article is under continuous development and has been manually collected from various sources based on their availability. The author of this article may revise this dataset as additional research is conducted and reviewed. Please note that the information is provided "as is" and "as available" without express or implied warranties. The author cannot be held responsible for any omissions, inaccuracies, or errors in the published information. Any warranties relating to this information are hereby disclaimed.
Last updated: July 29, 2023