Apple, the tech giant renowned for its groundbreaking innovations, has consistently shaped the tech industry while leaving an indelible mark on society. Among its numerous game-changing products, the AppleDesign Powered Speakers II stands as a prime example of Apple's dedication to pushing the boundaries of technology and design.
Released in 1994 as part of the AppleDesign Speakers series, these speakers were a radical departure from the norm, boasting cutting-edge features that garnered praise and admiration from tech enthusiasts and music lovers alike. Let's delve into the history and legacy of the AppleDesign Powered Speakers II.
Upon their introduction on May 16, 1994, the AppleDesign Powered Speakers II immediately set themselves apart from traditional speakers on the market. The speakers were powered by an AC adapter, making them compatible with any audio output source. This forward-thinking approach allowed users to seamlessly attach the speakers to personal computers, portable CD players, audio cassette players, and even televisions with sound output support.
One of the standout features was the inclusion of two separate inputs—one for the computer and one for an external CD player, demonstrating Apple's commitment to providing a comprehensive audio experience. Additionally, a headphone jack on the front of one speaker and a volume control further enhanced user convenience. For those seeking an enhanced audio experience, certain models offered an optional subwoofer connection port, catering to audiophiles and discerning music aficionados.
The AppleDesign Powered Speakers II quickly garnered a loyal following, earning accolades for their advanced features and superior performance. However, their time in the spotlight was fleeting, as Apple surprisingly discontinued the speakers on January 1, 1995, merely eight months after their debut. Despite this brief stint, the speakers left an indelible impression on the industry, standing as a testament to Apple's relentless pursuit of innovation.
Today, the AppleDesign Powered Speakers II has reached the impressive milestone of 29 years since its release. These iconic speakers continue to be celebrated for their role in shaping Apple's early days and their lasting impact on the tech industry. Although they are no longer in production, their legacy endures as a timeless symbol of Apple's commitment to excellence in design and performance.
Apple's provided data sheet described the AppleDesign Powered Speakers II as "audiophile-quality," and they truly lived up to that label. Their versatility was unmatched, seamlessly integrating with virtually any personal computer, portable CD player, audio cassette player, or television with sound output support. The rear speaker leg design offered customizable angles, catering to individual preferences for audio projection.
In terms of performance, the speakers delivered a powerful 90 dB at 0.5m at 200Hz, ensuring crystal-clear sound and immersive audio experiences. The speakers' compact dimensions—6.8 inches tall, 4.1 inches wide, and 3.9 inches deep—made them an ideal choice for space-conscious consumers without compromising on sound quality.
The AppleDesign Powered Speakers II were not just about functionality; they were also a visual delight. Available in both beige and black to complement Apple desktop computers of that era, their design seamlessly blended with Apple's iconic aesthetic. Furthermore, a more elusive variant featuring a striking black hue and silver metallic Apple logos emerged, adding to the speakers' allure as a collector's item.
The AppleDesign Powered Speakers II may have been short-lived in the market, but their impact has been anything but fleeting. They remain a cherished piece of Apple's history, a testament to the company's commitment to groundbreaking innovation and unparalleled design.
While these iconic speakers may no longer be in production, their legacy endures in the hearts of tech enthusiasts, music lovers, and anyone who appreciates the seamless integration of technology and artistry. As Apple continues to pave the way for the future, we can only wonder what groundbreaking products it will unveil next, leaving us in awe of its relentless pursuit of excellence.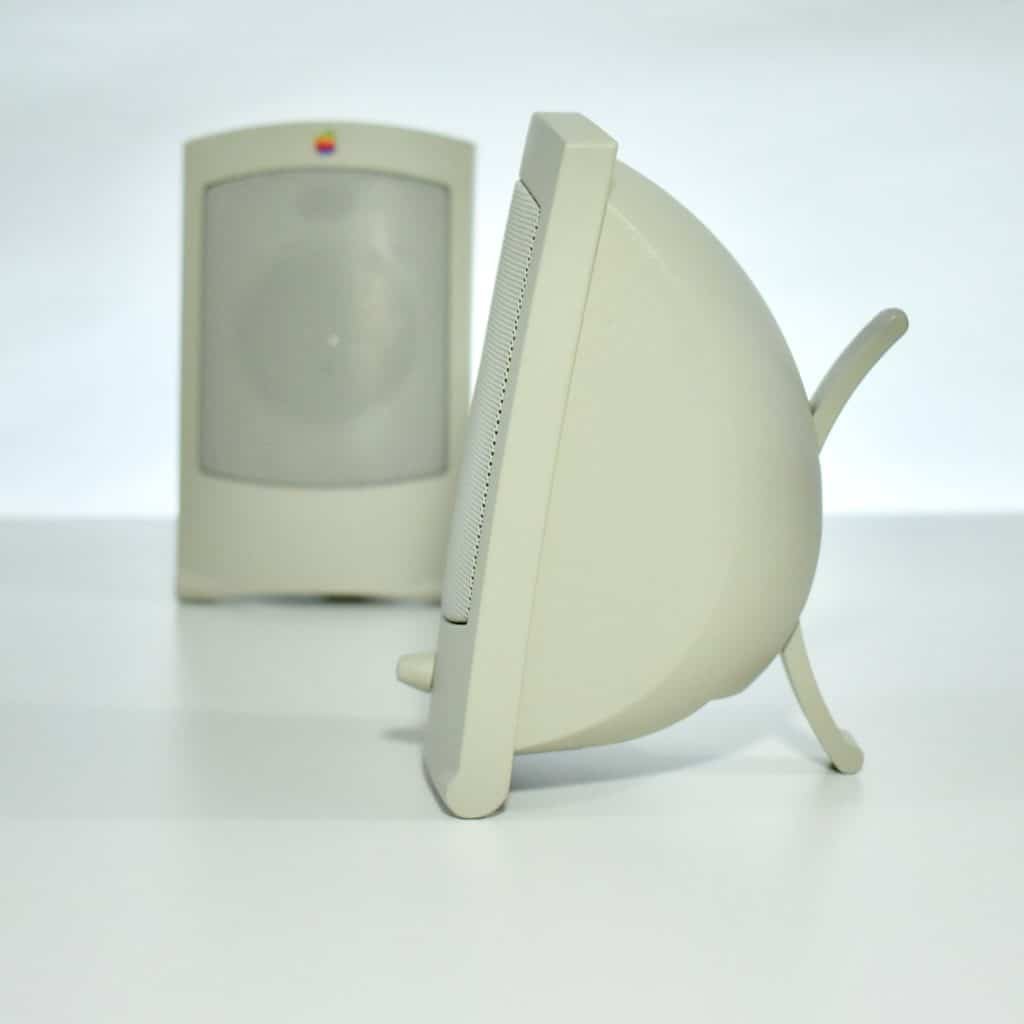 AppleDesign Powered Speakers II Details
Introduced
May 16, 1994
Discontinued
January 1, 1995
Model Number
M6668LL/A
Original Price
Unknown
Colors
Beige
Black
Weight
2.7 Ibs.
1.224 KG
Dimensions
6.9″ H x 4.5″ W x 4″ D
17.52 cm H x 11.43 cm W x 10.16 cm D
Speaker Specs
Type
Full-range
Tuned-port
Bass-reflex
Frequency Response
150 Hz to 20 kHz
Sound Pressure Level
90 dB at 0.5 m at 90 Hz
Connections
| | |
| --- | --- |
| Audio In | 2 – 3.5-mm stereo input jacks |
| Audio Out | 1 – 3.5-mm stereo output jack |
Power
| | |
| --- | --- |
| Power | 40 W |
| Power Source | 15 VDC |
Further Reading and References
Would you like to know more about Apple products? Stay up-to-date with the latest Apple News. Check our blog for the latest releases, rumors, and updates in the world of Apple.
Disclaimer: The data presented in this article is under continuous development and has been manually collected from various sources based on their availability. The author of this article may revise this dataset as additional research is conducted and reviewed. Please note that the information is provided "as is" and "as available" without express or implied warranties. The author cannot be held responsible for any omissions, inaccuracies, or errors in the published information. Any warranties relating to this information are hereby disclaimed.
Last updated: July 31, 2023