In a much-anticipated move, Apple has taken the stage at the Worldwide Developer Conference to reveal its latest innovation, the Vision Pro mixed-reality headset. This ambitious foray into the augmented reality (AR) market promises to disrupt the industry with its groundbreaking features and capabilities. Although the release is slated for early 2024, the headset comes with a hefty price tag of $3,499. Let's delve into the details of this remarkable device and explore what it means for the future of spatial computing.
The Vision Pro stands as a standalone device, reminiscent of the Meta Quest 2, but Apple's offering takes the concept several steps further. With a ski-goggle-style design that echoes other headsets in the market, the Vision Pro distinguishes itself with premium specifications and advanced features that set it apart from the competition.
To ensure a comfortable and secure fit for extended usage, the Vision Pro features silicone straps that wrap around the head and above the ears. A cushion layer adds an extra layer of snugness to the user's face, enabling prolonged periods of wear without discomfort.
Apple refers to the Vision Pro as a venture into "spatial computing" and as the first device through which Apple users truly perceive the world. By leveraging spatial computing, the headset seamlessly displays apps within the user's physical space. These apps can expand and interact with the environment, featuring shadows that provide visual cues about their placement on surfaces.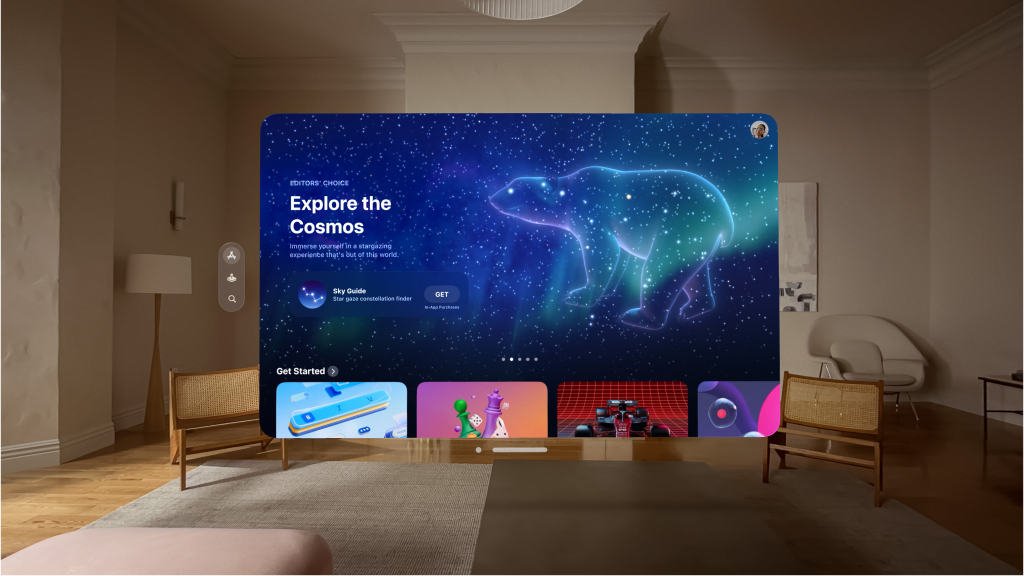 The user has the flexibility to arrange multiple apps within their space according to their preferences. This includes both 2D app panels and 3D objects, all while maintaining a full view of the surrounding environment when desired.
To facilitate smooth transitions between virtual reality (VR) and AR experiences, the Vision Pro employs a control mechanism akin to the Apple Watch Digital Crown. Users can seamlessly switch between different modes, fine-tuning their VR and AR viewpoints with precision.
Navigating the headset's operating system can be achieved through various means, including hand, finger, and eye tracking. The device's integrated cameras, both inside and outside the headset, enable these tracking capabilities. Users can perform gestures like pinches to interact with menus and trigger actions, while voice control, powered by Siri, offers convenient text entry and commands.
One noteworthy feature, called EyeSight, allows others in the same room to perceive what the user is focusing on by providing a view of their eyes. Whenever the user gazes at another individual, their eyes are automatically revealed, fostering a stronger connection and enhancing interpersonal interactions.
Despite being a standalone device, the Vision Pro seamlessly integrates with the broader Apple ecosystem and iCloud services. This synchronization enables data transfer between the headset and other Apple devices such as Macs, iPhones, and iPads. For example, users can effortlessly view the display of their Mac within the Vision Pro simply by directing their gaze toward it.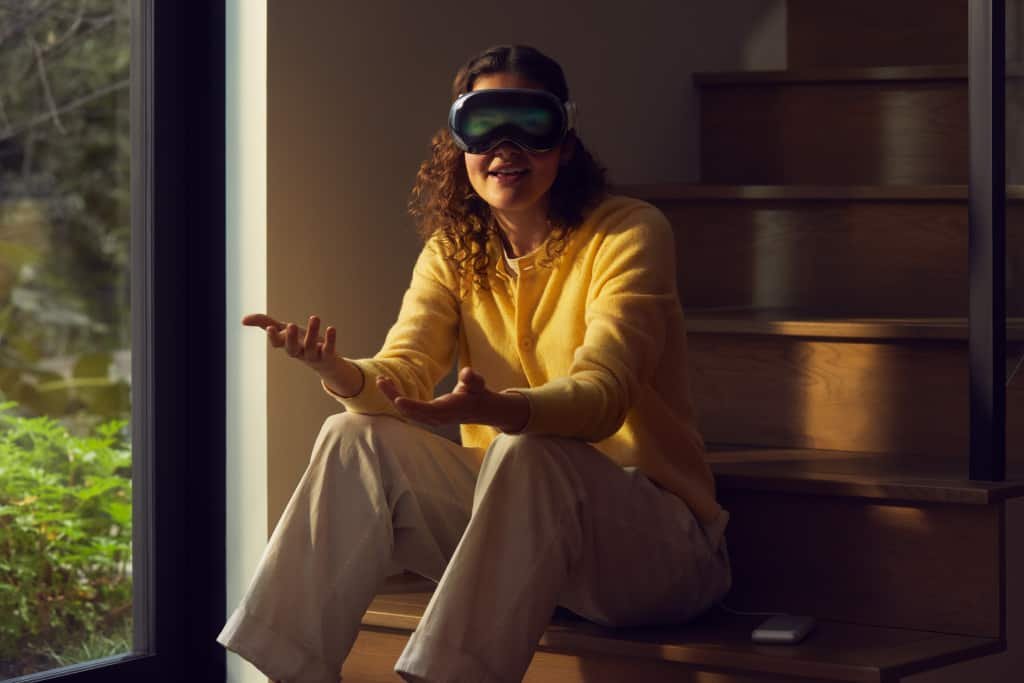 Enhancing the FaceTime experience, the Vision Pro introduces spatial elements that make contacts appear life-sized through dynamic tiles. Spatial audio further augments this immersive communication platform, enabling users to discern the speaker's location based on audio cues. Additionally, documents appear as separate tiles during FaceTime calls, facilitating collaborative work sessions.
To ensure that users can represent themselves even without wearing the headset, Apple leverages the front TrueDepth camera to create a digital Persona based on the user's face. This Persona, generated using machine learning, appears on the user's behalf during calls, replicating their facial and hand movements in real time.
The Vision Pro also marks Apple's first foray into 3D camera technology, allowing users to record videos and capture spatial audio for later viewing in 3D. This functionality, known as Spatial Video and Spatial Photos, opens up new possibilities for content creation and consumption.
In the realm of entertainment, the Vision Pro offers a Spatial Cinema experience with an adjustable screen size. The surrounding light is intelligently dimmed to enhance immersion. Additionally, users can create a virtual environment with a massive 100-foot screen, making it ideal for situations like long flights.
Gaming enthusiasts will be pleased to know that the Vision Pro supports controller input and provides access to over 100 Apple Arcade titles from the moment of release.
Crafted from a durable aluminum alloy, the headset incorporates an efficient thermal design to ensure optimal performance. Apple meticulously analyzed "thousands of heads" to develop a modular system that allows users to configure the headset according to their specific needs.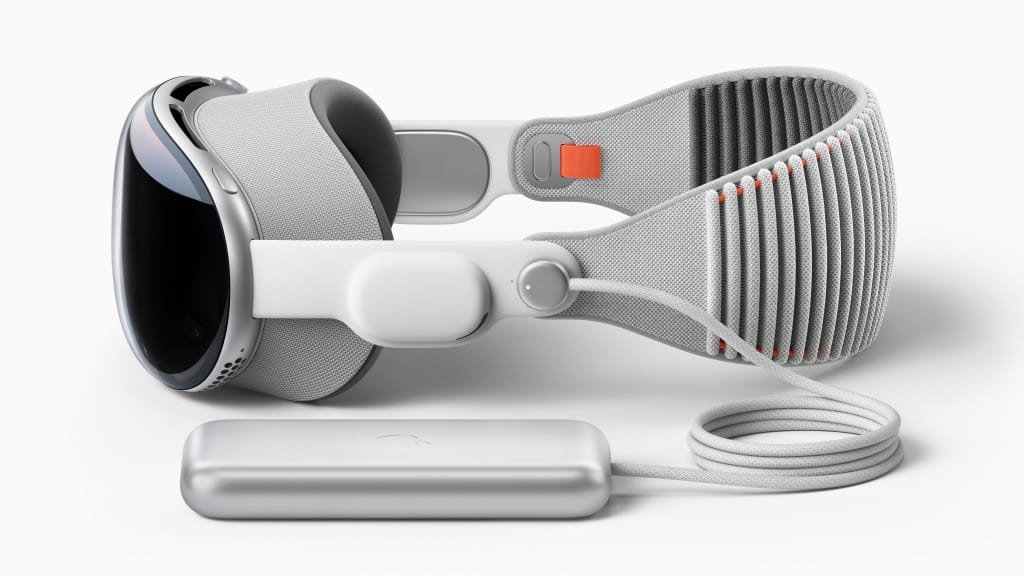 The front panel of the Vision Pro features a single piece of "3D-formed laminated glass," while the headband is 3D-knitted as a single ribbed piece. This design enables easy interchangeability when required and provides cushioning and flexibility. The Fit Dial allows users to personalize the fit based on their head size and shape.
Collaborating with Zeiss, Apple offers vision-correction lenses for those who wear glasses, ensuring an inclusive and comfortable experience for all users.
A woven cable connects the headset to a battery pack, effectively reducing weight and enabling longer periods of usage. Apple claims that the Vision Pro can be worn all day when plugged into an outlet, but it can also sustain up to two hours of usage on battery power alone.
The display system of the Vision Pro features a micro-OLED backplane, allowing for an impressive 23 million pixels in total. A custom-designed three-element lens magnifies the screen, maximizing the user's field of vision.
Sound is delivered through a cutting-edge spatial audio system, featuring dual-driver audio pods on each side. Audio Raytracing technology is utilized to align the audio with the surrounding environment, further enhancing the immersive experience.
Driving the Vision Pro's performance is a dual-chip design based on Apple's M2 Apple Silicon. The addition of a specialized chip, the R1, enables real-time sensor processing, reducing latency and motion discomfort. As a result, the headset boasts an impressively low 12-millisecond lag, faster than the blink of an eye.
With a sensor array comprising 12 cameras, five sensors, and six microphones, the Vision Pro delivers a comprehensive and immersive mixed-reality experience.
In terms of user privacy, Apple introduces Optic ID as an iris-scanning system, functioning similarly to Face ID or Touch ID. Optic ID uses invisible LED light sources to analyze the user's iris, comparing it with securely stored data on the device's Secure Enclave. Apple assures users that Optic ID data is fully encrypted, not accessible to apps, and never leaves the device itself.
Furthermore, Apple prioritizes user privacy by processing the areas where the user looks and eye-tracking data at the system level. This approach minimizes the need for apps to access detailed user or environmental information while still delivering spatial experiences.
Related articles
While Apple is actively facilitating developers' creation of 3D apps for the Vision Pro through SDKs and developer tools, the company ensures that thousands of existing apps for Mac and iPad are compatible with the device without requiring significant modifications.
In summary, Apple's Vision Pro mixed-reality headset represents a leap forward in immersive computing. With its innovative features, integration with the Apple ecosystem, and emphasis on user privacy, Vision Pro sets a new standard for AR experiences. Priced at $3,499, the headset will launch in the United States in early 2024, with availability expanding to other countries throughout the year. As Apple pushes the boundaries of mixed reality, it remains to be seen how this groundbreaking device will shape the future of spatial computing.