In the early 1990s, Apple's Macintosh lineup was at the forefront of computer innovation, and one product that embodied the company's commitment to excellence was the Macintosh 12-inch Monochrome Display. Introduced in 1990, this display quickly became a favorite among Macintosh LC and Macintosh IIsi users. Although discontinued after just three years, the Macintosh 12-inch Monochrome Display remains a cherished relic of the past for Apple enthusiasts, representing the groundbreaking technology and design principles that defined Apple's early days.
The Macintosh 12-inch Monochrome Display was a revolutionary piece of hardware that showcased Apple's dedication to pushing the boundaries of display technology. With its 12-inch monochrome monitor and a resolution of 76 dpi, capable of reaching resolutions up to 640 x 480 pixels, this display delivered a crisp and clear viewing experience for its time. The inclusion of a DA-15 video connection made it effortless to connect the monitor to a Macintosh computer, further enhancing its usability.
Apple's attention to detail extended to the design of the Macintosh 12-inch Monochrome Display. Crafted to perfectly match the width and curved front of the Mac IIsi and Mac LC, this display is seamlessly integrated with the aesthetics of these desktop Macintosh models. Its sleek and modern appearance, combined with a lighter form factor and reduced power consumption, set it apart from its predecessor, the Hi-Resolution Monochrome Monitor.
The Macintosh 12-inch Monochrome Display was designed with user convenience in mind. The power button was located on the back of the monitor, while the brightness and contrast controls were conveniently placed on the right side. Apple also offered an optional tilt-swivel base for those seeking additional flexibility in positioning.
To ensure the longevity of the display, Apple recommended using a screen saver to prevent phosphor burn caused by static elements on the screen. Cleaning the screen was a straightforward process: users were advised to apply household glass cleaner to a clean cloth or paper towel and wipe the screen gently. It was essential to avoid spraying glass cleaner directly on the CRT to prevent any potential damage to the internal electrical circuitry.
Though discontinued 29 years ago, the Macintosh 12-inch Monochrome Display remains a cherished piece of technology among Apple enthusiasts. Its legacy transcends its technical specifications, serving as a symbol of Apple's early innovation and creativity. This display was an emblem of the rapid advancements in display technology during its time and continues to evoke a sense of nostalgia for those who experienced the Macintosh era firsthand.
Looking back at the Macintosh 12-inch Monochrome Display, it's remarkable to see how far display technology has come since its heyday. From monochrome displays to high-resolution retina screens with millions of colors, Apple has consistently pushed the boundaries of visual excellence.
The Macintosh 12-inch Monochrome Display holds a special place in the hearts of Apple enthusiasts and technology aficionados alike. As one of Apple's notable contributions to display technology, this innovative and elegantly designed monitor showcases the company's commitment to excellence. While it may no longer be in production, its impact lives on, reminding us of the remarkable technological advancements made over the past 32 years. The Macintosh 12-inch Monochrome Display remains a timeless piece of technology, forever etched in the annals of Apple's storied history.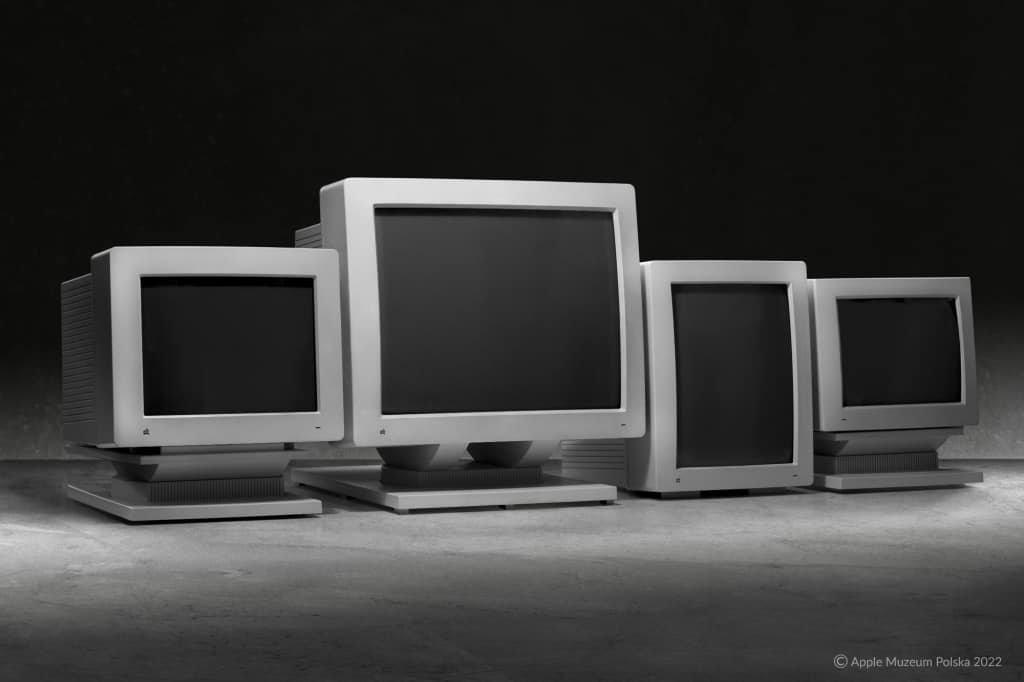 Macintosh 12-inch Monochrome Display Details
Introduced
October 15, 1990
Discontinued
October 21, 1993
Model Number
M1050
Order Number
Unknown
Original Price
Unknown
Colors
Platinum
Weight
17 Ibs.
7.711 KG
Dimensions
10" H x 12.2" W x 14.4" D
25.4 cm H x 30.98 cm W x 36.57 cm D
System Requirements
Macintosh LC or Macintosh II computer
Display Specs
| | |
| --- | --- |
| Type | Shadow Mask CRT |
| Size | 12" |
| Viewable Area | 11.5" |
| Colors | Monochrome |
| Brightness | Unknown |
| Resolutions | 640 x 480 pixels at 67 Hz |
| Viewing Angle | Unknown |
| Contrast Ratio | Unknown |
| Response Time | Unknown |
| Pixel Pitch | Unknown |
| Pixel Density | 76 dpi |
Connections
| | |
| --- | --- |
| Connection | DA-15 |
| Audio | None |
| Camera | None |
| Ports | Unknown |
Power
| | |
| --- | --- |
| Maximum Continuous Power | 40 W |
Further Reading and References
Would you like to know more about Apple products? Stay up-to-date with the latest Apple News. Check our blog for the latest releases, rumors, and updates in the world of Apple.
Disclaimer: The data presented in this article is under continuous development and has been manually collected from various sources based on their availability. The author of this article may revise this dataset as additional research is conducted and reviewed. Please note that the information is provided "as is" and "as available" without express or implied warranties. The author cannot be held responsible for any omissions, inaccuracies, or errors in the published information. Any warranties relating to this information are hereby disclaimed.
Last updated: May 29, 2023