On October 15, 1990, Apple revolutionized the world of display technology with the introduction of the Macintosh 12-inch RGB Display. This groundbreaking display, part of the Apple Display series, was specifically designed for the Macintosh LC and quickly became a popular choice among Macintosh users. Though it has been 30 years since its discontinuation in March 1993, the Macintosh 12-inch RGB Display remains a cherished piece of technology for Macintosh enthusiasts and collectors, embodying the spirit of innovation and design that Apple is known for.
The Macintosh 12-inch RGB Display was a milestone achievement for Apple, as it marked their first lower-cost color display for the Macintosh lineup. It was released alongside the Mac LC in October 1990, aimed at making color Mac systems more affordable and accessible to a broader audience.
With its 12-inch color RGB monitor, the display offered a resolution of 64 dpi, capable of reaching up to 512 x 384 pixels. This vibrant and crisp visual experience was further enhanced by the DA-15 video connection, ensuring compatibility with a wide range of Macintosh systems of that era.
The Macintosh 12-inch RGB Display showcased Apple's commitment to design and user experience. Its sleek and compact form factor made it an ideal fit for most desktop Macs, especially the LC "pizza box" family and the IIsi. The power and degauss buttons were conveniently placed on the back of the monitor, while the brightness and contrast controls were located on the right side for easy adjustments.
To ensure optimal performance and longevity, Apple recommended avoiding maximum brightness settings on the Macintosh 12-inch RGB Display. Additionally, a screen saver was advised to prevent phosphor burn caused by static elements on the screen, such as the menu bar, drive icon, and Trash. Cleaning the display was a straightforward process, with Apple suggesting the use of household glass cleaner applied to a clean cloth or paper towel. However, caution was advised against spraying the cleaner directly on the CRT to prevent any potential damage to the internal electrical circuitry.
Despite its significant contributions to display technology, the Macintosh 12-inch RGB Display had a limited compatibility range. It was designed to work with a select number of Macs and video cards, further solidifying its status as a cherished collector's item and a symbol of a specific era in Apple's history.
As we celebrate 32 years since the release of the Macintosh 12-inch RGB Display, we are reminded of the incredible advancements and innovative spirit that Apple has brought to the world of technology. This display, with its groundbreaking features, played a crucial role in making color Mac systems more accessible and affordable to a broader audience. Though it may no longer be in production, the Macintosh 12-inch RGB Display continues to hold a special place in the hearts of Macintosh enthusiasts and collectors, serving as a reminder of the remarkable journey of Apple's display technology.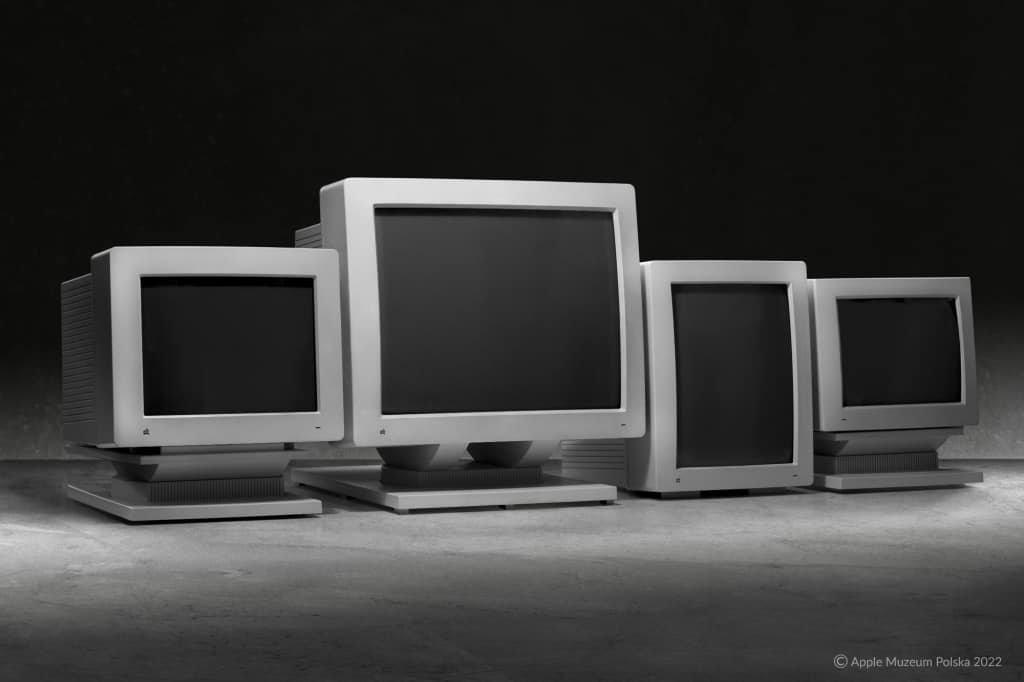 Macintosh 12-inch RGB Display Details
Introduced
October 15, 1990
Discontinued
March 1, 1993
Model Number
M1296
Order Number
Unknown
Original Price
Unknown
Colors
Platinum
Weight
24 Ibs.
10.886 KG
Dimensions
10" H x 12.2" W x 14.4" D
25.4 cm H x 30.98 cm W x 36.57 cm D
System Requirements
Macintosh II or Macintosh LC
Display Specs
| | |
| --- | --- |
| Type | Shadow Mask CRT |
| Size | 12" |
| Viewable Area | 11.5" |
| Colors | 4,096 |
| Brightness | Unknown |
| Resolutions | 512 x 384 pixels at 60 Hz |
| Viewing Angle | Unknown |
| Contrast Ratio | Unknown |
| Response Time | Unknown |
| Pixel Pitch | Unknown |
| Pixel Density | 64 dpi |
Connections
| | |
| --- | --- |
| Connection | DA-15 |
| Audio | None |
| Camera | None |
| Ports | Unknown |
Power
| | |
| --- | --- |
| Maximum Continuous Power | 90 W |
Further Reading and References
Would you like to know more about Apple products? Stay up-to-date with the latest Apple News. Check our blog for the latest releases, rumors, and updates in the world of Apple.
Disclaimer: The data presented in this article is under continuous development and has been manually collected from various sources based on their availability. The author of this article may revise this dataset as additional research is conducted and reviewed. Please note that the information is provided "as is" and "as available" without express or implied warranties. The author cannot be held responsible for any omissions, inaccuracies, or errors in the published information. Any warranties relating to this information are hereby disclaimed.
Last updated: May 29, 2023