In the ever-evolving world of technology, anniversaries serve as poignant reminders of just how far we've come. Today marks 30-years since Apple unveiled the Macintosh Centris 650, a personal computer that may have been short-lived but left a lasting impact on the tech giant's history. Introduced on February 10, 1993, with a starting price of $2,700, this impressive machine became a favorite among professionals and tech enthusiasts alike.
At the heart of the Macintosh Centris 650 was a 25 MHz Motorola 68040 processor, a true powerhouse for its time. Accompanied by either 4 MB or 8 MB of RAM and a choice of hard drive capacities ranging from 80 MB to a whopping 500 MB, this computer offered ample storage for its era. In addition to the traditional 1.44 MB floppy drive, the Centris 650 also featured a CD-ROM drive, a cutting-edge inclusion that hinted at the revolutionary future of optical media.
Upon its release, the Centris 650 was a midpoint creation, bridging the gap between the Mac II line and the Quadra series. Despite the initial success and positive reception among users, the Centris models faced an untimely demise, being discontinued just eight months later, on October 21, 1993. Nonetheless, the legacy of the Macintosh Centris 650 endured, becoming a testament to Apple's pursuit of innovation and advancement in the tech landscape.
One notable advantage of the Centris 650 was its implementation of a higher-speed SCSI bus, a technology that significantly improved data transfer rates. Additionally, the computer showcased accelerated internal video and utilized interleaved memory, enabling a roughly 10% boost in performance. These features rendered the once-popular Quadra 700 obsolete, leading Apple to remove it from its lineup following the Centris series' debut.
An interesting quirk of the Centris 650 was its shared floppy drive mounting sled with other Apple models like the Mac IIvi, IIvx, Quadra 650, and Power Mac 7100. This design allowed users to repurpose the sled for a hard drive if the need for a floppy drive diminished over time.
One cannot discuss the Macintosh Centris 650 without addressing Apple's penchant for quirky naming conventions. The "Centris" moniker fell in line with the company's trend of adopting enigmatic names that sounded significant without revealing much about the product's identity. Alongside the Centris line, Apple's marketing efforts also encompassed the Quadra and Performa names. While the Centris branding was short-lived and earned Apple a "Road Apple," the Centris 650 itself remains a gem for technology enthusiasts.
Despite its untimely discontinuation, the Macintosh Centris 650 continues to maintain its value on the used market, particularly the versions equipped with the full 68040 processor and ethernet capabilities. For collectors and vintage tech aficionados, this powerful computer represents a tangible connection to a time when the boundaries of technology were continually being pushed.
As we celebrate 30 years since the release of the Macintosh Centris 650, it is a perfect opportunity to reflect on the remarkable advancements in the tech industry over the past three decades. What was once considered cutting-edge is now part of the storied past, reminding us that progress is constant in the ever-changing landscape of innovation.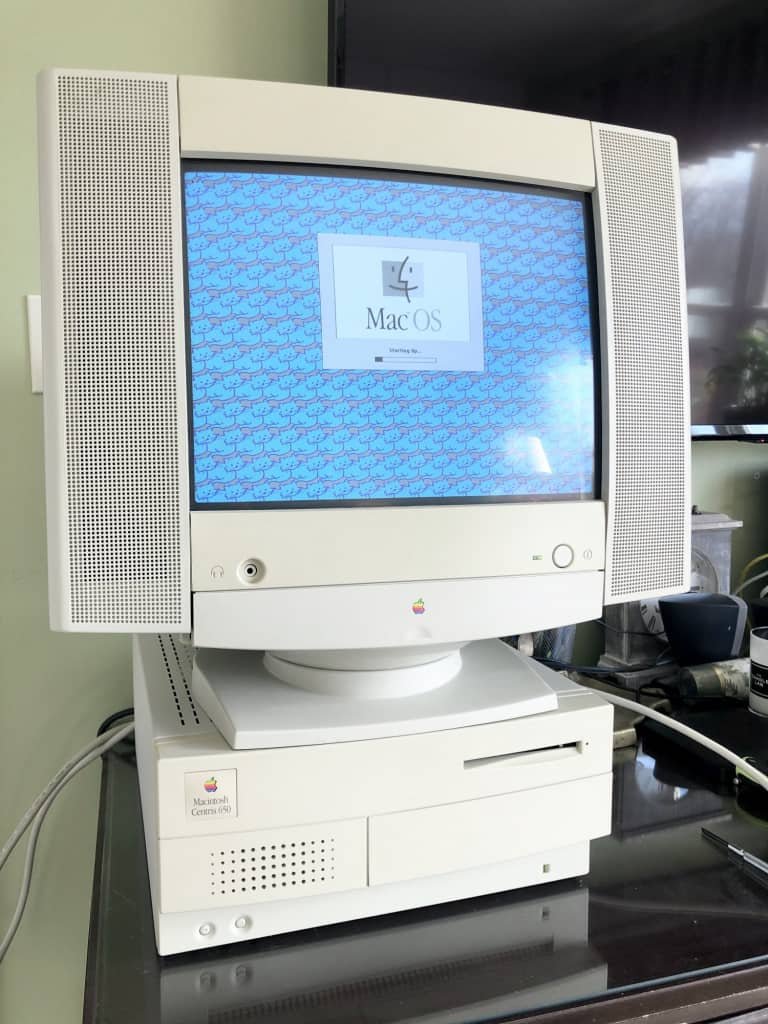 Macintosh Centris 650 Details
Introduced
February 10, 1993
Discontinued
October 21, 1993
Model Identifier
30
Model Number
M1250
Order Number
M1207LL/A (80 MB hard drive)
M1337LL/A (230 MB hard drive)
M1279LL/A (230 MB hard drive and CD-ROM)
Original Price
$2,700
Colors
Platinum
Weight
25 Ibs.
11.339 KG
Dimensions
6" H x 13" W x 16.5" D
15.24 cm H x 33 cm W x 41.91 cm D
Mac Centris 650 Tech Specs
Processor
| | |
| --- | --- |
| Processor | Motorola 68040 |
| Processor Speed | 25 MHz |
| Architecture | 32-bit |
| Number of Cores | 1 |
| System Bus | 25 MHz |
| Cache | 8 KB L1 |
| Coprocessor | Integrated FPU |
Storage & Media
Storage
80 MB
230 MB
500 MB
Media
1 – CD-ROM
1 – 1.44 MB Floppy
Memory
Built-in Memory
4 MB
8 MB
Maximum Memory
132 MB
136 MB
Memory Slots
4 – 72 pin SIMM
Minimum Speed
80 ns
ROM
Unknown
Interleaving Support
Yes
Display
Graphics
| | |
| --- | --- |
| Graphics Card | None |
| Graphics Memory | 1 MB |
| Display Connection | 1 – DB-15 |
Expansion
Expansion Slots
3 – NuBus
1 – PDS (Cache Bus)
Hard Drive Interface
SCSI
Connections
| | |
| --- | --- |
| Ethernet | AAUI-15 |
| Modem | None |
| ADB | 1 |
| Serial | 2 |
| SCSI | 1 – DB-25 |
| Floppy Port | None |
| Audio In | 1 – 3.5-mm mono input jack |
| Audio Out | 1 – 3.5-mm stereo output jack |
| Display | 1 – DB-15 |
Software
Power
| | |
| --- | --- |
| Backup Battery | 3.6 V lithium |
| Maximum Continuous Power | 230 W |
| Line Voltage | Unknown |
Further Reading and References
Would you like to know more about Apple products? Stay up-to-date with the latest Apple News. Check our blog for the latest releases, rumors, and updates in the world of Apple.
Disclaimer: The data presented in this article is under continuous development and has been manually collected from various sources based on their availability. The author of this article may revise this dataset as additional research is conducted and reviewed. Please note that the information is provided "as is" and "as available" without express or implied warranties. The author cannot be held responsible for any omissions, inaccuracies, or errors in the published information. Any warranties relating to this information are hereby disclaimed.
Last updated: June 30, 2023