When Apple unveiled the Macintosh Duo Dock in 1992, it was a game-changer in the world of portable computing. As part of the Duo Dock series of PowerBook Duo computers, this sleek docking station offered PowerBook Duo users the ability to effortlessly transform their laptops into full-fledged desktop Macintosh systems. With its innovative features and impressive capabilities, the Macintosh Duo Dock station quickly became a beloved accessory for Apple enthusiasts.
Released on October 19, 1992, the Macintosh Duo Dock carried a price tag starting at $500. While this may seem steep in comparison to today's standards, it was considered a fair price considering the remarkable features it provided. The dock included a 230 MB hard drive, a 4 MB or 8 MB of RAM, a 1.44 MB floppy drive, 512 KB of video memory, a built-in speaker, a 3.5-mm input and output jacks, an ADB port, two serial connection ports, a DA-15 video connection.
For PowerBook Duo users, the Macintosh Duo Dock station was a gateway to expanded capabilities and enhanced productivity. Connecting the dock to a larger monitor, keyboard, and mouse turned the portable PowerBook Duo into a desktop Macintosh experience, empowering users with a more comfortable and efficient work environment. Additionally, the dock offered additional storage and memory, granting users the flexibility to handle more demanding tasks.
The inclusion of a built-in speaker and audio jacks was another highlight of the Macintosh Duo Dock. This feature allowed users to indulge in music or enjoy videos with the superior sound quality compared to the laptop's built-in speakers. Whether it was immersing oneself in a favorite album or watching a captivating movie, the Macintosh Duo Dock enhanced the multimedia experience.
Despite its popularity and the significant benefits it brought to PowerBook Duo users, the Macintosh Duo Dock was eventually discontinued on July 1, 1995. Nevertheless, even after 31 years, this accessory continues to hold a special place in the hearts of Apple enthusiasts. The Macintosh Duo Dock was truly ahead of its time, showcasing Apple's commitment to innovation and user experience.
While it may be unfortunate that the Macintosh Duo Dock station is no longer in production, its legacy lives on. It will forever be remembered as a classic Apple product that exemplified the company's dedication to creating transformative and user-friendly technology. As we celebrate 31 anniversary since the release of the Macintosh Duo Dock, we can reflect on how it shaped the evolution of portable computing and recognize its enduring impact on the industry.
In the ever-evolving landscape of technology, Apple's Macintosh Duo Dock stands as a testament to the power of innovation and the ability to revolutionize the way we interact with our devices. It serves as a reminder of the transformative potential that a single accessory can bring to a product, leaving an indelible mark on the world of computing. The Macintosh Duo Dock may no longer grace our desks, but its influence and significance will continue to inspire future innovations for years to come.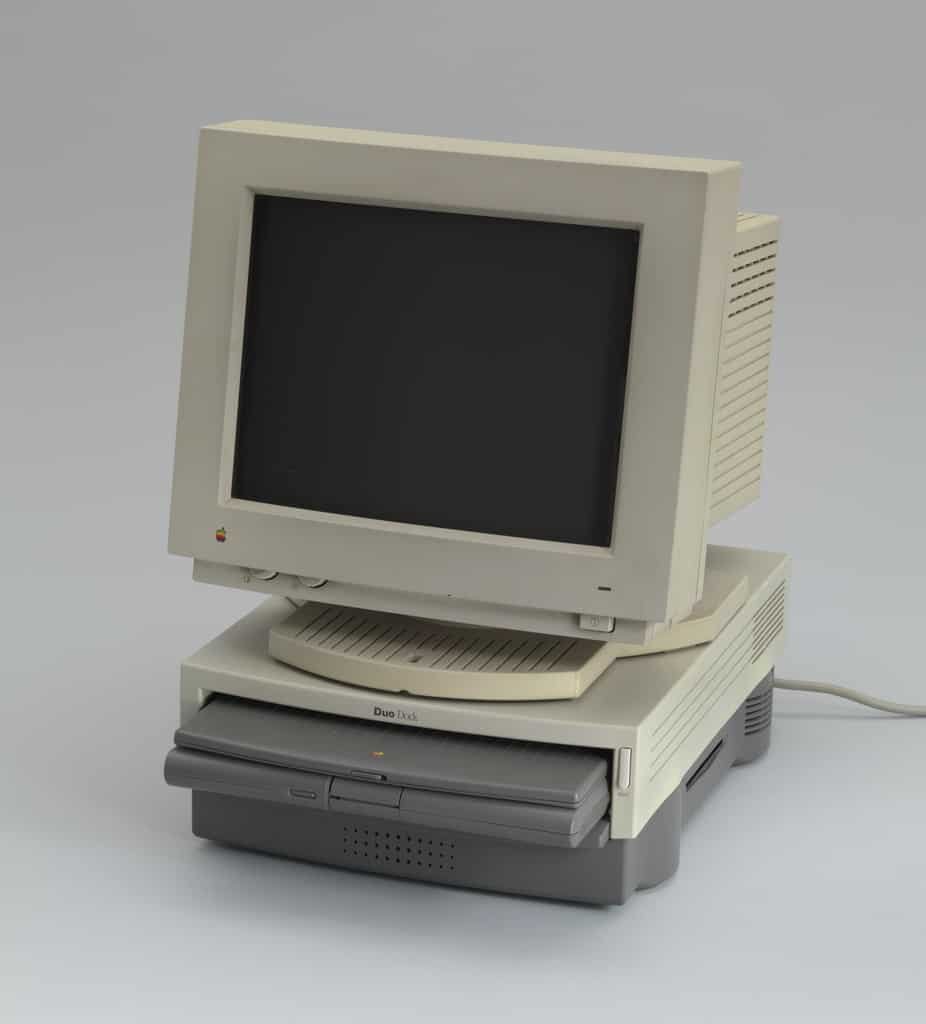 Macintosh Duo Dock Details
Introduced
October 19, 1992
Discontinued
July 1, 1995
Model Identifier
38
Model Number
M4179LL/A
M2631LL/A
Original Price
$500
Colors
Grey
Weight
13.1 Ibs.
5.942 KG
Dimensions
4.8" H x 12.3" W x 16.3" D
12.19 cm H x 31.24 cm W x 41.4 cm D
Duo Dock Station Tech Specs
Processor
| | |
| --- | --- |
| Processor | None |
| Processor Speed | N/A |
| Architecture | N/A |
| Number of Cores | 1 |
| System Bus | N/A |
| Cache | N/A |
| Coprocessor | None |
Storage & Media
| | |
| --- | --- |
| Storage | 230 MB (Optional) |
| Media | 1 – 1.44 MB floppy |
Memory
Built-in Memory
4 MB
8 MB
Maximum Memory
36 MB
40 MB
Memory Slots
1 – PowerBook 53xx
Minimum Speed
70 ns
ROM
Unknown
Interleaving Support
No
Display
| | |
| --- | --- |
| Built-in Display | None |
| Resolutions | N/A |
Graphics
| | |
| --- | --- |
| Graphics Card | None |
| Graphics Memory | 512 KB |
| Display Connection | 1 – DA-15 |
Expansion
Expansion Slots
2 – 15 W
1 – 25 W NuBus cards
Hard Drive Interface
SCSI
Bays
N/A
Connections
Wi-Fi
None
Ethernet
None
Modem
None
Bluetooth
None
ADB
1
Serial
2
SCSI
1 – HDI-30
Floppy Port
None
Audio In
1 – 3.5-mm analog input jack
Audio Out
1 – 3.5-mm analog output jack
1 – Built-in speaker
Infrared
None
Display
1 – DA-15
Software
| | |
| --- | --- |
| Original OS | N/A |
| Maximum OS | N/A |
| Firmware | Macintosh ROM |
Power
| | |
| --- | --- |
| System Battery | N/A |
| Backup Battery | N/A |
| Maximum Continuous Power | 75 W |
| Line Voltage | N/A |
| Power Adapter | N/A |
Further Reading and References
Would you like to know more about Apple products? Stay up-to-date with the latest Apple News. Check our blog for the latest releases, rumors, and updates in the world of Apple.
Disclaimer: The data presented in this article is under continuous development and has been manually collected from various sources based on their availability. The author of this article may revise this dataset as additional research is conducted and reviewed. Please note that the information is provided "as is" and "as available" without express or implied warranties. The author cannot be held responsible for any omissions, inaccuracies, or errors in the published information. Any warranties relating to this information are hereby disclaimed.
Last updated: June 26, 2023