In the ever-evolving landscape of personal computers, there are certain models that stand out as true pioneers, leaving an indelible mark on the industry. The Macintosh LC 475, released in 1993 by Apple, was undoubtedly one of these trailblazers. With its impressive specifications and intuitive user interface, the LC 475 quickly gained popularity among both home users and professionals. Despite its short lifespan, this iconic machine continues to evoke nostalgia for a bygone era of computing. Let's delve into the remarkable features and enduring legacy of the Macintosh LC 475.
At its core, the Macintosh LC 475 was a powerhouse of its time. Powered by a 25 MHz Motorola 68LC040 processor, it boasted remarkable processing capabilities. Users could equip the LC 475 with a range of memory options, from 4 MB to 8 MB of RAM, providing ample space for multitasking and resource-intensive applications. Additionally, its storage capacity varied from 80 MB to 250 MB, with the inclusion of a 1.44 MB floppy drive, enhancing versatility and data transfer capabilities.
The Macintosh LC 475 may have had a short stint in the market, being discontinued on May 1, 1994, a mere few months after its release. However, its impact resonated far beyond its brief lifespan. Even today, 30 years later, many of these computers continue to find utility in various settings. For those who experienced the LC 475, it remains a symbol of an era when personal computing was undergoing a transformative shift.
The Macintosh LC 475's influence extends far beyond its nostalgic value. This innovative machine set the stage for the evolution of computers as we know them today. Its intuitive user interface, a hallmark of Apple's design philosophy, laid the foundation for the seamless user experiences we now take for granted. Furthermore, the LC 475 showcased cutting-edge hardware, acting as a catalyst for advancements in processing power and storage capacity.
The Macintosh LC 475 had close relatives in the Apple product lineup, each catering to specific market segments. The Performa 475 series served as the consumer version of the LC 475, with a slightly different case design. On the other hand, the Quadra 605 targeted business users, offering similar functionality and power in a professional-grade package. These variations expanded the LC 475's reach and ensured that its influence reached diverse user demographics.
Despite its discontinuation on July 15, 1996, the Macintosh LC 475's legacy endures. Its impact on the trajectory of personal computing cannot be overstated. This remarkable machine opened the doors to a new era of user-friendly interfaces and high-performance computing. To this day, the Macintosh LC 475 remains a nostalgic reminder of a pivotal point in the history of technology, and it continues to hold a special place in the hearts of those who experienced its magic.
The Macintosh LC 475 exemplified the innovation and vision that defined Apple's approach to personal computing in the 1990s. Its powerful hardware, combined with an intuitive user interface, propelled it to the forefront of the industry. Although its time in the market was relatively short, its impact has left an enduring mark.
The Macintosh LC 475's story serves as a testament to the relentless pursuit of progress and the transformative power of technology. As we look back on this iconic machine, we can appreciate how it paved the way for the computers we rely on today, while also evoking a sense of nostalgia for a time when computing was on the cusp of a revolution.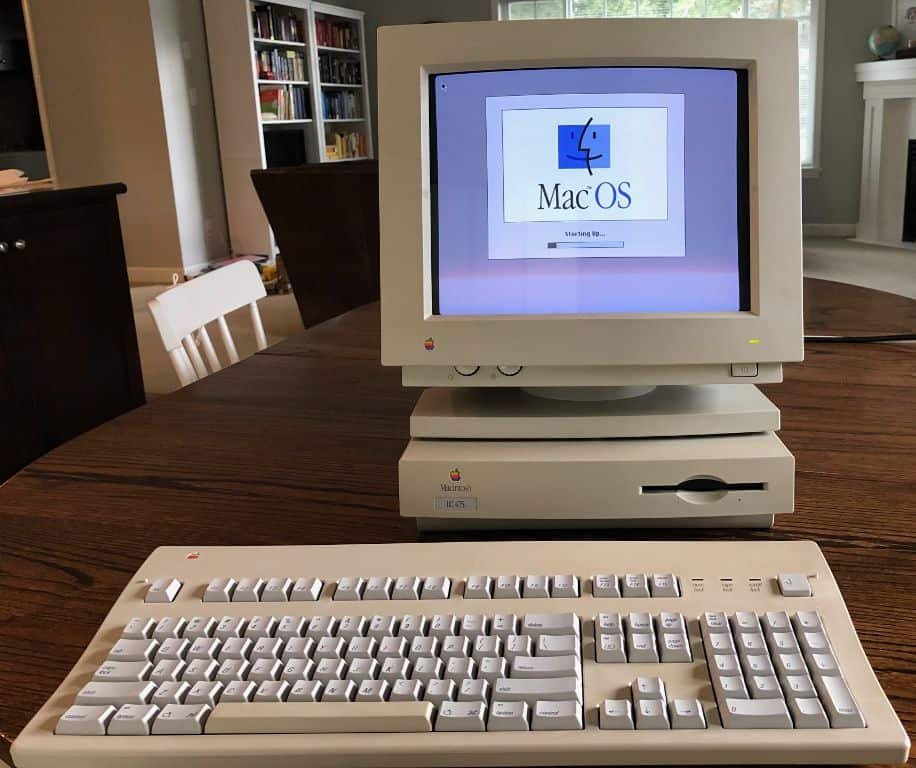 Macintosh LC 475 Details
Introduced
October 21, 1993
Discontinued
May 1, 1994
Model Identifier
89
Model Number
M1476
Order Number
M1818LL/A
M1819LL/A
Original Price
$900
$1,085
Colors
Platinum
Weight
8.8 Ibs.
3.991 KG
Dimensions
2.9" H x 12.2" W x 15.3" D
7.36 cm H x 30.98 cm W x 38.86 cm D
Mac LC 475 Tech Specs
Processor
| | |
| --- | --- |
| Processor | Motorola 68LC040 |
| Processor Speed | 25 MHz |
| Architecture | 32-bit |
| Number of Cores | 1 |
| System Bus | 25 MHz |
| Cache | 8 KB L1 |
| Coprocessor | None |
Storage & Media
Storage
80 MB
160 MB
250 MB
Media
1 – 1.44 MB Floppy
Memory
Built-in Memory
4 MB
8 MB
Maximum Memory
132 MB (Actual)
36 MB (Apple)
Memory Slots
1 – 72 pin SIMM
Minimum Speed
80 ns
ROM
Unknown
Interleaving Support
No
Display
Graphics
| | |
| --- | --- |
| Graphics Card | None |
| Graphics Memory | 512 KB (Upgradeable to 1 MB via two sockets) |
| Display Connection | 1 – DB-15 |
Expansion
| | |
| --- | --- |
| Expansion Slots | 1 – LC III PDS (Cache Bus) |
| Hard Drive Interface | SCSI |
Connections
| | |
| --- | --- |
| Ethernet | None |
| Modem | None |
| ADB | 1 |
| Serial | 2 |
| SCSI | 1 – DB-25 |
| Floppy Port | None |
| Audio In | 1 – 3.5-mm mono input jack |
| Audio Out | 1 – 3.5-mm stereo output jack |
| Display | 1 – DB-15 |
Software
Power
| | |
| --- | --- |
| Backup Battery | 3.6 V lithium |
| Maximum Continuous Power | 30 W |
| Line Voltage | Unknown |
Further Reading and References
Would you like to know more about Apple products? Stay up-to-date with the latest Apple News. Check our blog for the latest releases, rumors, and updates in the world of Apple.
Disclaimer: The data presented in this article is under continuous development and has been manually collected from various sources based on their availability. The author of this article may revise this dataset as additional research is conducted and reviewed. Please note that the information is provided "as is" and "as available" without express or implied warranties. The author cannot be held responsible for any omissions, inaccuracies, or errors in the published information. Any warranties relating to this information are hereby disclaimed.
Last updated: July 15, 2023