When it comes to pioneering technology and groundbreaking innovation, Apple has etched its name indelibly into the annals of history. In the mid-1990s, amidst a rapidly evolving tech landscape, Apple unveiled yet another marvel: the Macintosh Performa 5220CD.
This personal computing marvel, part of the esteemed Macintosh Performa series, left an indelible mark on the industry. Let's take a nostalgic trip down memory lane and revisit the legacy of the Macintosh Performa 5220CD, a powerhouse that reshaped personal computing.
Emerging from Apple's innovation powerhouse, the Macintosh Performa 5220CD made its debut on July 14, 1995. At a time when personal computing was gaining momentum, this cutting-edge device carved a niche for itself as an instrument of power and versatility, tailored for individual use. The introduction of the Performa 5220CD was akin to a revolution, a testament to Apple's unwavering commitment to pushing technological boundaries.
The Performa 5220CD wasn't just a computer; it was a technological marvel. Boasting an impressive 75 MHz PowerPC 603 processor, a 15-inch color CRT display, 8 MB of RAM, a 500 MB hard drive, a 4x CD-ROM drive, and a 1.44 MB floppy drive, this computer was the epitome of technological prowess. Users marveled at its ability to effortlessly handle their daily computing needs, whether it was work, entertainment, or creative pursuits.
As with all things in life, the Macintosh Performa 5220CD's journey came to an end. On July 1, 1996, Apple bid adieu to this trailblazing creation, marking the conclusion of an era. However, its legacy endured, leaving an indelible mark on the hearts of those who vividly recall the days of CRT monitors and floppy drives. The Performa 5220CD's influence wasn't just fleeting; it was an unforgettable chapter in the saga of personal computing.
The Macintosh Performa 5220CD shared similarities with the Performa 5215CD, yet it wasn't a mere duplicate. Distinguished by a smaller hard drive, this model catered specifically to audiences in Asia and Europe. Meanwhile, North America embraced the educational variant—the Power Macintosh 5200 LC. This divergence in distribution reflected Apple's understanding of global needs and its commitment to tailoring devices to specific markets.
Even now, 28 years after its discontinuation, the Macintosh Performa 5220CD remains a cherished memory for many. It represents an era of trailblazing innovation, a period when the world of personal computing was in its infancy, yet bursting with potential. For those who remember the symphony of clicking floppy drives and the vibrant glow of CRT monitors, the Performa 5220CD encapsulates an unforgettable time in their technological journey.
In retrospect, the Macintosh Performa 5220CD was more than a computer; it was a window into the future. It showcased Apple's relentless pursuit of innovation, and its impact on personal computing continues to reverberate. The Performa 5220CD reminds us that every innovation builds a bridge between the past and the future and that even the passage of time cannot diminish the brilliance of a truly transformative creation.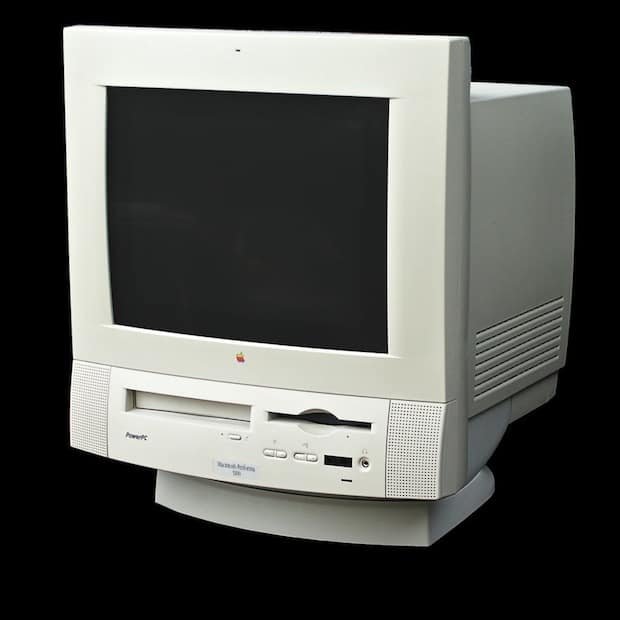 Macintosh Performa 5220CD Details
Introduced
July 14, 1995
Discontinued
July 1, 1996
Model Identifier
41
Model Number
M3046
Order Number
Unknown
Original Price
Unknown
Colors
Platinum
Weight
47 Ibs.
21.318 KG
Dimensions
17.5" H x 15.1" W x 16" D
44.45 cm H x 38.35 cm W x 40.64 cm D
Mac Performa 5220CD Tech Specs
Processor
Processor
PowerPC 603
Processor Speed
75 MHz
Architecture
32-bit
Number of Cores
1
System Bus
37.5 MHz
Cache
16 KB L1
256 KB L2
Coprocessor
Built-in FPU
Storage & Media
Storage
500 MB
Media
1 – 4x CD-ROM
1 – 1.44 MB Floppy
Memory
| | |
| --- | --- |
| Built-in Memory | 8 MB |
| Maximum Memory | 64 MB |
| Memory Slots | 2 – 72 pin SIMM |
| Minimum Speed | 80 ns |
| ROM | Unknown |
| Interleaving Support | No |
Display
Built-in Display
15″ Shadow Mask RGB CRT display
Resolution
640×480 at 16-bit
800×600 at 8-bit
832×624 at 8-bit
Graphics
| | |
| --- | --- |
| Graphics Card | None |
| Graphics Memory | 1 MB |
| Display Connection | 1 – DB-15 (Optional) |
Expansion
Expansion Slots
1 – LC PDS (Cache Bus)
1 – Comm. Slot
1 – Video I/O
1 – TV Tuner
Hard Drive Interface
IDE
Connections
Ethernet
None
Modem
None
ADB
1
Serial
2
SCSI
1 – DB-25
Floppy Port
None
Audio In
1 – 3.5-mm analog input jack
1 – Built-in microphone
Audio Out
2 – 3.5-mm analog output jack
2 – Built-in speaker
Display
1 – DB-15 (Optional)
Software
Power
| | |
| --- | --- |
| Backup Battery | 4.5 V Alkaline |
| Maximum Continuous Power | 125 W |
| Line Voltage | Unknown |
Further Reading and References
Would you like to know more about Apple products? Stay up-to-date with the latest Apple News. Check our blog for the latest releases, rumors, and updates in the world of Apple.
Disclaimer: The data presented in this article is under continuous development and has been manually collected from various sources based on their availability. The author of this article may revise this dataset as additional research is conducted and reviewed. Please note that the information is provided "as is" and "as available" without express or implied warranties. The author cannot be held responsible for any omissions, inaccuracies, or errors in the published information. Any warranties relating to this information are hereby disclaimed.
Last updated: August 27, 2023