In the whirlwind pace of today's tech landscape, it's easy to overlook the origins of personal computing. Cast your mind back to November 12, 1996, when Apple unveiled the Macintosh Performa 5440, a beacon of innovation in its time.
The Performa 5440 was a pivotal member of Apple's Performa series, tailor-made to cater to the burgeoning market of home and small business users. With a 180 MHz PowerPC 603e processor, a 15-inch vibrant color CRT display, 24 MB of RAM, a capacious 1.6 GB hard drive, an 8x CD-ROM drive, a reliable 1.44 MB floppy drive, and TV/video functionality all housed in an ultracool dark gray all-in-one case, topped with a 15″ shadow mask color monitor, it was nothing short of revolutionary for its era.
In its heyday, these specifications were at the forefront of technology, delivering a speedy, dependable, and versatile computing experience for a myriad of tasks.
However, the Performa 5440's stint in the limelight was ephemeral. Just under a year later, on September 1, 1997, Apple pulled the plug on this model, a testament to the company's unyielding pursuit of innovation and evolution in its product line.
Today, the Performa 5440 stands at the ripe age of 27, a vintage relic that invokes a sense of nostalgia in those who had the privilege of using it. While its operations might have ceased, it remains a cherished token of the nascent days of personal computing.
Although the Performa 5440 found its way into the hands of users in Asia and Europe, it never graced the market in the United States, adding an aura of exclusivity to this historic model.
The Performa 5440 played an instrumental role in Apple's early strides toward establishing itself as a vanguard in the personal computing sphere. Despite its relatively brief tenure, it left an indelible mark, shaping not only the trajectory of Apple's product line but also influencing the industry as a whole.
While the Performa 5440 may have been retired from active service, it stands as a cherished memento, reminding us of the nascent days when personal computing was still finding its footing.
In an era dominated by sleek ultrabooks and powerful workstations, it's important to take a moment to appreciate the humble beginnings that paved the way for the technological marvels we now take for granted. The Performa 5440 stands as a testament to the relentless pursuit of innovation that continues to define Apple and the tech industry at large.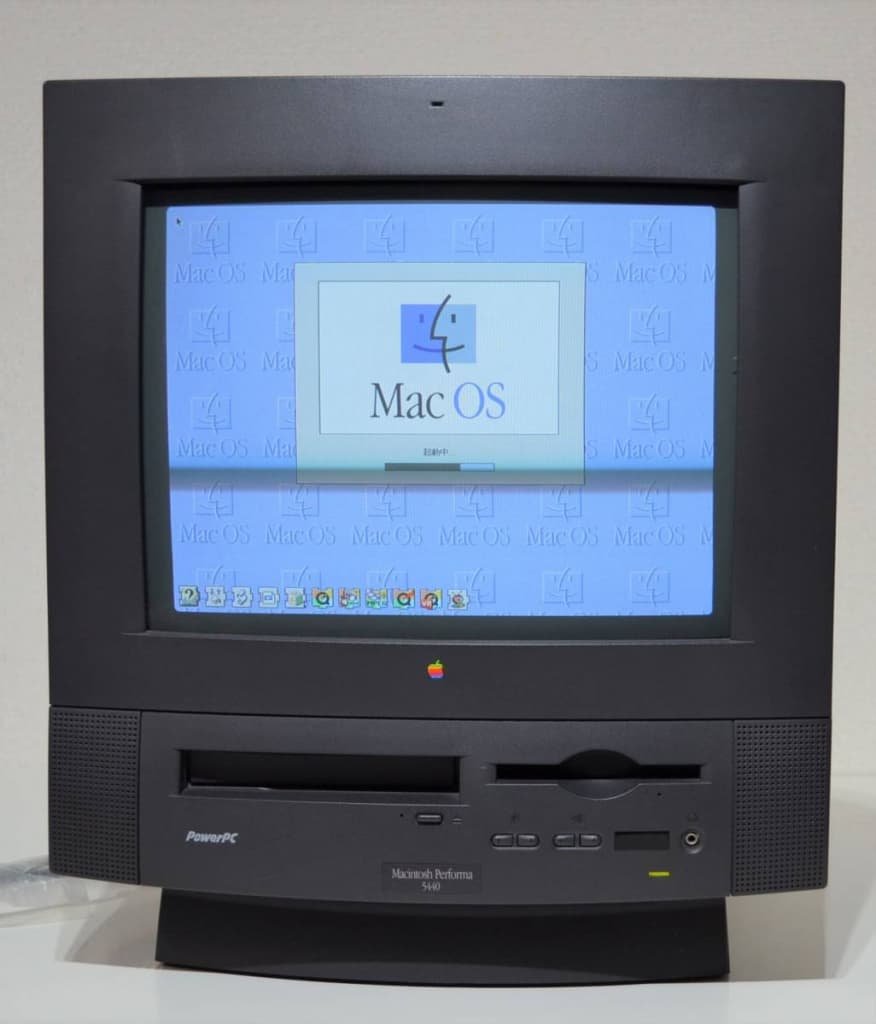 Macintosh Performa 5440 Details
Introduced
November 12, 1996
Discontinued
September 1, 1997
Model Identifier
74
Model Number
M3046
Order Number
M5189J/A
Original Price
Unknown
Colors
Black
Weight
47 Ibs.
21.318 KG
Dimensions
17.5" H x 15.1" W x 16" D
44.45 cm H x 38.35 cm W x 40.64 cm D
Mac Performa 5440 Tech Specs
Processor
Processor
PowerPC 603e
Processor Speed
180 MHz
Architecture
32-bit
Number of Cores
1
System Bus
40 MHz
Cache
32 KB L1
256 KB L2 (Optional)
Coprocessor
Built-in FPU
Storage & Media
Storage
1.6 GB
Media
1 – 1.44 MB Floppy
1 – 8x CD-ROM
Memory
| | |
| --- | --- |
| Built-in Memory | 24 MB |
| Maximum Memory | 136 MB |
| Memory Slots | 2 – 168 pin DIMM |
| Minimum Speed | 70 ns |
| ROM | Unknown |
| Interleaving Support | No |
Display
Built-in Display
15″ Shadow Mask RGB CRT Display
Resolution
640×480 at 16-bit
800×600 at 8-bit
832×624 at 8-bit
Graphics
| | |
| --- | --- |
| Graphics Card | None |
| Graphics Memory | 1 MB |
| Display Connection | None |
Expansion
Expansion Slots
1 – LC PDS (Cache Bus)
1 – Comm. II Slot
1 – Video I/O
1 – TV Tuner
Hard Drive Interface
IDE
Connections
Ethernet
1 – 10BASE-T (Optional)
Modem
None
ADB
1
Serial
2
SCSI
1 – DB-25
Floppy Port
None
Audio In
1 – 3.5-mm analog input jack
1 – Built-in microphone
Audio Out
2 – 3.5-mm analog output jack
2 – Built-in speaker
Display
None
Software
Power
| | |
| --- | --- |
| Backup Battery | 4.5 V Alkaline |
| Maximum Continuous Power | 220 W |
| Line Voltage | Unknown |
Further Reading and References
Would you like to know more about Apple products? Stay up-to-date with the latest Apple News. Check our blog for the latest releases, rumors, and updates in the world of Apple.
Disclaimer: The data presented in this article is under continuous development and has been manually collected from various sources based on their availability. The author of this article may revise this dataset as additional research is conducted and reviewed. Please note that the information is provided "as is" and "as available" without express or implied warranties. The author cannot be held responsible for any omissions, inaccuracies, or errors in the published information. Any warranties relating to this information are hereby disclaimed.
Last updated: September 24, 2023