In the 1990s, Apple was a force to be reckoned with, and its line of personal computers, the Macintosh Performa series, stood at the forefront of technological innovation. Among the highlights of this iconic series was the Performa 588CD, a machine that left a lasting impression on users worldwide.
Launched on April 1, 1995, the Performa 588CD was a powerful and user-friendly personal computer that catered to individuals and small businesses alike. Today, 28 years later, it remains an important part of Apple's history, serving as a nostalgic reminder of the company's innovative spirit.
The Performa 588CD was a computing powerhouse in its time. Powered by a 33 MHz Motorola 68LC040 processor, this machine delivered impressive performance and efficiently handled multiple tasks and applications. Its 14-inch color CRT display brought visuals to life, complemented by 8 MB of RAM, a 500 MB hard drive, a 2x CD-ROM drive, and a 1.44 MB floppy drive. These cutting-edge specifications made the Performa 588CD a versatile computer that met the demands of its users effortlessly.
Known for its sleek design, the Performa 588CD featured Apple's signature attention to aesthetics. Its elegant appearance was complemented by an intuitive user interface that allowed users to navigate seamlessly through various applications. From creative endeavors to business tasks, the Performa 588CD provided an exceptional computing experience for users from all walks of life.
Unfortunately, the Performa 588CD's reign was relatively short-lived. On May 1, 1996, just over a year after its launch, the computer was discontinued. While it enjoyed considerable popularity during its existence, newer and more advanced models eventually replaced it, leading to its eventual fade into obscurity in the history of Apple's personal computers.
Despite its discontinuation, the Macintosh Performa 588CD remains a beloved relic for those who experienced its glory. A testament to Apple's innovative spirit, this machine symbolizes a pivotal era in the development of personal computing. While modern technology has advanced by leaps and bounds, the Performa 588CD serves as a reminder of the simple yet powerful machines that laid the foundation for the future of technology.
Although the Performa 588CD may have looked identical to earlier Performa 575-578 models at first glance, it had several key distinctions. Notably, the 588CD came with a lower-quality display and a different motherboard that supported more affordable IDE hard drives, appealing to budget-conscious consumers. Additionally, the inclusion of new video input/output expansion features further enhanced its appeal to multimedia enthusiasts.
While the Performa 588CD was exclusively sold in Europe and Asia, its educational counterpart, the LC 580, enjoyed global availability. The LC 580 provided educational institutions worldwide with a reliable and capable computing solution, empowering students and educators alike to embrace the power of technology.
The Macintosh Performa 588CD may have been discontinued decades ago, but its legacy lives on in the hearts of those who once used this iconic machine. Apple's history is dotted with milestones, and the Performa 588CD stands tall among them.
Its innovative design, impressive performance, and user-friendly interface left an indelible mark on the evolution of personal computing. As we marvel at the present-day advancements in technology, let us not forget the humble yet remarkable Performa 588CD – a nostalgic journey back to a simpler time that shaped the digital world we know today.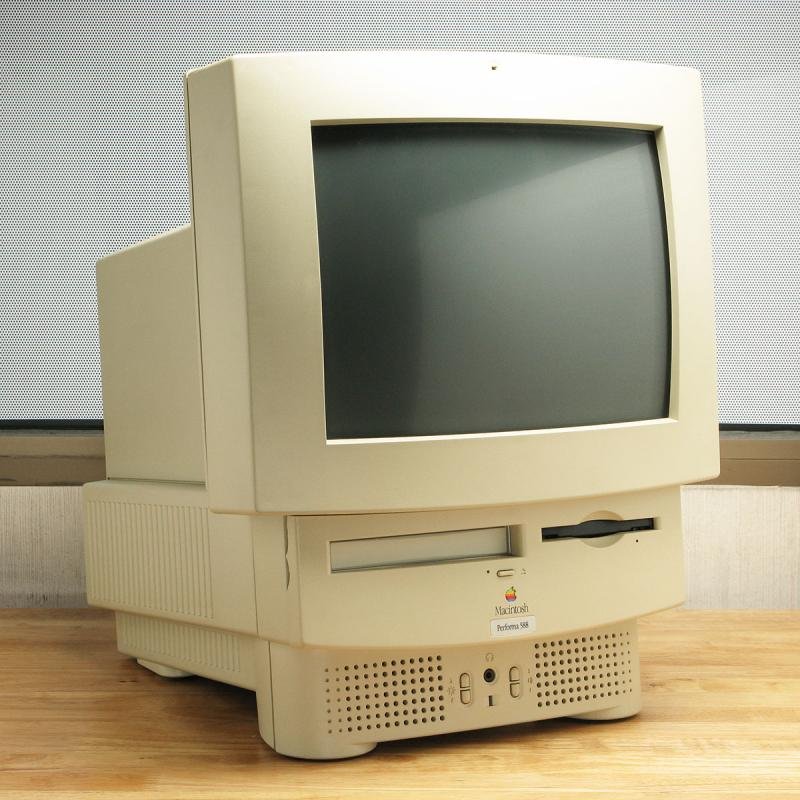 Macintosh Performa 588CD Details
Introduced
April 1, 1995
Discontinued
May 1, 1996
Model Identifier
99
Model Number
M3872
Order Number
M4059J/A
Original Price
Unknown
Colors
Platinum
Weight
40.5 Ibs.
18.370 KG
Dimensions
17.9" H x 13.5" W x 16.5" D
45.46 cm H x 34.29 cm W x 41.91 cm D
Mac Performa 588CD Tech Specs
Processor
| | |
| --- | --- |
| Processor | Motorola 68LC040 |
| Processor Speed | 33 MHz |
| Architecture | 32-bit |
| Number of Cores | 1 |
| System Bus | 33 MHz |
| Cache | 0.5 KB L1 |
| Coprocessor | None |
Storage & Media
Storage
500 MB
Media
1 – 2x CD-ROM
1 – 1.44 MB Floppy
Memory
| | |
| --- | --- |
| Built-in Memory | 8 MB |
| Maximum Memory | 52 MB |
| Memory Slots | 2 – 72 pin SIMM |
| Minimum Speed | 80 ns |
| ROM | Unknown |
| Interleaving Support | No |
Display
| | |
| --- | --- |
| Built-in Display | 14″ RGB CRT display |
| Resolution | 640 x 480 |
Graphics
| | |
| --- | --- |
| Graphics Card | None |
| Graphics Memory | 1 MB |
| Display Connection | 1 – DB-15 (Optional) |
Expansion
Expansion Slots
1 – LC PDS (Cache Bus)
1 – Comm. Slot
1 – Video I/O
Hard Drive Interface
IDE
Connections
Ethernet
None
Modem
None
ADB
1
Serial
2
SCSI
1 – DB-25
Floppy Port
None
Audio In
1 – 3.5-mm analog input jack
1 – Built-in microphone
Audio Out
2 – 3.5-mm analog output jack
2 – Built-in speaker
Display
1 – DB-15 (Optional)
Software
Power
| | |
| --- | --- |
| Backup Battery | 4.5 V Alkaline |
| Maximum Continuous Power | 40 W |
| Line Voltage | Unknown |
Further Reading and References
Would you like to know more about Apple products? Stay up-to-date with the latest Apple News. Check our blog for the latest releases, rumors, and updates in the world of Apple.
Disclaimer: The data presented in this article is under continuous development and has been manually collected from various sources based on their availability. The author of this article may revise this dataset as additional research is conducted and reviewed. Please note that the information is provided "as is" and "as available" without express or implied warranties. The author cannot be held responsible for any omissions, inaccuracies, or errors in the published information. Any warranties relating to this information are hereby disclaimed.
Last updated: August 6, 2023