In the ever-evolving landscape of personal computing, there are certain devices that have left a lasting impact on technology enthusiasts. The Macintosh Performa 6112CD, a powerful and innovative personal computer manufactured and sold by Apple from 1994 to 1995, is one such gem. Let's take a nostalgic journey back in time to explore the features and significance of this iconic machine that pushed the boundaries of high-performance computing at an affordable price point.
Debuting on November 1, 1994, the Macintosh Performa 6112CD swiftly captured the hearts of tech enthusiasts. Packed with a 60 MHz PowerPC 601 processor, an impressive feat of engineering in its era, the computer boasted an astounding level of processing power that set it apart from its competitors. Its 8 MB of RAM, 250 MB hard drive, a 2x CD-ROM drive, and a 1.44 MB floppy drive further amplified its versatility, allowing users to tackle a diverse range of tasks with ease.
The Macintosh Performa series was Apple's answer to the growing demand for high-performance computing at budget-friendly prices. The Performa 6112CD was a shining example of this mission. Though its starting price of $2,600 may seem steep by today's standards, it was remarkably reasonable back in the 1990s, making the dream of owning a high-end personal computer more attainable for many.
Despite its groundbreaking features and widespread appeal, the Macintosh Performa 6112CD's time in the limelight was relatively short-lived. Apple made the tough decision to discontinue the model on July 1, 1995, after just a few months on the market. However, it is essential to view this decision in the context of the rapidly evolving technology landscape. As newer and more powerful computers continued to emerge, Apple was committed to pushing the boundaries further, inspiring anticipation for what lay ahead.
Today, the Macintosh Performa 6112CD stands as a 29-year-old artifact that embodies the spirit of innovation that once defined Apple's product line. It represents a time when the tech giant fearlessly pursued new frontiers in personal computing, leaving an indelible mark on the industry. Although the Performa 6112CD may no longer find its place in contemporary setups, it remains cherished by devoted Macintosh fans who recognize its pioneering role in shaping modern-day computing experiences.
The legacy of the Macintosh Performa 6112CD lives on through its variants and sibling models. For instance, the Performa 6112CD shares remarkable similarities with the Performa 6110CD but distinguished itself by bundling an enticing "gaming software" package and an external modem. Meanwhile, the business-oriented Power Macintosh 6100 and the server-focused Workgroup Server 6150 carry the spirit of innovation forward, catering to different user needs.
The Macintosh Performa 6112CD may belong to a bygone era, but its impact on the world of personal computing is timeless. A true testament to Apple's unwavering commitment to excellence, this innovative machine provided users with an affordable gateway to high-performance computing, leaving a lasting impression on technology enthusiasts worldwide. As we marvel at today's cutting-edge advancements, let us fondly remember the trailblazing spirit of the Macintosh Performa 6112CD, forever etched in the annals of computing history.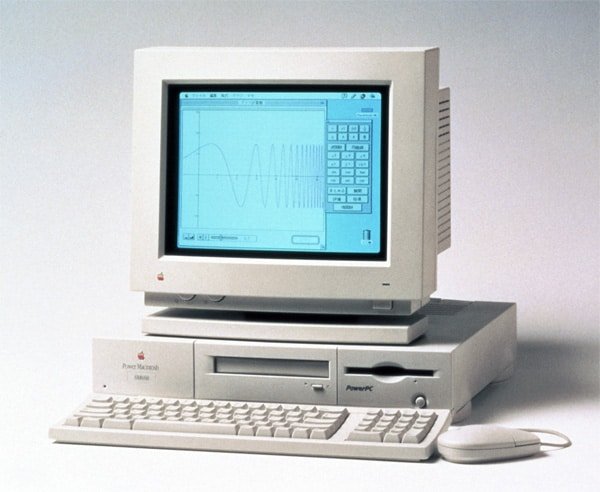 Macintosh Performa 6112CD Details
Introduced
November 1, 1994
Discontinued
July 1, 1995
Model Identifier
75
Model Number
M1596
Order Number
M3434LL/A
Original Price
$2,600
Colors
Platinum
Weight
14 Ibs.
6.350 KG
Dimensions
3.4" H x 16.3" W x 15.6" D
8.63 cm H x 41.4 cm W x 39.62 cm D
Mac Performa 6112CD Tech Specs
Processor
Processor
PowerPC 601
Processor Speed
60 MHz
Architecture
32-bit
Number of Cores
1
System Bus
30 MHz
Cache
32 KB L1
256 KB L2 (Optional)
Coprocessor
Built-in FPU
Storage & Media
Storage
250 MB
Media
1 – 1.44 MB Floppy
1 – 2x CD-ROM (Optional for AV models)
Memory
Built-in Memory
8 MB
Maximum Memory
132 MB (Actual)
72 MB (Apple)
Memory Slots
2 – 72 pin SIMMs (Group of 2)
Minimum Speed
80 ns
ROM
Unknown
Interleaving Support
No
Display
Graphics
| | |
| --- | --- |
| Graphics Card | None |
| Graphics Memory | 2 MB DRAM |
| Display Connection | 1 – HDI-45 |
Expansion
| | |
| --- | --- |
| Expansion Slots | 1 – 7″ PDS or NuBus |
| Hard Drive Interface | SCSI |
Connections
Ethernet
AAUI-15
Modem
28.8k (external)
Bluetooth
None
ADB
1
Serial
2
SCSI
1 – DB-25
Floppy Port
None
Audio In
1 – 3.5-mm analog input jack
Audio Out
1 – 3.5-mm analog output jack
1 – Built-in speaker
Display
1 – HDI-45
Software
Power
| | |
| --- | --- |
| Backup Battery | 3.6 V lithium |
| Maximum Continuous Power | 210 W |
| Line Voltage | 100-240 V |
Further Reading and References
Would you like to know more about Apple products? Stay up-to-date with the latest Apple News. Check our blog for the latest releases, rumors, and updates in the world of Apple.
Disclaimer: The data presented in this article is under continuous development and has been manually collected from various sources based on their availability. The author of this article may revise this dataset as additional research is conducted and reviewed. Please note that the information is provided "as is" and "as available" without express or implied warranties. The author cannot be held responsible for any omissions, inaccuracies, or errors in the published information. Any warranties relating to this information are hereby disclaimed.
Last updated: August 3, 2023