In the ever-evolving landscape of technology, some devices hold a special place in our hearts, not only for their functionalities but also for the memories they evoke. The Macintosh Performa 6200CD, a product of Apple's creative ingenuity, stands as a testament to the company's commitment to innovation. Released in the mid-1990s as part of the Macintosh Performa series, this personal computer has left an indelible mark on the history of computing.
On a significant date, July 11, 1995, Apple unveiled the Macintosh Performa 6200CD to the world. With a starting price of $2,300, this desktop computer aimed to captivate tech enthusiasts and professionals alike with its cutting-edge capabilities.
Pioneering the era of PowerPC processors, the Macintosh Performa 6200CD was equipped with a robust 75 MHz PowerPC 603 processor, a remarkable feat for its time. Backed by 8 MB of RAM, a 1 GB hard drive, a 4x CD-ROM drive, and a 1.44 MB floppy drive, this machine offered a formidable computing experience. It was bundled with a 15″ Apple color monitor and a 14.4k external modem, promising both immersive visuals and the ability to connect to the world.
While the Macintosh Performa 6200CD was available worldwide, its business-oriented counterpart, the Power Macintosh 6200, found its market primarily in Asia. This strategic move underscored Apple's commitment to tailoring its products to meet the diverse needs of its global audience.
Beyond its hardware prowess, the Macintosh Performa 6200CD came bundled with an impressive array of software, including the Mac OS 7.5.1, later updated to 7.5.3. The machine also featured Finder 7.5.1, which evolved to 7.5.5, and At Ease 2.0.3 to enhance user-friendliness. Notable inclusions were AppleScript, QuickTime 2.0 (later upgraded to 2.1), and Adobe Type Manager. The presence of eWorld (later replaced by America Online) and ClarisWorks v3.0 (upgraded to v4.0) showcased Apple's commitment to enriching the user experience beyond the hardware.
Sadly, as with all good things, the curtain eventually fell on the Macintosh Performa 6200CD. On April 1, 1996, Apple officially discontinued this iconic machine, marking the end of an era that had significantly shaped the computing landscape.
Fast forward to today, the Macintosh Performa 6200CD celebrates its 28-year anniversary. While it may seem like a relic of the past, its impact continues to resonate with those who experienced its power and possibilities firsthand. It remains a testament to Apple's commitment to pushing the boundaries of technology.
The Macintosh Performa 6200CD was more than just a personal computer; it was a bridge to the future. Its innovative hardware, diverse software suite, and global reach made it a cornerstone in the evolution of personal computing. As we commemorate its 28-year anniversary, let us remember the legacy it left behind and the foundation it laid for the technological marvels we enjoy today.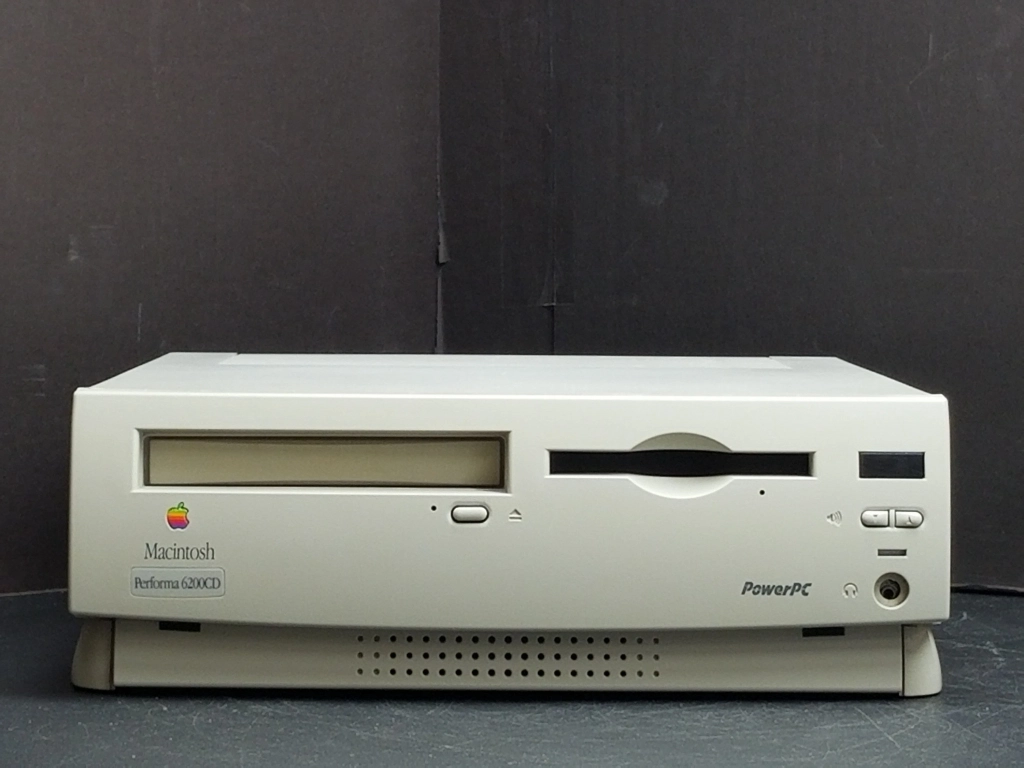 Macintosh Performa 6200CD Details
Introduced
July 11, 1995
Discontinued
April 1, 1996
Model Identifier
42
Model Number
M3076
Order Number
M4100LL/A
Original Price
$2,300
Colors
Platinum
Weight
19 Ibs.
8.618 KG
Dimensions
4.3" H x 12.6" W x 16.5" D
10.92 cm H x 32 cm W x 41.91 cm D
Mac Performa 6200CD Tech Specs
Processor
Processor
PowerPC 603
Processor Speed
75 MHz
Architecture
32-bit
Number of Cores
1
System Bus
37.5 MHz
Cache
16 KB L1
256 KB L2
Coprocessor
Built-in FPU
Storage & Media
Storage
1 GB
Media
1 – 1.44 MB Floppy
1 – 4x CD-ROM
Memory
| | |
| --- | --- |
| Built-in Memory | 8 MB |
| Maximum Memory | 64 MB |
| Memory Slots | 2 – 72 pin SIMM |
| Minimum Speed | 80 ns |
| ROM | Unknown |
| Interleaving Support | No |
Display
Graphics
| | |
| --- | --- |
| Graphics Card | None |
| Graphics Memory | 1 MB |
| Display Connection | 1 – DB-15 |
Expansion
Expansion Slots
1 – LC PDS
1 – Comm
1 – Video I/O
1 – TV
Hard Drive Interface
IDE
Connections
Ethernet
None
Modem
14.4k (external)
Wi-Fi
None
Bluetooth
None
ADB
1
Serial
2
SCSI
1 – DB-25
Floppy Port
None
Audio In
1 – 3.5-mm analog input jack
Audio Out
1 – 3.5-mm analog output jack
1 – Built-in speaker
Display
1 – DB-15
Software
Power
| | |
| --- | --- |
| Backup Battery | 4.5 V Alkaline |
| Maximum Continuous Power | 55 W |
| Line Voltage | Unknown |
Further Reading and References
Would you like to know more about Apple products? Stay up-to-date with the latest Apple News. Check our blog for the latest releases, rumors, and updates in the world of Apple.
Disclaimer: The data presented in this article is under continuous development and has been manually collected from various sources based on their availability. The author of this article may revise this dataset as additional research is conducted and reviewed. Please note that the information is provided "as is" and "as available" without express or implied warranties. The author cannot be held responsible for any omissions, inaccuracies, or errors in the published information. Any warranties relating to this information are hereby disclaimed.
Last updated: August 26, 2023