In the fast-evolving realm of technology, where gadgets become obsolete in the blink of an eye, a machine like the Macintosh Performa 6220CD holds a special place. Harking back to July 11, 1995, this powerhouse was the go-to choice for tech fans, standing as a testament to the progress we've made in the last 28 years.
In the landscape of cutting-edge computing, the Macintosh Performa 6220CD made its debut as a prominent member of the Macintosh Performa series. Sporting an initial price tag of $2,300, this device captured the attention of power users and tech enthusiasts alike who sought out potent computing experiences.
Boasting a 75 MHz PowerPC 603 processor, 16 MB of RAM, a 1 GB hard drive, a 4x CD-ROM drive, and a 1.44 MB floppy drive, the Performa 6220CD established itself as a force to be reckoned with. It was a machine tailored for those engaged in resource-intensive tasks like video editing and graphic design. The fusion of performance and versatility it offered was unprecedented for its time.
Surprisingly, the Macintosh Performa 6220CD's reign was short-lived. Just a year after its introduction, on April 1, 1996, the curtain fell on this technological marvel. Despite its relatively brief stint in the market, the Performa 6220CD left an indelible mark. It became synonymous with power and innovation, laying the groundwork for the technological marvels that grace our desks and laps today.
The Apple Macintosh Performa 6220CD was more than a computer; it was a multimedia phenomenon seamlessly integrated into a modular setup that even novices could assemble. The revolutionary PowerPC processor technology it harbored paved the way for not just immediate high performance, but also for years of adaptable multimedia and general computing potential.
Contained within its box was the computer itself, preloaded with Apple's System 7.5 operating software, along with a keyboard and mouse. Additionally, the Performa 6220CD came adorned with an array of home, education, and home-business software, accompanied by an enticing collection of CD multimedia titles. These offerings were just a glimpse of the plethora of Macintosh applications the system could effortlessly handle.
The Performa 6220CD wasn't just about processing muscle; it was a harbinger of features that were premium add-ons for its contemporaries. The quadruple-speed CD-ROM drive was a speed demon, allowing swift access to CD-based data. Its 16-bit stereo sound system produced audio playback of remarkable quality from CDs, complete with an audio input port for users to create their soundscapes.
But that wasn't all; the Performa 6220CD's internal 14.4-kilobits-per-second data and electronic fax modem, complete with a full-duplex speakerphone and digital answering machine, was the gateway to novel communication methods. It facilitated AppleTalk networking, ensuring seamless access to printers, electronic mail servers, and file servers.
What truly set the Performa 6220CD apart was its built-in video/TV system, an innovation that broke new ground in information interaction. The ability to link with external video sources like VCRs and camcorders to integrate video images into Macintosh applications was revolutionary. Further, the option to connect the device to a large-screen TV for presentations was ahead of its time, a precursor to the multimedia-rich experiences we take for granted today.
As technology advanced, so did the Performa 6220CD's capabilities. Although the eWorld on-line service gave way to America Online, 6220CD users could access the bundled eWorld application to connect via the modem. This connection would enable them to download or order the America Online software, a telling sign of the shift in how the world interacted with the digital realm.
The Macintosh Performa 6220CD was a technological masterpiece that marked an era of innovation. While it may now be viewed as ancient in comparison to contemporary standards, for those who experienced its prowess, it remains an everlasting classic. It's a reminder of how far we've come and the legacy we continue to build upon. Just as the Performa 6220CD propelled us into a new age of technology, it serves as a bridge to the boundless possibilities that lie ahead.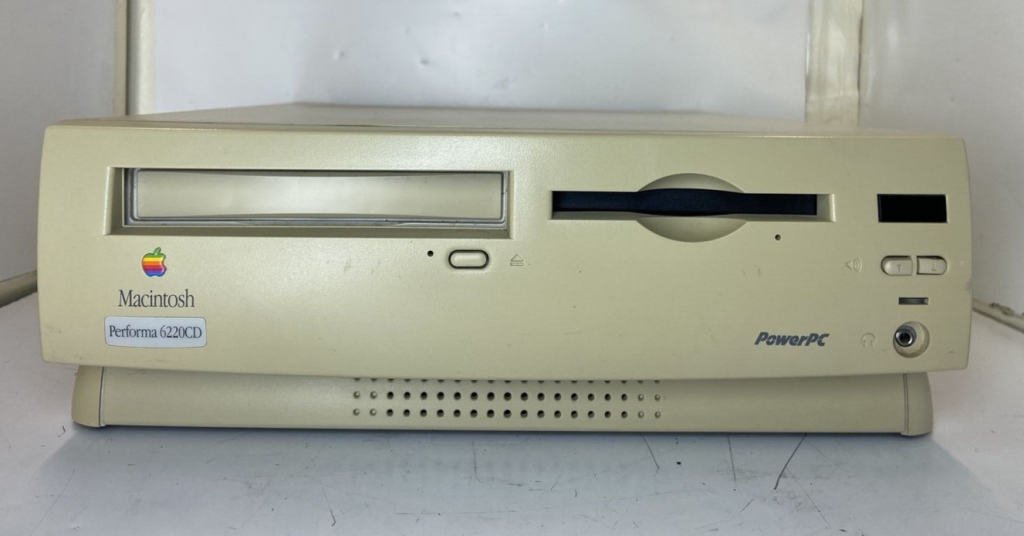 Macintosh Performa 6220CD Details
Introduced
July 11, 1995
Discontinued
April 1, 1996
Model Identifier
42
Model Number
M3076
Order Number
M4104LL/A
Original Price
$2,500
Colors
Platinum
Weight
19 Ibs.
8.618 KG
Dimensions
4.3" H x 12.6" W x 16.5" D
10.92 cm H x 32 cm W x 41.91 cm D
Mac Performa 6220CD Tech Specs
Processor
Processor
PowerPC 603
Processor Speed
75 MHz
Architecture
32-bit
Number of Cores
1
System Bus
37.5 MHz
Cache
16 KB L1
256 KB L2
Coprocessor
Built-in FPU
Storage & Media
Storage
1 GB
Media
1 – 1.44 MB Floppy
1 – 4x CD-ROM
Memory
| | |
| --- | --- |
| Built-in Memory | 16 MB |
| Maximum Memory | 64 MB |
| Memory Slots | 2 – 72 pin SIMM |
| Minimum Speed | 80 ns |
| ROM | Unknown |
| Interleaving Support | No |
Display
Graphics
| | |
| --- | --- |
| Graphics Card | None |
| Graphics Memory | 1 MB |
| Display Connection | 1 – DB-15 |
Expansion
Expansion Slots
1 – LC PDS
1 – Comm
1 – Video I/O
1 – TV
Hard Drive Interface
IDE
Connections
Ethernet
None
Modem
14.4k (external)
Wi-Fi
None
Bluetooth
None
ADB
1
Serial
2
SCSI
1 – DB-25
Floppy Port
None
Audio In
1 – 3.5-mm analog input jack
Audio Out
1 – 3.5-mm analog output jack
1 – Built-in speaker
Display
1 – DB-15
Software
Power
| | |
| --- | --- |
| Backup Battery | 4.5 V Alkaline |
| Maximum Continuous Power | 55 W |
| Line Voltage | Unknown |
Further Reading and References
Would you like to know more about Apple products? Stay up-to-date with the latest Apple News. Check our blog for the latest releases, rumors, and updates in the world of Apple.
Disclaimer: The data presented in this article is under continuous development and has been manually collected from various sources based on their availability. The author of this article may revise this dataset as additional research is conducted and reviewed. Please note that the information is provided "as is" and "as available" without express or implied warranties. The author cannot be held responsible for any omissions, inaccuracies, or errors in the published information. Any warranties relating to this information are hereby disclaimed.
Last updated: August 26, 2023