Back on July 18th, 1994, a groundbreaking personal computer took center stage, captivating the hearts of tech enthusiasts and consumers alike. The Macintosh Performa 635CD, part of Apple's renowned Macintosh Performa series, made its debut, forever changing the landscape of home and office computing. Today, we pay homage to this iconic piece of hardware, reflecting on its impressive specs, its short-lived but memorable existence, and its lasting impact on the tech industry.
Unveiled with a starting price of $1,900, the Macintosh Performa 635CD was a sleek and compact marvel, boasting cutting-edge features that wowed users during that era. Under the hood, it housed a powerful 33 MHz Motorola 68LC040 processor, complemented by 5 MB of RAM, a 250 MB hard drive, and a 2x CD-ROM drive. For the time, this computing power was considered top-notch, allowing users to perform tasks with unprecedented ease and speed.
Furthermore, the Performa 635CD came equipped with a 1.44 MB floppy drive, a standard feature back then, providing ample storage for users' files and media. Its inclusion ensured users could embrace the digital age and store their precious data with confidence.
Alas, like a bright shooting star, the Performa 635CD's presence in the market was brief, as it was discontinued on July 1st, 1995. However, despite its short-lived availability, this personal computer left a lasting impression on those who were fortunate enough to experience its prowess. Fond memories of the Performa 635CD endure, serving as a testament to its significance in Apple's storied history.
Today, as we take a trip down memory lane, we marvel at the 29-year-old Macintosh Performa 635CD, a relic of a bygone era in computing. Its presence reminds us of how far technology has come, with computing power and design leaping forward in bounds and milestones. Indeed, this extraordinary computer laid the groundwork for future innovations that continue to shape the tech landscape we know today.
For tech-savvy readers, it is essential to mention that the Macintosh Performa 635CD shares striking similarities with the Performa 630CD. Still, it sets itself apart by shipping with a 15″ Apple color monitor and an external 14.4 modem. These added features further elevated its appeal, making it a coveted choice for both professionals and enthusiasts.
It's worth noting that the educational version of this computing marvel was known as the LC 630 series, catering to the academic realm with its reliable performance and user-friendly interface. On the other hand, the business version, known as the Quadra 630, catered to corporate users, addressing their productivity and networking needs with unparalleled efficiency.
As we honor the memory of the Macintosh Performa 635CD, we recognize the profound impact it had on shaping the technology we enjoy today. Its legacy lives on in the minds of tech enthusiasts who fondly remember the days when this powerful computing marvel graced their homes and offices. So, let's take a moment to celebrate this revolutionary piece of hardware and appreciate the journey it started, leading us to the remarkable technological feats we enjoy in the present day.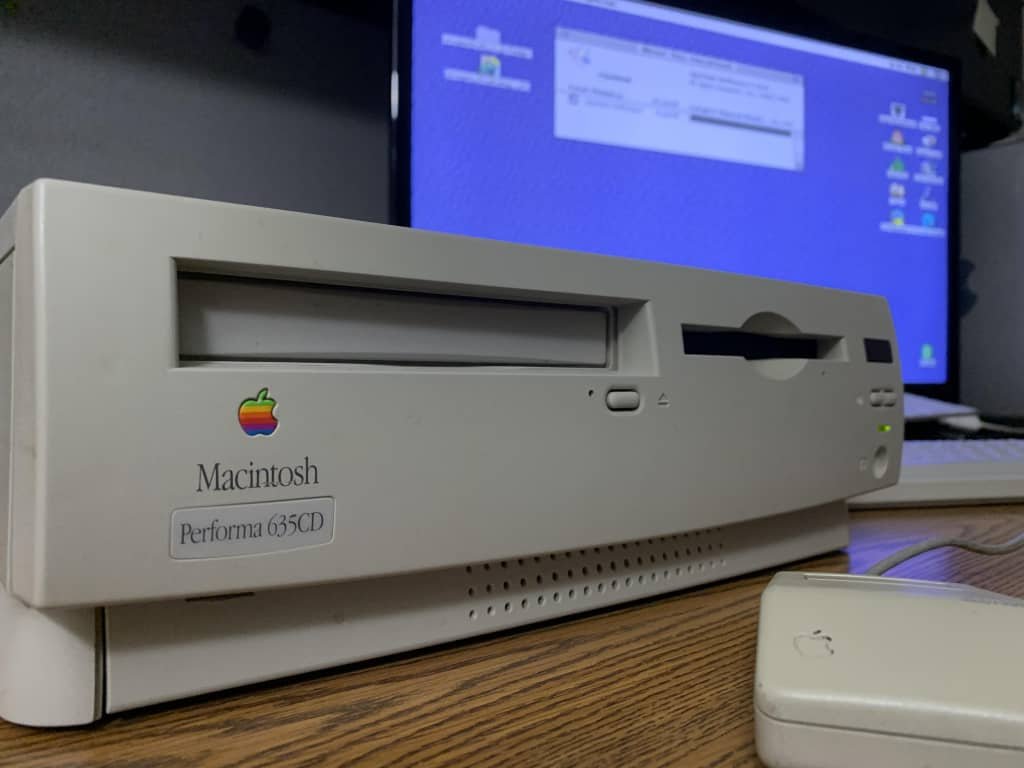 Macintosh Performa 635CD Details
Introduced
July 18, 1994
Discontinued
July 1, 1995
Model Identifier
98
Model Number
M3076
Order Number
M3425LL/A
M3425LL/B
Original Price
$1,900
Colors
Platinum
Weight
19 Ibs.
8.618 KG
Dimensions
4.3" H x 12.6" W x 16.5" D
10.92 cm H x 32 cm W x 41.91 cm D
Mac Performa 635CD Tech Specs
Processor
| | |
| --- | --- |
| Processor | Motorola 68LC040 |
| Processor Speed | 33 MHz |
| Architecture | 32-bit |
| Number of Cores | 1 |
| System Bus | 33 MHz |
| Cache | 8 KB L1 |
| Coprocessor | None |
Storage & Media
Storage
250 MB
Media
1 – 1.44 MB Floppy
1 – 2x CD-ROM (Optional)
Memory
| | |
| --- | --- |
| Built-in Memory | 5 MB |
| Maximum Memory | 36 MB |
| Memory Slots | 1 – 72 pin SIMM |
| Minimum Speed | 80 ns |
| ROM | Unknown |
| Interleaving Support | No |
Display
Graphics
| | |
| --- | --- |
| Graphics Card | None |
| Graphics Memory | 1 MB |
| Display Connection | 1 – DB-15 |
Expansion
Expansion Slots
1 – LC PDS
1 – Comm
1 – Video I/O
Hard Drive Interface
IDE
Connections
Ethernet
None
Modem
14.4k (external)
Wi-Fi
None
Bluetooth
None
ADB
1
Serial
2
SCSI
1 – DB-25
Floppy Port
None
Audio In
1 – 3.5-mm analog input jack (8-bit mono)
Audio Out
1 – 3.5-mm analog output jack (8-bit stereo)
1 – Built-in speaker
Display
1 – DB-15
Software
Power
| | |
| --- | --- |
| Backup Battery | 4.5 V Alkaline |
| Maximum Continuous Power | 45 W |
| Line Voltage | Unknown |
Further Reading and References
Would you like to know more about Apple products? Stay up-to-date with the latest Apple News. Check our blog for the latest releases, rumors, and updates in the world of Apple.
Disclaimer: The data presented in this article is under continuous development and has been manually collected from various sources based on their availability. The author of this article may revise this dataset as additional research is conducted and reviewed. Please note that the information is provided "as is" and "as available" without express or implied warranties. The author cannot be held responsible for any omissions, inaccuracies, or errors in the published information. Any warranties relating to this information are hereby disclaimed.
Last updated: August 1, 2023