In the annals of tech history, few names evoke nostalgia quite like Apple's Macintosh Performa series. Launched back in 1996, the Macintosh Performa 6400 was a groundbreaking personal computer that pushed the boundaries of what a home computer could be.
While its contemporaries were often dismissed as "low-end," the 6400 emerged as a powerhouse with cutting-edge features that belied its era. In this throwback to Apple's past, we delve into the intriguing story of the Macintosh Performa 6400 and why it still commands respect among retro tech enthusiasts.
In an era when computers were still finding their footing, the Macintosh Performa 6400 stood out with its robust specifications. Buyers could choose between a 180 MHz or 200 MHz PowerPC 603e processor, a generous 16 MB or 32 MB of RAM, and hard drive options ranging from 1.6 GB to 2.4 GB. Equipped with an 8x CD-ROM drive and a 1.44 MB floppy drive, the 6400 was a multimedia marvel in its time.
While the Macintosh Performa series had often been critiqued for their perceived lack of power, the 6400 boldly countered these stereotypes. With its new tower case design and enhanced processing capabilities, it left critics speechless. It was ready to take on mid-range Power Macs and give them a run for their money.
One of the standout features of the Macintosh Performa 6400 was its user-friendly design. Traditional tower computers of the era often intimidated users when it came to hardware expansion. Not the 6400. With its logic board that easily slid out, a SCSI-ready expansion bay and two 7-inch PCI slots, it offered one of the easiest expansion experiences of its time.
Adding to its allure was the possibility of installing Apple's TV/FM Tuner card and a Performa-based video expansion card. These installations were a breeze, underscoring the 6400's commitment to user convenience.
Innovation was the name of the game with the Macintosh Performa 6400. It was the first Macintosh computer to feature SRS (Sound Retrieval System Surround Sound) technology. This groundbreaking audio tech transformed games, audio CDs, and even system beeps into immersive experiences. Its 3D audio effects were truly ahead of their time.
What's more, the 6400 boasted a built-in bass subwoofer, a feature that set it apart from its peers. When paired with external speakers or a monitor with built-in speakers, it seamlessly delivers bass-heavy audio. For those without external speakers, it still excelled at providing balanced sound. The headphone jack and volume control were conveniently located on the front panel, although the subwoofer balance control could be a stretch for shorter users.
The Macintosh Performa 6400 didn't just impress with its hardware; it came bundled with an extensive array of software that catered to home users' needs. From Claris Works to Quicken and the Apple Internet Connection Kit, it left no stone unturned in offering a comprehensive software package. The included CD-ROM titles further enriched the computing experience, making it a one-stop solution for a variety of needs.
While the Macintosh Performa 6400 was a star in its own right, it had a relatively short life span. Just a year after its debut in 1996, it was discontinued on August 1, 1997. However, it remains a cherished piece of technology history, serving as a reminder of Apple's past and the evolution of personal computing.
Today, 27 years after its initial release, the Performa 6400 continues to captivate retro tech enthusiasts. Its enduring legacy is a testament to Apple's commitment to innovation and user-friendly design. While it may have been a product of its time, its impact is still felt in the world of computing.
In retrospect, the Macintosh Performa 6400 was not just a computer; it was a glimpse into the future of personal computing. With its blend of power, user-friendliness, and innovation, it set a high bar that still resonates with technology enthusiasts today. So, if you happen to stumble upon one of these retro marvels, consider yourself lucky—you've discovered a piece of computing history.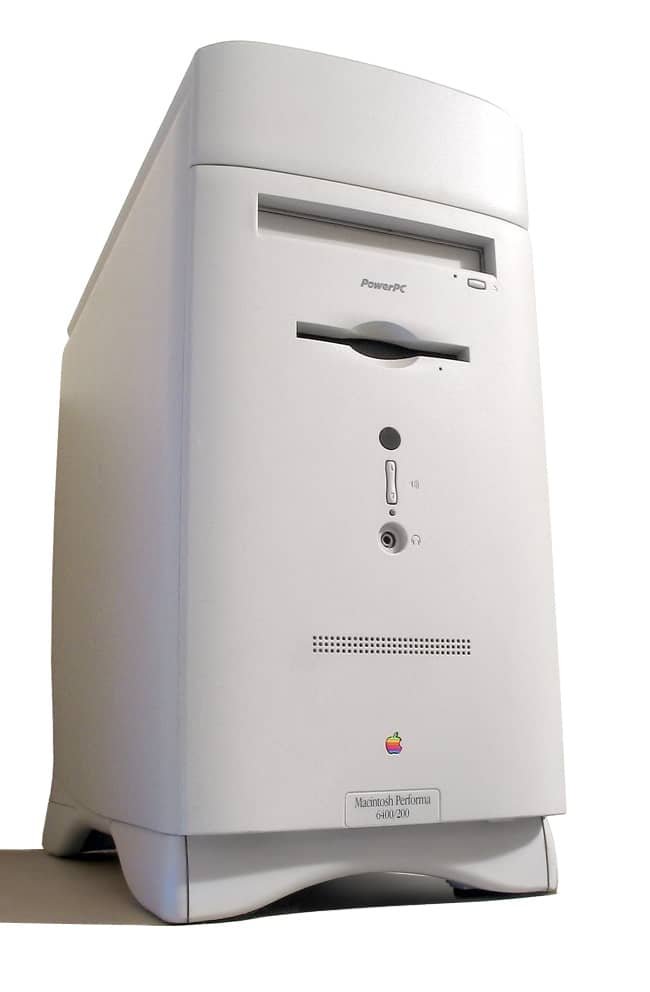 Macintosh Performa 6400 Details
Introduced
August 7, 1996
Discontinued
July 12, 1996 (180 MHz)
August 1, 1997 (200 MHz)
Model Identifier
58
Model Number
M3548
Order Number
M5167LL/A (180 MHz)
M5168LL/A (200 MHz)
M5609LL/A (200 MHz Video Editing Edition)
Original Price
$2,100
$2,400
$2,800
Colors
Platinum
Weight
44,5 Ibs.
20.184 KG
Dimensions
16" H x 7.8" W x 16.9" D
40.64 cm H x 19.81 cm W x 42.92 cm D
Mac Performa 6400 Tech Specs
Processor
Processor
PowerPC 603e
Processor Speed
180 MHz
200 MHz
Architecture
32-bit
Number of Cores
1
System Bus
40 MHz
Cache
32 KB L1
256 KB L2
Coprocessor
Built-in FPU
Storage & Media
Storage
1.6 GB
2.4 GB
Media
1 – 1.44 MB Floppy
1 – 8x CD-ROM
1 – Zip 100 (Optional)
Memory
Built-in Memory
16 MB
32 MB
Maximum Memory
136 MB
Memory Slots
2 – 168 pin DIMM
Minimum Speed
70 ns
ROM
Unknown
Interleaving Support
No
Display
Graphics
| | |
| --- | --- |
| Graphics Card | None |
| Graphics Memory | 1 MB |
| Display Connection | 1 – DB-15 |
Expansion
Expansion Slots
2 – 7″ PCI
1 – Comm II
1 – Video I/O
1 – TV
Hard Drive Interface
IDE
Connections
Ethernet
Optional
Modem
28.8k
Wi-Fi
None
Bluetooth
None
ADB
1
Serial
2
SCSI
1 – DB-25
Floppy Port
None
Infrared
None
Audio In
1 – 3.5-mm analog input jack
Audio Out
2 – 3.5-mm analog output jack
1 – Built-in subwoofer
1 – Built-in speaker
Display
1 – DB-15
Software
Power
| | |
| --- | --- |
| Backup Battery | 4.5 V Alkaline |
| Maximum Continuous Power | 220 W |
| Line Voltage | Unknown |
Further Reading and References
Would you like to know more about Apple products? Stay up-to-date with the latest Apple News. Check our blog for the latest releases, rumors, and updates in the world of Apple.
Disclaimer: The data presented in this article is under continuous development and has been manually collected from various sources based on their availability. The author of this article may revise this dataset as additional research is conducted and reviewed. Please note that the information is provided "as is" and "as available" without express or implied warranties. The author cannot be held responsible for any omissions, inaccuracies, or errors in the published information. Any warranties relating to this information are hereby disclaimed.
Last updated: September 17, 2023