In the fast-paced world of technology, some products leave an indelible mark. The Macintosh Performa 6410, introduced on November 12, 1996, stands as a testament to Apple's commitment to innovation and cutting-edge design.
The Performa 6410 boasted an impressive arsenal of specifications for its time. At its heart was a blazing-fast 180 MHz PowerPC 603e processor, complemented by 16 MB of RAM, a capacious 1.6 GB hard drive, an 8x CD-ROM drive, and a 1.44 MB floppy drive. To immerse users in an auditory experience like never before, it featured an SRS 3D surround sound system complete with a subwoofer – all encased in a sleek, rounded tower case.
These specifications were nothing short of revolutionary in 1996, setting a new benchmark for personal computing. The Performa 6410 was not just a computer; it was a technological marvel that captured the imagination of users worldwide.
Regrettably, the Performa 6410's time in the limelight was short-lived. Merely a year after its debut, Apple made the difficult decision to discontinue this remarkable machine on October 1, 1997. Despite its brief stint in the market, the Performa 6410 left an indelible mark on the annals of computing history.
Today, as the Macintosh Performa 6410 celebrates its 27-year anniversary, it stands as a cherished relic of a bygone era. While it may be considered a vintage computer, its influence on the personal computing industry reverberates through the years. This machine was not just a computer; it was a trailblazer that set the stage for future generations of personal computers.
A fascinating aspect of the Performa 6410 is its close resemblance to the Performa 6400. The only notable distinction lies in the regions they were sold. The 6410 found its home in Europe and Asia, while its sibling, the 6400, catered to the North American market.
The Macintosh Performa 6410 was more than a computer; it was a statement of Apple's unwavering commitment to excellence. Its sleek design, cutting-edge features, and formidable hardware set it apart in an era of burgeoning technological advancement. Today, it stands as a beacon, reminding us of the strides that have been made in the world of personal computing.
As we celebrate its 27-year, the Performa 6410's legacy lives on in the hearts of enthusiasts and collectors alike. It will forever hold a special place in the chronicles of computing history.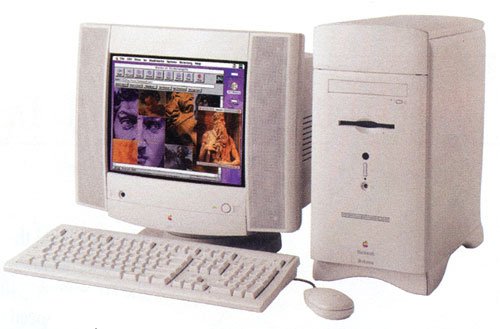 Macintosh Performa 6410 Details
Introduced
November 12, 1996
Discontinued
October 1, 1997
Model Identifier
58
Model Number
M3548
Order Number
M5509J/A
Original Price
Unknown
Colors
Platinum
Weight
44,5 Ibs.
20.184 KG
Dimensions
16" H x 7.8" W x 16.9" D
40.64 cm H x 19.81 cm W x 42.92 cm D
Mac Performa 6410 Tech Specs
Processor
Processor
PowerPC 603e
Processor Speed
180 MHz
Architecture
32-bit
Number of Cores
1
System Bus
40 MHz
Cache
32 KB L1
256 KB L2
Coprocessor
Built-in FPU
Storage & Media
Storage
1.6 GB
Media
1 – 1.44 MB Floppy
1 – 8x CD-ROM
1 – Zip 100 (Optional)
Memory
| | |
| --- | --- |
| Built-in Memory | 16 MB |
| Maximum Memory | 136 MB |
| Memory Slots | 2 – 168 pin DIMM |
| Minimum Speed | 70 ns |
| ROM | Unknown |
| Interleaving Support | No |
Display
Graphics
| | |
| --- | --- |
| Graphics Card | None |
| Graphics Memory | 1 MB |
| Display Connection | 1 – DB-15 |
Expansion
Expansion Slots
2 – 7″ PCI
1 – Comm II
1 – Video I/O
1 – TV
Hard Drive Interface
IDE
Connections
Ethernet
Optional
Modem
28.8k
Wi-Fi
None
Bluetooth
None
ADB
1
Serial
2
SCSI
1 – DB-25
Floppy Port
None
Infrared
None
Audio In
1 – 3.5-mm analog input jack
Audio Out
2 – 3.5-mm analog output jack
1 – Built-in subwoofer
1 – Built-in speaker
Display
1 – DB-15
Software
Power
| | |
| --- | --- |
| Backup Battery | 4.5 V Alkaline |
| Maximum Continuous Power | 220 W |
| Line Voltage | Unknown |
Further Reading and References
Would you like to know more about Apple products? Stay up-to-date with the latest Apple News. Check our blog for the latest releases, rumors, and updates in the world of Apple.
Disclaimer: The data presented in this article is under continuous development and has been manually collected from various sources based on their availability. The author of this article may revise this dataset as additional research is conducted and reviewed. Please note that the information is provided "as is" and "as available" without express or implied warranties. The author cannot be held responsible for any omissions, inaccuracies, or errors in the published information. Any warranties relating to this information are hereby disclaimed.
Last updated: September 24, 2023