On October 21st, 1991, Apple introduced a groundbreaking device that would change the landscape of portable computing forever – the Macintosh PowerBook 140. Despite being discontinued over 31 years ago, this notebook computer still holds a special place in the hearts of Apple enthusiasts and stands as a testament to the company's commitment to innovation. Let's take a trip down memory lane and explore the features and impact of this iconic device.
In an era when laptop computers were still in their nascent stage, the Macintosh PowerBook 140 emerged as a powerful and compact solution for professionals on the go. Its sleek design, coupled with impressive specifications, made it a desirable choice for those seeking a portable computing experience.
Under the hood, the PowerBook 140 featured a 16 MHz Motorola 68030 processor, which was considered quite powerful at the time. It boasted a 9.8″ monochrome LCD display that showcased a resolution of 640 x 400 pixels, providing users with a sharp and clear viewing experience. With 2 MB or 4 MB of RAM and the option of a hard drive that could hold up to 80 MB of data, the PowerBook 140 offered ample storage and memory for its time. Additionally, it included a 1.44 MB floppy drive, allowing for easy data transfer and backup.
The Macintosh PowerBook 140 was a game-changer for professionals who required mobility without sacrificing computing power. Its portable form factor and lightweight design made it an ideal companion for individuals who needed to work on the go. With a battery life of up to two hours, the PowerBook 140 offered impressive flexibility for users who found themselves away from power outlets.
The PowerBook 140 was a significant step forward compared to its predecessor, the PowerBook 100. It featured a larger passive-matrix screen, even though it displayed the same resolution. The more efficient CPU and reliable 2-hour NiCad battery further enhanced its capabilities, solidifying its reputation as a reliable workhorse.
While the Macintosh PowerBook 140 is no longer in production, its legacy lives on in Apple's current line of MacBook laptops. Over the years, Apple has continued to innovate and push the boundaries of portable computing, offering a wide range of powerful and versatile options for modern users. From the ultra-portable MacBook Air to the high-performance MacBook Pro, Apple has evolved its laptop lineup to cater to the diverse needs of today's professionals.
Looking back, it's fascinating to see how far we've come since the PowerBook 140. The advancements in technology and design have allowed for thinner and lighter laptops, higher-resolution displays, and faster processors. However, it's important to remember that it was devices like the PowerBook 140 that paved the way for these advancements, setting the stage for the laptops we use today.
As we reminisce about the Macintosh PowerBook 140, we are reminded of its groundbreaking impact on the world of portable computing. While it may be over three decades old now, the PowerBook 140 remains an iconic device in the history of Apple and personal computing. Its innovative design, impressive specifications, and commitment to portability have left an indelible mark on the industry.
As we embrace the future of portable computing, let us not forget the devices that laid the foundation for the remarkable laptops we enjoy today. The Macintosh PowerBook 140 will forever be remembered as a trailblazer, and its influence can still be felt in the sleek and powerful MacBook laptops that grace our desks and backpacks.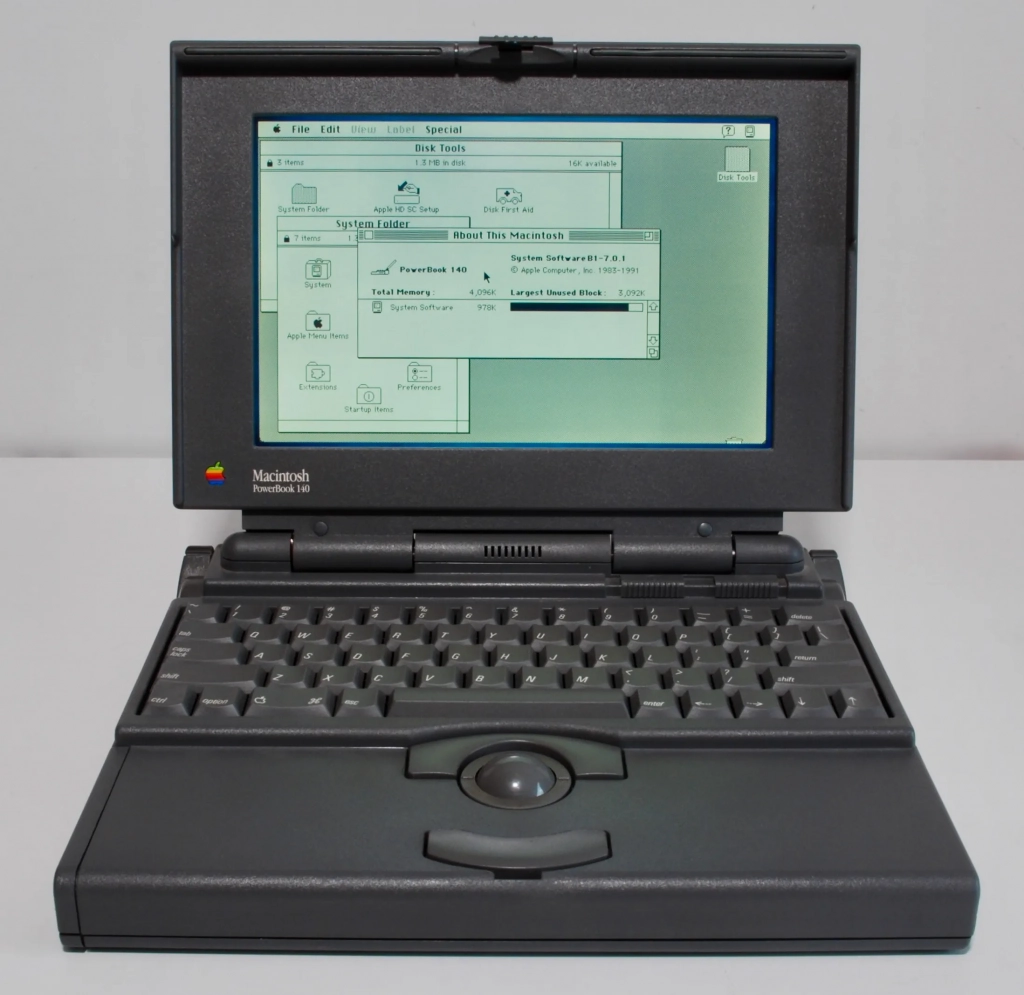 Macintosh PowerBook 140 Details
Introduced
October 21, 1991
Discontinued
August 3, 1992
Model Identifier
25
Model Number
M0511LL/A
M1049LL/A
M1227LL/A
Original Price
$2,900
Colors
Grey
Weight
6.8 Ibs.
3.084 KG
Dimensions
2.25" H x 11.25" W x 9.3" D
5.71 cm H x 28.57 cm W x 23.62 cm D
PowerBook 140 Tech Specs
Processor
| | |
| --- | --- |
| Processor | Motorola 68030 |
| Processor Speed | 16 MHz |
| Architecture | 32-bit |
| Number of Cores | 1 |
| System Bus | 16 MHz |
| Cache | 0.5 KB L1 |
| Coprocessor | None |
Storage & Media
Storage
20 MB
40 MB
80 MB
Media
1.44 MB floppy
Memory
Built-in Memory
2 MB
4 MB
Maximum Memory
8 MB
Memory Slots
1 – PowerBook 1xx (70-pin connector)
Minimum Speed
100 ns
ROM
Unknown
Interleaving Support
No
Display
| | |
| --- | --- |
| Built-in Display | 9.8″ diagonal passive matrix reflective LCD |
| Resolutions | 640 x 400 |
Graphics
| | |
| --- | --- |
| Graphics Card | None |
| Graphics Memory | None |
| Display Connection | None |
Expansion
| | |
| --- | --- |
| Expansion Slots | Internal 20-pin connector for the optional 2400-baud modem card |
| Hard Drive Interface | 30-pin SCSI |
| Bays | Unknown |
Software
Connections
Wi-Fi
None
Ethernet
None
Modem
None
Bluetooth
None
ADB
1
Serial
2
SCSI
HDI-30
Floppy Port
None
Audio In
1 – 3.5-mm analog input jack
1 – Built-in microphone
Audio Out
1 – 3.5-mm analog output jack
1 – Built-in speaker
Infrared
None
Display
None
Keyboard and trackpad
| | |
| --- | --- |
| Keyboard | Built-in 64-key (U.S.) or 64-key (ISO) 3.0-mm travel keyboard |
| Trackpad | Built-in 25-mm trackball pointing device |
Power
| | |
| --- | --- |
| System Battery | 2.5-ampere-hour NiCad battery |
| Backup Battery | 3 V lithium |
| Maximum Continuous Power | 17 W |
| Line Voltage | Unknown |
| Power Adapter | Unknown |
Further Reading and References
Would you like to know more about Apple products? Stay up-to-date with the latest Apple News. Check our blog for the latest releases, rumors, and updates in the world of Apple.
Disclaimer: The data presented in this article is under continuous development and has been manually collected from various sources based on their availability. The author of this article may revise this dataset as additional research is conducted and reviewed. Please note that the information is provided "as is" and "as available" without express or implied warranties. The author cannot be held responsible for any omissions, inaccuracies, or errors in the published information. Any warranties relating to this information are hereby disclaimed.
Last updated: June 3, 2023