In the fast-paced world of technology, where advancements are made at a rapid pace, it's important to look back and appreciate the devices that paved the way for our modern gadgets. One such device that holds a special place in Macintosh history is the Macintosh PowerBook 165c.
Introduced by Apple on February 10th, 1993, this notebook computer brought advanced features and a splash of color to the Macintosh PowerBook series. Despite its short lifespan of just over 10 months, the PowerBook 165c remains a classic piece of Apple's legacy, showcasing the company's commitment to technology and design.
The Macintosh PowerBook 165c was a high-end option for Macintosh users seeking a portable computer with cutting-edge capabilities. Priced at $2,250, it came equipped with a 33 MHz Motorola 68030 processor and a Motorola 68882 FPU coprocessor, providing users with ample processing power for their tasks. The standout feature of the PowerBook 165c was its 8.9″ color LCD display, making it the first notebook computer from any manufacturer to offer 256 colors on its internal display.
Additionally, the PowerBook 165c boasted 4 MB of RAM, a choice between an 80 MB or 160 MB hard drive, and a standard 1.44 MB floppy drive, which was a common feature at the time. While these specifications might seem modest compared to today's standards, they were quite impressive for a portable computer in the early '90s.
The Macintosh PowerBook 165c inherited its design from the PowerBook 180 but with the notable addition of a color screen. The 8-bit video support at 640 x 400 pixels offered a vibrant display, providing users with an enhanced visual experience. MacUser, in its April 1993 review, praised the PowerBook 165c's passive-matrix color display as the best-looking among notebook computers at the time.
However, the decision to use single-ported DRAM for video instead of double-ported VRAM, as seen in the PowerBook 160 and 180, proved to be a design compromise. This choice resulted in slower screen redraws and a somewhat sluggish feel during screen updates. Some users also criticized the screen, describing it as murky. Nevertheless, the PowerBook 165c's color display marked a significant milestone in the evolution of portable computing.
The Macintosh PowerBook 165c was discontinued on December 13th, 1993, less than a year after its initial release. Despite its short lifespan, the PowerBook 165c remains a cherished relic among Macintosh enthusiasts and collectors. Its legacy is a testament to Apple's commitment to pushing the boundaries of technology and design, even in the early days of portable computing.
Today, after 30 years finding a working Macintosh PowerBook 165c may prove challenging. Like many vintage devices, sourcing compatible RAM can be difficult and expensive. However, for those lucky enough to own or stumble upon a fully functional unit, the PowerBook 165c serves as a nostalgic reminder of the technological advancements and achievements Apple made during a transformative era.
The Macintosh PowerBook 165c, with its colorful display and advanced features, holds a special place in the history of Macintosh computing. Although its production was short-lived, the PowerBook 165c showcased Apple's commitment to innovation and design, setting the stage for future advancements in portable computing. While this classic piece of technology may be elusive to find today, its legacy lives on as a reminder of Apple's dedication to pushing the boundaries of what is possible in the world of technology.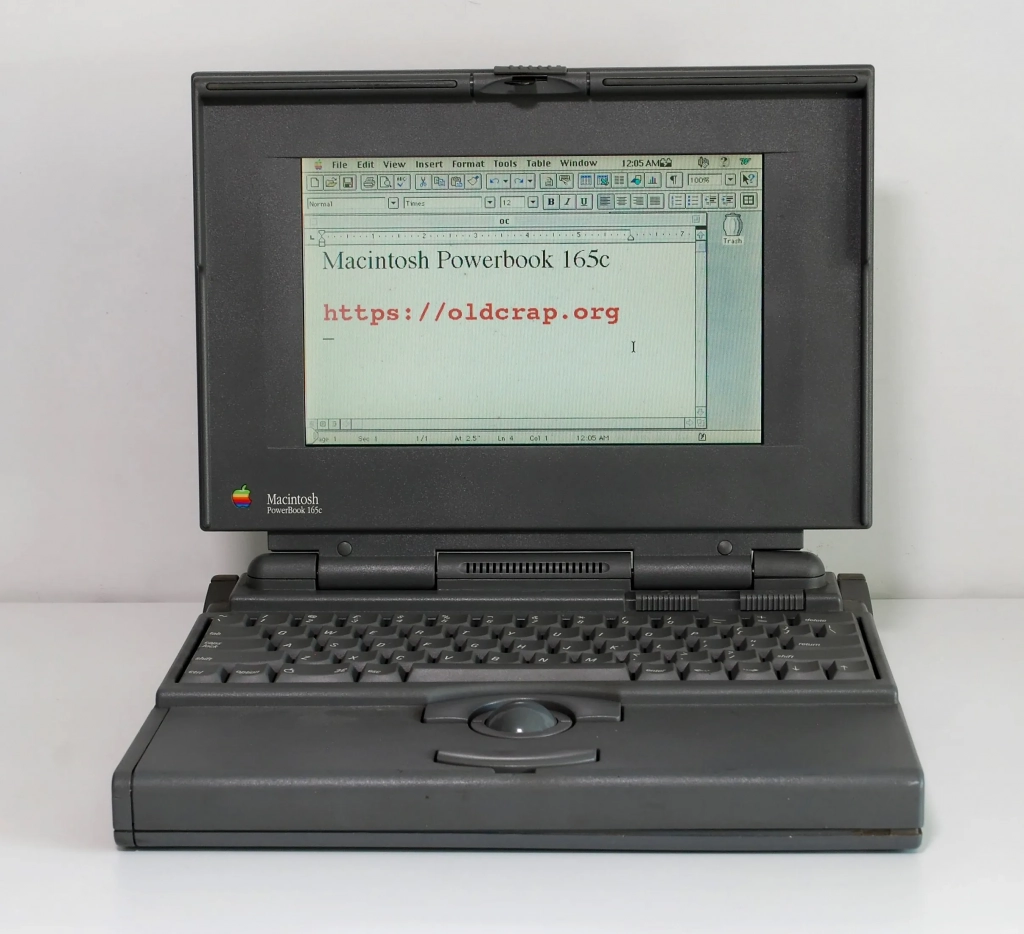 Macintosh PowerBook 165c Details
Introduced
February 10, 1993
Discontinued
December 13, 1993
Model Identifier
50
Model Number
M4900LL/A
M4920LL/A
Original Price
$2,250
$3,400
Colors
Grey
Weight
6.8 Ibs. (180)
3.084 KG
7 Ibs. (180c)
3.175 KG
Dimensions
2.25" H x 11.25" W x 9.3" D
5.71 cm H x 28.57 cm W x 23.62 cm D
PowerBook 165c Tech Specs
Processor
| | |
| --- | --- |
| Processor | Motorola 68030 |
| Processor Speed | 33 MHz |
| Architecture | 32-bit |
| Number of Cores | 1 |
| System Bus | 33 MHz |
| Cache | 0.5 KB L1 |
| Coprocessor | Motorola 68882 FPU |
Storage & Media
Storage
80 MB
120 MB
Media
1.44 MB floppy
Memory
| | |
| --- | --- |
| Built-in Memory | 4 MB |
| Maximum Memory | 14 MB |
| Memory Slots | 1 – PowerBook 1xx (70-pin connector) |
| Minimum Speed | 85 ns |
| ROM | Unknown |
| Interleaving Support | No |
Display
| | |
| --- | --- |
| Built-in Display | 8.9″ 8-bit color passive-matrix reflective LCD |
| Resolutions | 640 x 400 |
Graphics
| | |
| --- | --- |
| Graphics Card | None |
| Graphics Memory | 512 KB |
| Display Connection | 1 – Mini-15 |
Expansion
| | |
| --- | --- |
| Expansion Slots | Internal 20-pin connector for the optional 2400-baud modem card |
| Hard Drive Interface | 40-pin SCSI |
| Bays | Unknown |
Connections
Wi-Fi
None
Ethernet
None
Modem
None
Bluetooth
None
ADB
1
Serial
2
SCSI
HDI-30
Floppy Port
None
Audio In
1 – 3.5-mm analog input jack
1 – Built-in microphone
Audio Out
1 – 3.5-mm analog output jack
1 – Built-in speaker
Infrared
None
Display
1 – Mini-15
Keyboard and trackpad
| | |
| --- | --- |
| Keyboard | Built-in 64-key (U.S.) or 64-key (ISO) 3.0-mm travel keyboard |
| Trackpad | Built-in 25-mm trackball pointing device |
Software
Power
| | |
| --- | --- |
| System Battery | 2.9-ampere-hour NiCad battery |
| Backup Battery | 3 V lithium |
| Maximum Continuous Power | 17 W |
| Line Voltage | Unknown |
| Power Adapter | Unknown |
Further Reading and References
Would you like to know more about Apple products? Stay up-to-date with the latest Apple News. Check our blog for the latest releases, rumors, and updates in the world of Apple.
Disclaimer: The data presented in this article is under continuous development and has been manually collected from various sources based on their availability. The author of this article may revise this dataset as additional research is conducted and reviewed. Please note that the information is provided "as is" and "as available" without express or implied warranties. The author cannot be held responsible for any omissions, inaccuracies, or errors in the published information. Any warranties relating to this information are hereby disclaimed.
Last updated: June 30, 2023