In the ever-evolving landscape of technology, certain products stand the test of time, leaving an indelible mark on the industry. One such gem in Apple's illustrious history is the PowerBook 2400c, a compact marvel that emerged in May 1997, redefining the concept of portable computing.
When Apple first introduced the PowerBook 2400c, it was initially intended for the discerning Mac market in Japan, later extending its reach to the United States. Weighing in at a mere 4.4 lbs and boasting a 10.4-inch color LCD display, this laptop was a fusion of power and portability. It signaled a departure from its predecessors, particularly the Duo series, with a smaller footprint and a design ethos that prioritized compactness without compromising performance.
Priced at $2,260, the PowerBook 2400c was a technological tour de force. Driven by a 180 MHz or 240 MHz PowerPC 603e processor, it delivered a computing experience that rivaled its larger counterparts. The 800×600 pixel active-matrix screen, though commonplace today, was revolutionary in its era. However, the 2400c did retain a touch of nostalgia, utilizing an external floppy disk drive and lacking an internal CD-ROM option.
Despite its diminutive size, the PowerBook 2400c didn't compromise on connectivity. The inclusion of ports such as ADB, combined serial printer/modem port, HD-20 floppy port, and HD-30 SCSI port showcased Apple's commitment to providing a versatile user experience. The absence of an internal removable drive was a unique design choice, harking back to the era when external floppy drives were the norm.
One fascinating aspect of the PowerBook 2400c's legacy is its adaptability. With the processor located on a detachable daughter card, visionary companies like Interware, Vimage, and Newer Technologies seized the opportunity to offer PowerPC G3 processor cards. These upgrades, ranging from 240 MHz to 400 MHz, transformed the 2400c into a sought-after commodity, demonstrating its enduring appeal among enthusiasts.
Despite being discontinued on December 31, 1998, the PowerBook 2400c continues to captivate the hearts of Apple aficionados. Its unique blend of form and function, coupled with the rare prospect of G3 processor upgrades, ensures its status as a collector's item. Today, as we reflect on its 26-year journey, it's evident that the PowerBook 2400c laid the foundation for Apple's commitment to innovation in the laptop realm.
The echoes of the PowerBook 2400c can still be heard in the corridors of Cupertino. Its compact design philosophy and forward-thinking specifications have undoubtedly influenced Apple's current lineup of laptops. While the MacBook Air may be the torchbearer for ultraportable computing in the modern era, it owes a debt of gratitude to the pioneering spirit of the PowerBook 2400c.
In the annals of Apple's history, the PowerBook 2400c remains a timeless classic. Its legacy lives on not just in the physical realm, with collectors cherishing this piece of technological history, but also in the intangible influence it exerted on subsequent generations of Apple laptops. As we celebrate its 26-year anniversary, let's tip our hats to the compact powerhouse that continues to remind us that innovation knows no bounds.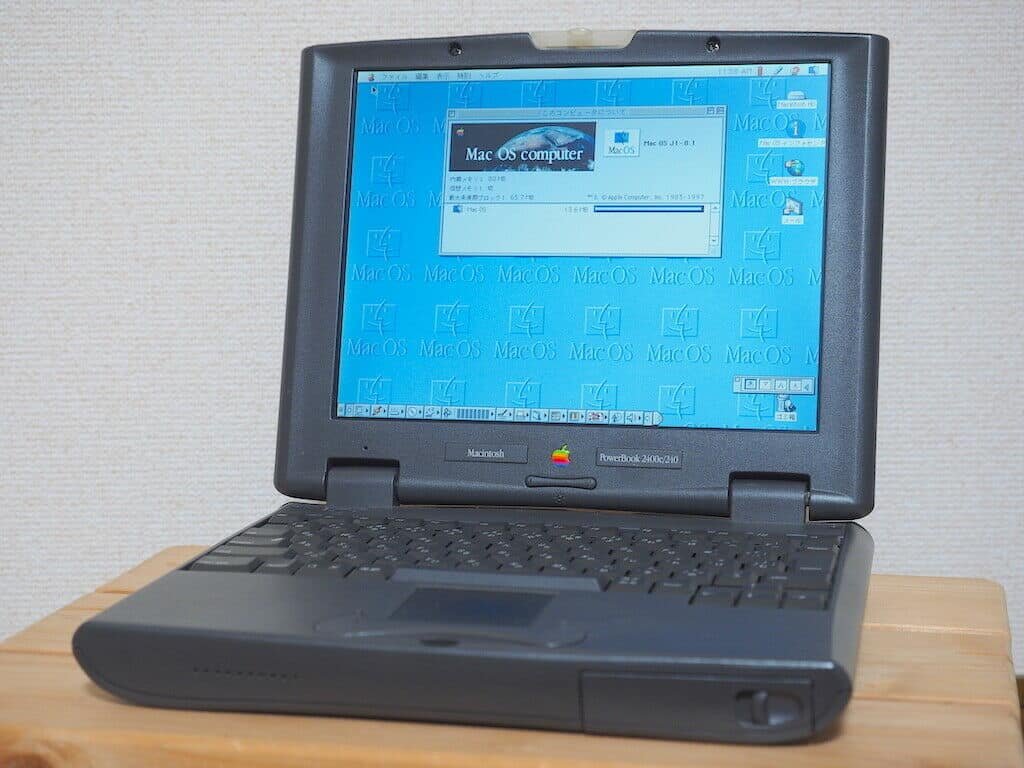 Macintosh PowerBook 2400c Details
Introduced
May 8, 1997 (180 MHz)
April 7, 1998 (240 MHz)
Discontinued
March 14, 1998 (180 MHz)
December 31, 1998 (240 MHz)
Model Identifier
307
Model Number
Unknown
Order Number
M5241LL/A
M6265J/A
Original Price
¥300.000 ($2,260)
$3,500
Colors
Dark Grey
Weight
4.4 Ibs.
1.995 KG
Dimensions
1.9" H x 10.5" W x 8.4" D
4.82 cm H x 26.67 cm W x 21.33 cm D
PowerBook 2400c Tech Specs
Processor
Processor
PowerPC 603e
Processor Speed
180 MHz
240 MHz
Architecture
32-bit
Number of Cores
1
System Bus
40 MHz
Cache
32 KB L1
256 KB L2
Coprocessor
Built-in FPU
Storage & Media
Storage
1.3 GB
2.0 GB
Media
1 – 1.44 MB floppy (External)
Memory
Built-in Memory
16 MB
Maximum Memory
80 MB (Apple)
112 MB (Actual)
Memory Slots
1 – 144-pin DRAM SO-DIMM
Minimum Speed
60 ns
ROM
Unknown
Interleaving Support
No
Display
| | |
| --- | --- |
| Built-in Display | 10.4″ active-matrix color TFT Display |
| Resolutions | 800 x 600 |
Graphics
| | |
| --- | --- |
| Graphics Card | Chips and Technologies HiQV32 |
| Graphics Memory | 1 MB |
| Display Connection | 1 – Mini-15 |
Expansion
| | |
| --- | --- |
| Expansion Slots | 2 – Type I or II or 1 – Type III PC Card |
| Hard Drive Interface | ATA-2 |
| Bays | None |
Connections
Wi-Fi
None
Ethernet
None
Modem
None
Bluetooth
None
Infrared
1 – 4 Mbps
ADB
1
Serial
1
SCSI
1 – HDI-30
Floppy Port
None
Audio In
1 – 3.5-mm analog input jack
Audio Out
1 – 3.5-mm analog output jack
1 – Built-in speaker
Display
1 – Mini-30
Keyboard and trackpad
| | |
| --- | --- |
| Keyboard | Built-in Full-size 76-key (U.S.) or 77-key (ISO) incl. 12 function and 4 arrow keys |
| Trackpad | Built-in Solid-state trackpad (Tap, double-tap, and drag) |
Software
Original OS
Mac OS 7.6 (180 MHz Japan version)
Mac OS 7.6.1 (180 MHz U.S. version)
Mac OS 8.1 (240 MHz)
Maximum OS
Mac OS 9.1
Firmware
Macintosh ROM
Power
| | |
| --- | --- |
| System Battery | 29 Wh Lithium-Ion |
| Backup Battery | 3.6 V Lithium |
| Maximum Continuous Power | 45 W |
| Line Voltage | Unknown |
| Power Adapter | 36-Watt AC Adapter (M5937LL/A) |
Further Reading and References
Would you like to know more about Apple products? Stay up-to-date with the latest Apple News. Check our blog for the latest releases, rumors, and updates in the world of Apple.
Disclaimer: The data presented in this article is under continuous development and has been manually collected from various sources based on their availability. The author of this article may revise this dataset as additional research is conducted and reviewed. Please note that the information is provided "as is" and "as available" without express or implied warranties. The author cannot be held responsible for any omissions, inaccuracies, or errors in the published information. Any warranties relating to this information are hereby disclaimed.
Last updated: November 25, 2023