In the ever-evolving landscape of technology, it's easy to get swept away by the constant stream of new advancements. However, there are moments when it's worth stepping back, and casting a nostalgic gaze over the devices that paved the way for our modern marvels. The Apple Macintosh PowerBook 5300c is a prime example – a notebook computer that once stood at the forefront of innovation but now finds its place among the pages of history.
Back on August 28, 1995, Apple unveiled the PowerBook 5300c, an integral addition to its esteemed Macintosh PowerBook series. This device marked a striking departure from its predecessors, boasting an elegant redesign coupled with a slew of state-of-the-art features. With a starting price tag of $3,700, the PowerBook 5300c wasn't targeting the average consumer; it was crafted with professionals in mind, those who demanded a potent yet portable machine to match their taxing workloads.
Central to the allure of the PowerBook 5300c was its robust 100 MHz PowerPC 603e processor. This blazing engine made multitasking a breeze, effortlessly tackling even the most resource-intensive applications. Adding to its appeal was the impressive 10.4″ color LCD display, treating users to a visual feast of vibrant images and crisp videos.
Memory and storage were no afterthought for the PowerBook 5300c. Offering a choice between 8 MB or 16 MB of RAM and a range of hard drives from 500 MB to 750 MB, users had ample space to house their digital lives, from crucial files to cherished media collections. And let's not forget the trusty 1.44 MB floppy drive, allowing seamless data transfer and file sharing between computers.
As much as the PowerBook 5300c dazzled with its features and formidable specs, its journey was a brief one. Apple pulled the plug on this innovative marvel on September 1, 1996, just a year after its grand entrance. Today, at 28 years old, the PowerBook 5300c stands as a relic, its groundbreaking technology relegated to the annals of yesteryears. Yet, for those who recall the days of its glory, this machine remains a cherished fragment of tech history – an emblem of the early days when computers were just starting to spread their wings.
Of note, the PowerBook 5300c boasted support for 16-bit color on its built-in display and had the remarkable capacity to extend that vibrant spectrum to an external monitor as well.
Although the PowerBook 5300 series etched a couple of pioneering achievements – being the first PowerBook lineup to feature PowerPC processors and "hot swappable" drive bays – it wasn't all smooth sailing. The initial iteration was plagued by battery and quality issues, necessitating Apple's intervention to ensure its optimal performance.
In a world brimming with cutting-edge gadgets, the Apple Macintosh PowerBook 5300c remains a testament to the foundations upon which our tech-driven lives are built. Its legacy lives on, a beacon of progress that continues to inspire as we journey ever forward into the digital unknown.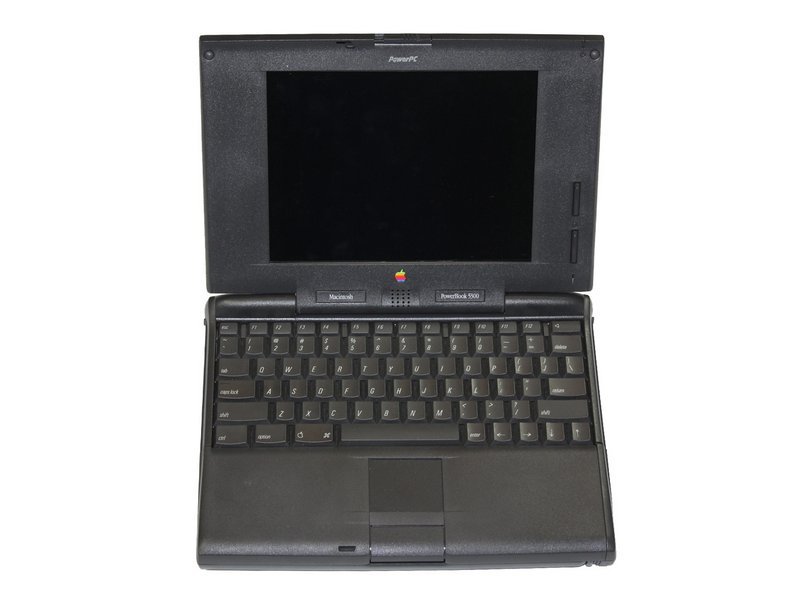 Macintosh PowerBook 5300c Details
Introduced
August 28, 1995
Discontinued
September 1, 1996
Model Identifier
128
Model Number
M2785
Order Number
M3133LL/A
M4488LL/A
Original Price
$3,700
$4,500
Colors
Dark Grey
Weight
6.2 Ibs.
2.812 KG
Dimensions
2" H x 11.5" W x 8.5" D
5.08 cm H x 29.21 cm W x 21.59 cm D
PowerBook 5300c Tech Specs
Processor
| | |
| --- | --- |
| Processor | PowerPC 603e |
| Processor Speed | 100 MHz |
| Architecture | 32-bit |
| Number of Cores | 1 |
| System Bus | 33 MHz |
| Cache | 16 KB L1 |
| Coprocessor | Built-in FPU |
Storage & Media
Storage
500 MB
750 MB
Media
1.44 MB floppy
Memory
Built-in Memory
8 MB
16 MB
Maximum Memory
64 MB
Memory Slots
1 – PowerBook 53xx 120-pin connector
Minimum Speed
60 ns
ROM
Unknown
Interleaving Support
No
Display
| | |
| --- | --- |
| Built-in Display | 10.4″ color active-matrix LCD |
| Resolutions | 640 x 480 |
Graphics
Graphics Card
None
Graphics Memory
512 KB
1 MB
Display Connection
1 – Mini-15
Expansion
| | |
| --- | --- |
| Expansion Slots | 2 – Type II or 1 – Type III PC Card |
| Hard Drive Interface | IDE |
| Bays | 1 – PowerBook 5300 Bay 90-pin |
Connections
Wi-Fi
None
Ethernet
None
Modem
28.8k (Optional)
Bluetooth
None
Infrared
1 – 1 Mbps
ADB
1
Serial
1
SCSI
1 – HDI-30
Floppy Port
None
Audio In
1 – 3.5-mm analog input jack
1 – Built-in microphone
Audio Out
1 – 3.5-mm analog output jack
1 – Built-in speaker
Display
1 – Mini-15
Keyboard and trackpad
| | |
| --- | --- |
| Keyboard | Built-in Full-size 76-key (U.S.) or 77-key (ISO) incl. 12 function and 4 arrow keys |
| Trackpad | Built-in Solid-state trackpad |
Software
Power
| | |
| --- | --- |
| System Battery | NiMH |
| Backup Battery | 3V Lithium CR2330 |
| Maximum Continuous Power | 45 W |
| Line Voltage | Unknown |
| Power Adapter | Unknown |
Further Reading and References
Would you like to know more about Apple products? Stay up-to-date with the latest Apple News. Check our blog for the latest releases, rumors, and updates in the world of Apple.
Disclaimer: The data presented in this article is under continuous development and has been manually collected from various sources based on their availability. The author of this article may revise this dataset as additional research is conducted and reviewed. Please note that the information is provided "as is" and "as available" without express or implied warranties. The author cannot be held responsible for any omissions, inaccuracies, or errors in the published information. Any warranties relating to this information are hereby disclaimed.
Last updated: August 28, 2023