In the mid-90s, when the tech landscape was evolving at an unprecedented pace, Apple took a daring leap into the future with the Macintosh PowerBook 5300cs. This groundbreaking notebook computer, which graced the scene from 1995 to 1996, was more than just a device; it was a testament to Apple's unyielding commitment to innovation and design. Let's dive into the tale of the PowerBook 5300cs, a device that defied norms and left an indelible mark on the tech industry.
Introduced on August 28, 1995, the Apple Macintosh PowerBook 5300cs dazzled enthusiasts with its cutting-edge features. This compact marvel housed a mighty 100 MHz PowerPC 603e processor, an impressive 10.4″ color LCD display, and an 8 MB or 16 MB RAM that guaranteed a high-performance computing experience. Not to mention the 500 MB or 750 MB hard drive, which was ample storage for the era, and a 1.44 MB floppy drive that epitomized convenience.
During its brief but impactful existence, the PowerBook 5300cs set new standards in portable computing. Its specs, once considered top-of-the-line, were a harbinger of the digital revolution that was to come.
Regrettably, the PowerBook 5300cs journeyed through the tech realm for only a year, being discontinued on August 5, 1996. Despite its short stint, its influence was profound. The notebook paved the way for a future where sleek, high-performance laptops would become a ubiquitous part of our lives.
Unveiling a new age of innovation, the 5300cs grappled with battery and quality issues upon launch. These early setbacks prompted Apple to take a closer look, resulting in reworking and refinement that breathed life into the device. The journey from hurdles to triumph was a testament to Apple's dedication to delivering excellence to its users.
Fast forward 28 years, and the Macintosh PowerBook 5300cs remains more than just a relic of the past. This forgotten pioneer still echoes in the halls of Apple's modern creations. Its DNA, its relentless pursuit of excellence, and its groundbreaking spirit have found their way into the company's latest products, shaping the tech experiences we treasure today.
One of the most remarkable features of the PowerBook 5300cs was its support for 8-bit color on the integrated display, coupled with the ability to scale up to 16-bit color on an external monitor through an optional video card. This adaptability was a harbinger of a future where flexibility would be key to unlocking the true potential of devices.
The Macintosh PowerBook 5300cs will forever stand as a symbol of Apple's unwavering commitment to pushing boundaries. Despite its short-lived market presence, its legacy lives on, an embodiment of the pioneering spirit that defines the company.
From its daring PowerPC processors to its innovative "hot swappable" drive bays, the 5300 series laid the foundation for Apple's subsequent triumphs. Although it initially grappled with setbacks, it emerged stronger, setting a standard for reliability and performance that became synonymous with the brand.
In an industry driven by rapid change, the Macintosh PowerBook 5300cs remains an inspiring tale of determination, innovation, and the unrelenting pursuit of excellence. It's a testament to the fact that some stories, even in the ever-shifting world of technology, are too impactful to fade away.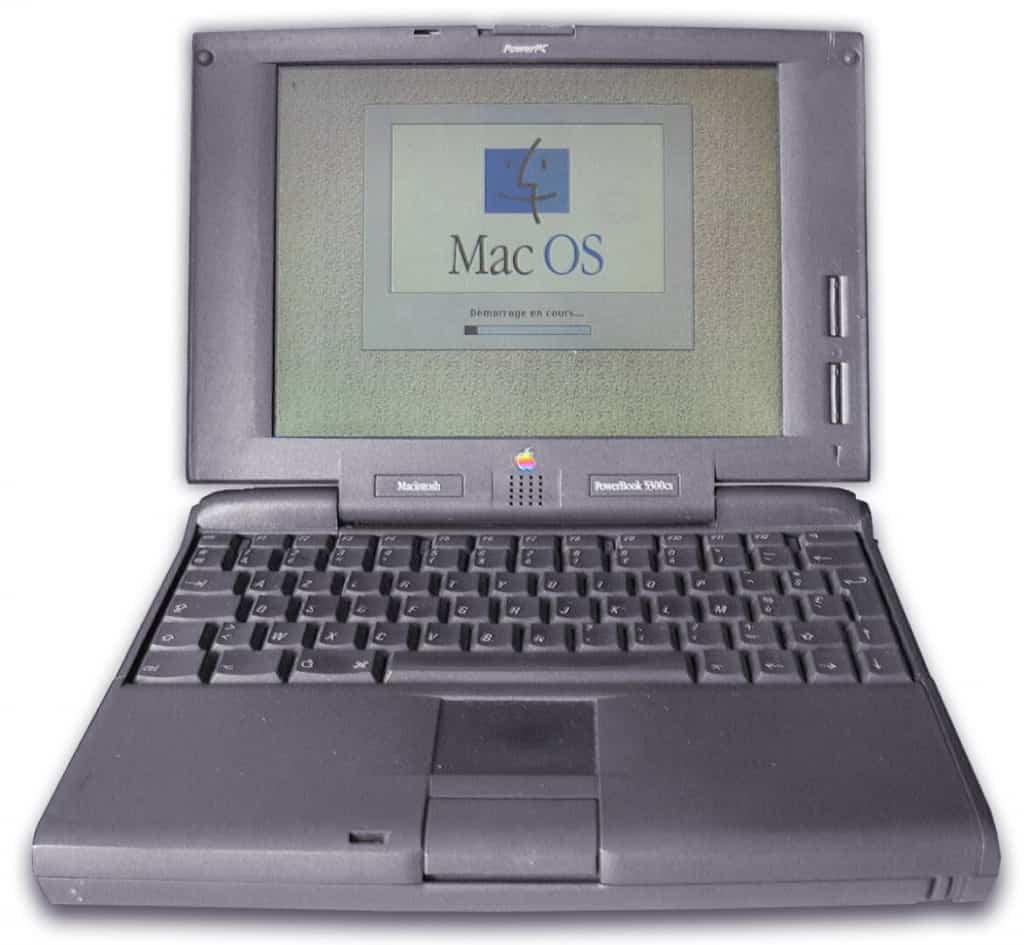 Macintosh PowerBook 5300cs Details
Introduced
August 28, 1995
Discontinued
August 5, 1996
Model Identifier
128
Model Number
M2785
Order Number
M3824LL/A
M3825LL/A
Original Price
$2,800
$3,500
Colors
Dark Grey
Weight
6.2 Ibs.
2.812 KG
Dimensions
2" H x 11.5" W x 8.5" D
5.08 cm H x 29.21 cm W x 21.59 cm D
PowerBook 5300cs Tech Specs
Processor
| | |
| --- | --- |
| Processor | PowerPC 603e |
| Processor Speed | 100 MHz |
| Architecture | 32-bit |
| Number of Cores | 1 |
| System Bus | 33 MHz |
| Cache | 16 KB L1 |
| Coprocessor | Built-in FPU |
Storage & Media
Storage
500 MB
750 MB
Media
1.44 MB floppy
Memory
Built-in Memory
8 MB
16 MB
Maximum Memory
64 MB
Memory Slots
1 – PowerBook 53xx 120-pin connector
Minimum Speed
60 ns
ROM
Unknown
Interleaving Support
No
Display
| | |
| --- | --- |
| Built-in Display | 10.4″ DualScan color passive-matrix LCD |
| Resolutions | 640 x 480 |
Graphics
Graphics Card
None
Graphics Memory
512 KB
1 MB
Display Connection
1 – Mini-15
Expansion
| | |
| --- | --- |
| Expansion Slots | 2 – Type II or 1 – Type III PC Card |
| Hard Drive Interface | IDE |
| Bays | 1 – PowerBook 5300 Bay 90-pin |
Connections
Wi-Fi
None
Ethernet
None
Modem
28.8k (Optional)
Bluetooth
None
Infrared
1 – 1 Mbps
ADB
1
Serial
1
SCSI
1 – HDI-30
Floppy Port
None
Audio In
1 – 3.5-mm analog input jack
1 – Built-in microphone
Audio Out
1 – 3.5-mm analog output jack
1 – Built-in speaker
Display
1 – Mini-15
Keyboard and trackpad
| | |
| --- | --- |
| Keyboard | Built-in Full-size 76-key (U.S.) or 77-key (ISO) incl. 12 function and 4 arrow keys |
| Trackpad | Built-in Solid-state trackpad |
Software
Power
| | |
| --- | --- |
| System Battery | NiMH |
| Backup Battery | 3V Lithium CR2330 |
| Maximum Continuous Power | 45 W |
| Line Voltage | Unknown |
| Power Adapter | Unknown |
Further Reading and References
Would you like to know more about Apple products? Stay up-to-date with the latest Apple News. Check our blog for the latest releases, rumors, and updates in the world of Apple.
Disclaimer: The data presented in this article is under continuous development and has been manually collected from various sources based on their availability. The author of this article may revise this dataset as additional research is conducted and reviewed. Please note that the information is provided "as is" and "as available" without express or implied warranties. The author cannot be held responsible for any omissions, inaccuracies, or errors in the published information. Any warranties relating to this information are hereby disclaimed.
Last updated: August 29, 2023