In the early 1990s, Apple was already on the path to becoming a tech giant, and its Macintosh PowerBook series played a pivotal role in this journey. Among the most groundbreaking additions to this lineup was the PowerBook 540, a cutting-edge machine that still holds a special place in technology history, even after 29 years.
Unveiled on May 16, 1994, the PowerBook 540 was a marvel of its time. Boasting a 33 MHz Motorola 68LC040 processor, a 9.5″ monochrome LCD display, 8 MB or 12 MB of RAM, a 240 MB hard drive, and a 1.44 MB floppy drive, this laptop was a powerhouse that pushed the boundaries of mobile computing. Priced at a hefty $3,150, it was a significant investment for consumers, but for those seeking a powerful and portable computing solution, the PowerBook 540 was an irresistible choice.
Despite its impressive specifications, the PowerBook 540 had a relatively short lifespan, being discontinued merely five months after its release, on October 17, 1994. Some attribute its rapid discontinuation to the swift technological advancements of the era, while others suggest that it may have been outshone by other models in the PowerBook series.
Nevertheless, the legacy of the PowerBook 540 remains integral to Apple's rich history. This pioneering laptop paved the way for future models and revolutionized the concept of mobile computing. Taking a glance back at the PowerBook 540 today, it's incredible to witness how far technology has come since its inception. Even though nearly three decades have passed since its discontinuation, the PowerBook 540 will forever be remembered as a key player in the formative days of the Macintosh PowerBook series.
The PowerBook 540 shares similarities with its sibling, the PowerBook 520, but it excels with a faster processor and a higher-quality 6-bit active-matrix display. In fact, it was part of the PowerBook 500 series, which introduced a myriad of groundbreaking features. Notably, this series marked the debut of the revolutionary "trackpad" input device, where users could control the cursor by moving their finger on a touch-sensitive pad, replacing the conventional plastic ball.
The PowerBook 500 series also pioneered dual swappable "bays," a convenient feature that allowed users to either accommodate one battery and a PCMCIA adapter or extend runtime with dual batteries. Apple codenamed this series "Blackbird," and it was based on the 68LC040 processor, which drew less power and lacked the FPU. Several firsts were introduced with this series, such as built-in Ethernet, PCMCIA (later PC Card) slots, stereo speakers, "intelligent" NiMH batteries, and an expansion bay.
Among the most raved-about aspects of the PowerBook 540 were its dual battery slots, which enabled users to enjoy up to 4 hours of usage with a charged pair of batteries. Additionally, the laptop featured a full-sized keyboard with 12 function keys, a 640 x 480 screen, and an upgradeable design to accommodate a PowerPC processor.
The PowerBook 540's 6-bit active matrix grayscale display was a standout feature, and it came standard with a Global Village 19.2 kbps data/14.4 kbps fax modem, catering to the communication needs of users.
Looking back, the PowerBook 540 was a trailblazing laptop that helped shape the landscape of mobile computing. Its discontinuation may have been relatively swift, but its impact and influence on future technology endure to this day. The PowerBook 540 will forever be a cherished part of Apple's history, reminding us of the company's constant drive for innovation and setting new standards for portable computing.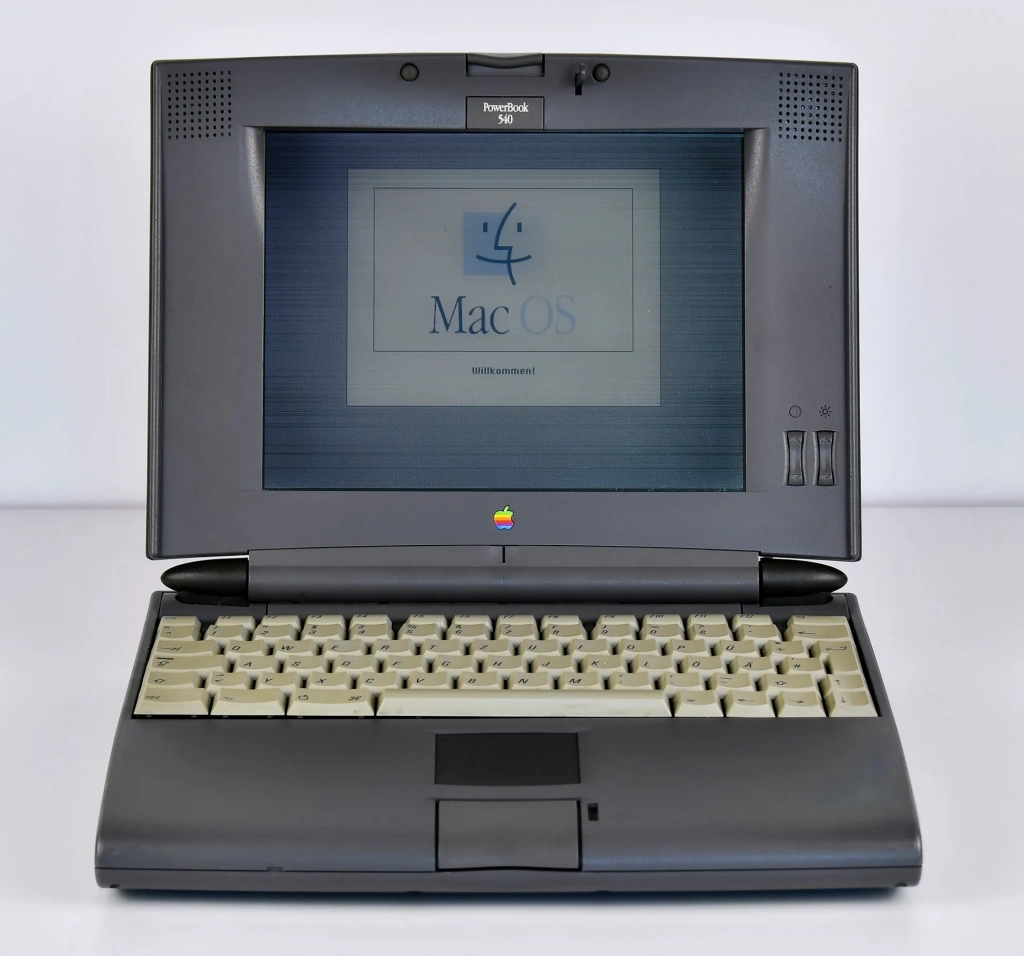 Macintosh PowerBook 540 Details
Introduced
May 16, 1994
Discontinued
October 17, 1994
Model Identifier
72
Model Number
M4880
Order Number
M2807LL/A
M3120LL/A
Original Price
$3,150
$4,580
Colors
Dark Grey
Weight
7.1 Ibs.
3.220 KG
Dimensions
2.3" H x 11.5" W x 9.7" D
5.84 cm H x 29.21 cm W x 24.63 cm D
PowerBook 540 Tech Specs
Processor
| | |
| --- | --- |
| Processor | Motorola 68LC040 |
| Processor Speed | 33 MHz |
| Architecture | 32-bit |
| Number of Cores | 1 |
| System Bus | 33 MHz |
| Cache | 8 KB L1 |
| Coprocessor | None |
Storage & Media
| | |
| --- | --- |
| Storage | 240 MB |
| Media | 1 – 1.44 MB floppy |
Memory
Built-in Memory
8 MB
12 MB
Maximum Memory
36 MB
Memory Slots
1 – PB 5xx
Minimum Speed
70 ns
ROM
Unknown
Interleaving Support
No
Display
| | |
| --- | --- |
| Built-in Display | 9.5″ monochrome active-matrix 6-bit LCD |
| Resolutions | 640 x 480 |
Graphics
| | |
| --- | --- |
| Graphics Card | None |
| Graphics Memory | 512 KB |
| Display Connection | 1 – Mini-15 |
Expansion
Expansion Slots
Modem
Optional Type II/III PC Card Bay
Hard Drive Interface
SCSI
Bays
PowerBook Expansion Bay PDS (90-pin)
Connections
Wi-Fi
None
Ethernet
1 – AAUI-15
Modem
None
Bluetooth
None
ADB
1
Serial
1
SCSI
1 – HDI-30
Floppy Port
None
Audio In
1 – 3.5-mm analog input jack
1 – Built-in microphone
Audio Out
1 – 3.5-mm analog output jack
1 – Built-in speaker
Infrared
None
Display
1 – Mini-15
Keyboard and trackpad
| | |
| --- | --- |
| Keyboard | Built-in 64-key (U.S.) or 64-key (ISO) 3.0-mm travel keyboard |
| Trackpad | Built-in trackpad pointing device |
Software
Power
| | |
| --- | --- |
| System Battery | PowerBook 500 Intelligent Battery M1906 (NiMH) |
| Backup Battery | Unknown |
| Maximum Continuous Power | 40 W |
| Line Voltage | Unknown |
| Power Adapter | 40 W (M1893) |
Further Reading and References
Would you like to know more about Apple products? Stay up-to-date with the latest Apple News. Check our blog for the latest releases, rumors, and updates in the world of Apple.
Disclaimer: The data presented in this article is under continuous development and has been manually collected from various sources based on their availability. The author of this article may revise this dataset as additional research is conducted and reviewed. Please note that the information is provided "as is" and "as available" without express or implied warranties. The author cannot be held responsible for any omissions, inaccuracies, or errors in the published information. Any warranties relating to this information are hereby disclaimed.
Last updated: July 31, 2023