In the early 1990s, Apple revolutionized the world of portable computing with its PowerBook series. Among the remarkable members of this lineup was the PowerBook Duo 270c, introduced in 1993. Pioneering the concept of a versatile device that could transform from a portable notebook to a desktop Macintosh, the PowerBook Duo 270c left an indelible mark on the memories of Mac users of that era. Let's take a trip down memory lane and explore the features that made the PowerBook Duo 270c a cherished piece of Apple history.
The PowerBook Duo 270c was a testament to Apple's commitment to innovation. Equipped with a 33 MHz Motorola 68030 processor and a Motorola 68882 FPU coprocessor, it offered reliable performance that satisfied the computing needs of Mac users on the go. The device boasted an 8.4-inch color LCD display, delivering vivid visuals that were ahead of their time.
Additionally, users had the option to expand the device's RAM, choosing between 4 MB or 12 MB, ensuring swift and efficient processing. With a 160 MB or 240 MB hard drive, the PowerBook Duo 270c provided ample storage capacity for users to carry their essential data with them.
One of the standout features of the PowerBook Duo 270c was its ability to transform into a powerful desktop Macintosh. By simply connecting the notebook to a dedicated Duo Dock, users could instantly elevate their portable device into a full-fledged workstation.
This innovation provided a perfect solution for professionals who needed a portable setup for their travels but also required the capabilities of a robust desktop computer for their work. The Duo Dock allowed users to seamlessly transition between their mobile and stationary computing needs, offering unparalleled flexibility.
Introduced on October 21, 1993, the PowerBook Duo 270c became the first color subnotebook from the PowerBook Duo line. Its 8.4-inch active matrix color display, supporting resolutions of 640×480 in 8-bit color and 640×400 letterboxed in 16-bit color, set a new standard for visual excellence. This vibrant display made the Duo 270c an absolute delight for users who craved a more immersive computing experience. With its own built-in Motorola 68882 floating-point unit and 4 MB of RAM (expandable up to 32 MB), the Duo 270c embodied the perfect balance of power and portability.
Apple's Duo Dock series was a key component of the PowerBook Duo lineup, and the 270c was no exception. Compatible with the Duo Dock II and Plus models, the PowerBook Duo 270c seamlessly integrated with these docking stations, enhancing the user experience by providing expanded connectivity options and the ability to connect to external peripherals. However, users of the original Duo Dock required a top cover upgrade to accommodate the slightly greater thickness of the color display, emphasizing Apple's dedication to backward compatibility.
Despite its groundbreaking features, the PowerBook Duo 270c's time in the limelight was relatively short-lived. Apple discontinued the device on May 16, 1994, leaving behind a legacy that remains cherished by Mac enthusiasts to this day. Now, as the Macintosh PowerBook Duo 270c turns 30 years old, it serves as a reminder of Apple's relentless pursuit of innovation and its dedication to pushing the boundaries of portable computing.
The Apple PowerBook Duo 270c holds a special place in the hearts of Mac users who experienced its capabilities during its brief but impactful existence. With its cutting-edge technology, transformative Duo Dock, and stunning color display, the PowerBook Duo 270c captured the imagination of users who demanded powerful portability.
As we look back on this iconic device, we celebrate the legacy it left behind and appreciate the foundation it laid for the future of portable computing. Though time has moved on, the PowerBook Duo 270c remains a symbol of innovation and a testament to Apple's enduring commitment to excellence.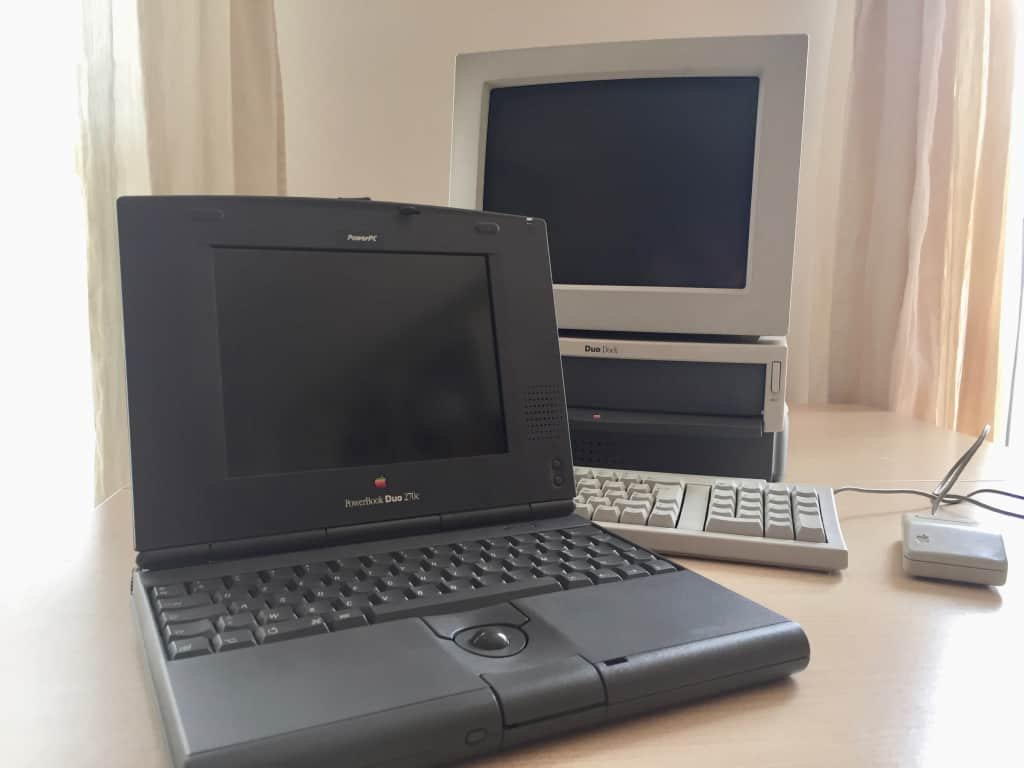 Macintosh PowerBook Duo 270c Details
Introduced
October 21, 1993
Discontinued
May 16, 1994
Model Identifier
77
Model Number
M1752LL/A
M2124LL/A
Original Price
$3,100
Colors
Grey
Weight
4.8 Ibs.
2.177 KG
Dimensions
1.4" H x 10.9" W x 8.5" D
3.55 cm H x 27.68 cm W x 21.59 cm D
PowerBook Duo 270c Tech Specs
Processor
| | |
| --- | --- |
| Processor | Motorola 68030 |
| Processor Speed | 33 MHz |
| Architecture | 32-bit |
| Number of Cores | 1 |
| System Bus | 33 MHz |
| Cache | 0.5 KB L1 |
| Coprocessor | Motorola 68882 FPU |
Storage & Media
Storage
160 MB
240 MB
Media
None
Memory
Built-in Memory
4 MB
12 MB
Maximum Memory
32 MB
Memory Slots
1 – Duo
Minimum Speed
70 ns
ROM
Unknown
Interleaving Support
No
Display
| | |
| --- | --- |
| Built-in Display | 8.4″ color active matrix LCD |
| Resolutions | 640 x 400 |
Graphics
| | |
| --- | --- |
| Graphics Card | None |
| Graphics Memory | None |
| Display Connection | None |
Expansion
Expansion Slots
Modem
Dock (152-pin PDS)
Hard Drive Interface
SCSI
Bays
Unknown
Connections
Wi-Fi
None
Ethernet
None
Modem
Internal modem/fax card
Bluetooth
None
ADB
None
Serial
1
SCSI
HDI-30
Floppy Port
None
Audio In
1 – 3.5-mm analog input jack
1 – Built-in microphone
Audio Out
1 – 3.5-mm analog output jack
1 – Built-in speaker
Infrared
None
Display
None
Keyboard and trackpad
| | |
| --- | --- |
| Keyboard | Built-in 64-key (U.S.) or 64-key (ISO) 3.0-mm travel keyboard |
| Trackpad | Built-in 25-mm trackball pointing device |
Software
Power
| | |
| --- | --- |
| System Battery | PowerBook Duo Type II (NiMH) |
| Backup Battery | Unknown |
| Maximum Continuous Power | 25 W |
| Line Voltage | Unknown |
| Power Adapter | Unknown |
Further Reading and References
Would you like to know more about Apple products? Stay up-to-date with the latest Apple News. Check our blog for the latest releases, rumors, and updates in the world of Apple.
Disclaimer: The data presented in this article is under continuous development and has been manually collected from various sources based on their availability. The author of this article may revise this dataset as additional research is conducted and reviewed. Please note that the information is provided "as is" and "as available" without express or implied warranties. The author cannot be held responsible for any omissions, inaccuracies, or errors in the published information. Any warranties relating to this information are hereby disclaimed.
Last updated: July 16, 2023