In the ever-evolving world of technology, Apple has been at the forefront of innovation, continually pushing boundaries to create devices that captivate users. One such trailblazer was the Macintosh PowerBook Duo 280, released in 1994. Although its lifespan was short-lived, this notebook left a lasting impression on the tech industry and remains a nostalgic gem in the annals of Apple's history.
In May 1994, Apple introduced the Macintosh PowerBook Duo 280, a groundbreaking addition to their esteemed PowerBook series of computers. With its sleek design and remarkable features, the Duo 280 garnered instant attention from tech enthusiasts and professionals alike. Equipped with a 33 MHz Motorola 68LC040 processor, a 9.1-inch monochrome LCD display, and a 240 MB hard drive, the device was nothing short of revolutionary for its time.
One of the standout features of the PowerBook Duo 280 was its compatibility with the Duo Dock – a groundbreaking innovation that allowed users to transform the notebook into a fully functional desktop Macintosh with ease. By plugging the notebook into the dedicated Duo Dock II, users could effortlessly switch between portable computing and a desktop setup, making it an ideal choice for professionals needing versatility in their workspaces.
Despite its promising start, the Macintosh PowerBook Duo 280 was discontinued just six months after its initial release, on November 14th, 1994. While its brief stint in the market may raise questions, the Duo 280's impact on the tech industry was undeniable. Its legacy continues to endure even today, with enthusiasts cherishing it as a piece of Apple's rich history.
The Duo 280 represented a significant leap forward in processing power, transitioning from the 68030 to the 68LC040 processor, offering enhanced capabilities while maintaining power efficiency. The internal FPU disabled in the 68LC040 allowed for reduced power consumption, ensuring longer battery life for users on the go.
Moreover, the Duo 280's support for 16-bit video under the 640 x 400 pixel mode provided users with improved graphics capabilities, elevating the overall user experience. Alongside a higher maximum RAM capacity and an enhanced battery design, the PowerBook Duo 280 became a true workhorse in the mobile computing arena.
At first glance, the PowerBook Duo 280 resembled its predecessor, the Duo 250. However, under the hood, it packed a more powerful punch. The addition of the 68LC040 processor and expanded RAM capacity set it apart as a superior computing machine, catering to users who demanded cutting-edge performance and reliability.
Today, 29 years after its release, the Macintosh PowerBook Duo 280 remains a nostalgic reminder of the early days of mobile computing. Its innovative design and pioneering features paved the way for future advancements, influencing the direction of Apple's product development.
The legacy of the Macintosh PowerBook Duo 280 lives on, with its impact on the tech industry still evident in the devices we use today. While it may no longer be in production, its pioneering spirit continues to inspire tech enthusiasts and serves as a testament to Apple's commitment to pushing the boundaries of what is possible in mobile computing.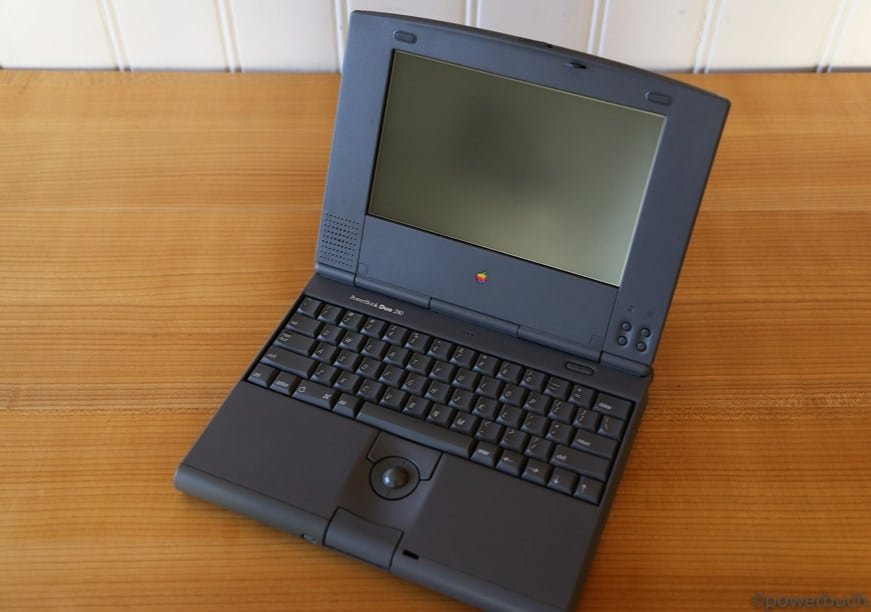 Macintosh PowerBook Duo 280 Details
Introduced
May 16, 1994
Discontinued
November 14, 1994
Model Identifier
102
Model Number
M7777
Order Number
M2797LL/A
M2798LL/A
Original Price
$2,600
Colors
Dark Grey
Weight
4.2 Ibs.
1.905 KG
Dimensions
1.4" H x 10.9" W x 8.5" D
3.55 cm H x 27.68 cm W x 21.59 cm D
PowerBook Duo 280 Tech Specs
Processor
| | |
| --- | --- |
| Processor | Motorola 68LC040 |
| Processor Speed | 33 MHz |
| Architecture | 32-bit |
| Number of Cores | 1 |
| System Bus | 33 MHz |
| Cache | 8 KB L1 |
| Coprocessor | None |
Storage & Media
Memory
Built-in Memory
4 MB
12 MB
Maximum Memory
40 MB
Memory Slots
1 – Duo
Minimum Speed
70 ns
ROM
Unknown
Interleaving Support
No
Display
| | |
| --- | --- |
| Built-in Display | 9.1″ monochrome active-matrix 4-bit LCD |
| Resolutions | 640 x 400 |
Graphics
| | |
| --- | --- |
| Graphics Card | None |
| Graphics Memory | None |
| Display Connection | None |
Expansion
Expansion Slots
Modem
Dock (152-pin PDS)
Hard Drive Interface
SCSI
Bays
Unknown
Connections
Wi-Fi
None
Ethernet
None
Modem
Internal modem/fax card
Bluetooth
None
ADB
None
Serial
1
SCSI
HDI-30
Floppy Port
None
Audio In
1 – 3.5-mm analog input jack
1 – Built-in microphone
Audio Out
1 – 3.5-mm analog output jack
1 – Built-in speaker
Infrared
None
Display
None
Keyboard and trackpad
| | |
| --- | --- |
| Keyboard | Built-in 64-key (U.S.) or 64-key (ISO) 3.0-mm travel keyboard |
| Trackpad | Built-in 25-mm trackball pointing device |
Software
Power
| | |
| --- | --- |
| System Battery | PowerBook Duo Type III (NiMH) |
| Backup Battery | Unknown |
| Maximum Continuous Power | 25 W |
| Line Voltage | Unknown |
| Power Adapter | Unknown |
Further Reading and References
Would you like to know more about Apple products? Stay up-to-date with the latest Apple News. Check our blog for the latest releases, rumors, and updates in the world of Apple.
Disclaimer: The data presented in this article is under continuous development and has been manually collected from various sources based on their availability. The author of this article may revise this dataset as additional research is conducted and reviewed. Please note that the information is provided "as is" and "as available" without express or implied warranties. The author cannot be held responsible for any omissions, inaccuracies, or errors in the published information. Any warranties relating to this information are hereby disclaimed.
Last updated: July 30, 2023