In the ever-evolving world of technology, some devices leave an indelible mark that stands the test of time. In 1994, Apple introduced a product that fits this bill perfectly – the Macintosh PowerBook Duo 280c. A remarkable addition to the Macintosh PowerBook series, this laptop captured the hearts of Mac enthusiasts and proved to be a game-changer in the portable computing arena.
On May 16, 1994, Apple unveiled the Macintosh PowerBook Duo 280c, showcasing its engineering prowess and innovative design. Priced at $3,700, this laptop offered an array of cutting-edge features that set it apart from its contemporaries. With its sleek and compact build, the Duo 280c proved to be a perfect companion for those who sought both portability and versatility.
Under its elegant hood, the Macintosh PowerBook Duo 280c boasted a 33 MHz Motorola 68LC040 processor, which, at the time, was quite impressive. Accompanied by a generous 8.4″ color LCD display, users could revel in vivid visuals and crisp graphics on the go. The laptop came with either 4 MB or 12 MB of RAM, offering smooth multitasking and efficient performance.
Storage needs were taken care of with a 320 MB hard drive, providing ample space for users to store their valuable data and favorite applications. But what truly set the Duo 280c apart was its transformative nature – thanks to the Duo Dock II.
Apple had a vision beyond just a portable computer. With the Duo Dock, the Macintosh PowerBook Duo 280c could seamlessly transform into a full-powered desktop Macintosh. Plugging the notebook into a compatible Duo Dock offered users the luxury of a complete computing experience at their desks. It was a groundbreaking innovation that elevated the Duo 280c to a whole new level of versatility, appealing to professionals and creatives alike.
Though the Macintosh PowerBook Duo 280c was hailed as a triumph, its time in the spotlight was short-lived. After only six months on the market, Apple made the decision to discontinue production on November 14, 1994. While its brief lifespan might have been disappointing, it did little to diminish the laptop's significance in Apple's computer history.
Today, 29 years after its introduction, the PowerBook Duo 280c continues to hold a special place in the hearts of Mac enthusiasts. With its rare combination of powerful performance and unmatched portability, the Duo 280c remains a collector's item that embodies the essence of Apple's commitment to innovation and user experience.
The Mac PowerBook Duo 280c's impact did not end with its discontinuation. Its influence lingered, with the PowerBook Duo series continuing to pave the way for future generations of Apple laptops. The sleek design, potent performance, and versatile docking capabilities laid the foundation for the modern MacBook lineup we admire today.
The Macintosh PowerBook Duo 280c was more than just a laptop; it was a symbol of Apple's relentless pursuit of excellence. Its arrival in 1994 marked a significant moment in the tech giant's history, captivating the hearts of Mac enthusiasts worldwide. Though its production was short-lived, its legacy endures through its transformational design and dedicated following.
As we continue to marvel at the advancements in computing technology, let us take a moment to appreciate the classic gem that is the PowerBook Duo 280c – a testament to Apple's unwavering commitment to pushing the boundaries of innovation.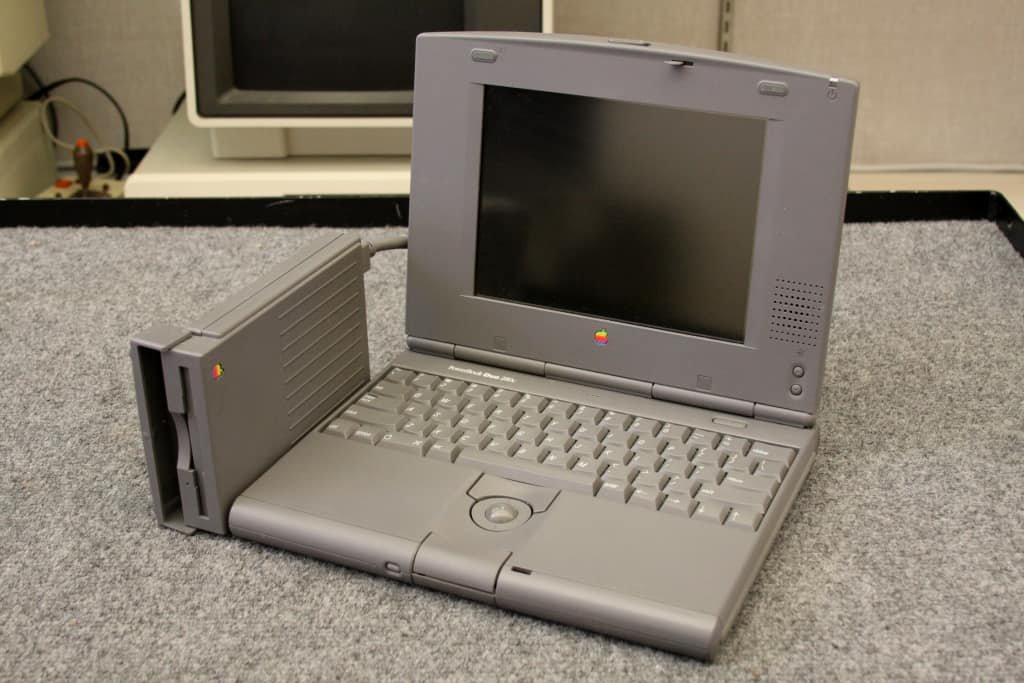 Macintosh PowerBook Duo 280c Details
Introduced
May 16, 1994
Discontinued
November 14, 1994
Model Identifier
103
Model Number
M7777
Order Number
M2329LL/A
M2332LL/A
Original Price
$3,700
$4,750
Colors
Dark Grey
Weight
4.8 Ibs.
2.177 KG
Dimensions
1.5″ H x 10.9" W x 8.5" D
3.81 cm H x 27.68 cm W x 21.59 cm D
PowerBook Duo 280c Tech Specs
Processor
| | |
| --- | --- |
| Processor | Motorola 68LC040 |
| Processor Speed | 33 MHz |
| Architecture | 32-bit |
| Number of Cores | 1 |
| System Bus | 33 MHz |
| Cache | 8 KB L1 |
| Coprocessor | None |
Storage & Media
Memory
Built-in Memory
4 MB
12 MB
Maximum Memory
40 MB
Memory Slots
1 – Duo
Minimum Speed
70 ns
ROM
Unknown
Interleaving Support
No
Display
Built-in Display
8.4″ color active-matrix 16-bit LCD
Resolutions
640 x 480 8-bit
640 x 400 16-bit
Graphics
| | |
| --- | --- |
| Graphics Card | None |
| Graphics Memory | None |
| Display Connection | None |
Expansion
Expansion Slots
Modem
Dock (152-pin PDS)
Hard Drive Interface
SCSI
Bays
Unknown
Connections
Wi-Fi
None
Ethernet
None
Modem
Internal modem/fax card
Bluetooth
None
ADB
None
Serial
1
SCSI
HDI-30
Floppy Port
None
Audio In
1 – 3.5-mm analog input jack
1 – Built-in microphone
Audio Out
1 – 3.5-mm analog output jack
1 – Built-in speaker
Infrared
None
Display
None
Keyboard and trackpad
| | |
| --- | --- |
| Keyboard | Built-in 64-key (U.S.) or 64-key (ISO) 3.0-mm travel keyboard |
| Trackpad | Built-in 25-mm trackball pointing device |
Software
Power
| | |
| --- | --- |
| System Battery | PowerBook Duo Type III (NiMH) |
| Backup Battery | Unknown |
| Maximum Continuous Power | 25 W |
| Line Voltage | Unknown |
| Power Adapter | Unknown |
Further Reading and References
Would you like to know more about Apple products? Stay up-to-date with the latest Apple News. Check our blog for the latest releases, rumors, and updates in the world of Apple.
Disclaimer: The data presented in this article is under continuous development and has been manually collected from various sources based on their availability. The author of this article may revise this dataset as additional research is conducted and reviewed. Please note that the information is provided "as is" and "as available" without express or implied warranties. The author cannot be held responsible for any omissions, inaccuracies, or errors in the published information. Any warranties relating to this information are hereby disclaimed.
Last updated: July 30, 2023