In the ever-evolving landscape of personal computers, Apple has consistently pushed the boundaries of innovation and performance. One such pioneering device from the tech giant was the Macintosh Quadra 660AV, originally known as the Macintosh Centris 660AV. This remarkable personal computer, which graced the market from July 1993 to September 1994, offered users unparalleled power and multimedia capabilities.
The Macintosh Quadra 660AV belonged to Apple's esteemed Macintosh Quadra series and was unveiled on October 21, 1993. With a starting price of $1,970, this premium computer catered specifically to professionals who demanded top-notch performance and cutting-edge features.
During its brief but impactful existence, the Macintosh Quadra 660AV showcased Apple's dedication to pushing the boundaries of multimedia computing. Alongside the Quadra 840AV, this powerhouse computer introduced video input and output capabilities, as well as enhanced audio, represented by the "AV" suffix in both model numbers.
The 660AV utilized the iconic pizza box form factor of its predecessor, the Centris 610. However, it took the performance to new heights with a full Motorola 68040 processor, as opposed to the 610's FPU-less 68LC040. Additionally, similar to the 840AV, the 660AV featured video input/output capability and incorporated an onboard AT&T 3210 digital signal processor clocked at 55 MHz. This innovation significantly reduced the burden on the CPU when handling video tasks.
One notable addition to the Macintosh Quadra 660AV was the inclusion of GeoPort, a first for any Macintosh. Users could equip their 660AV with an optional GeoPort Telecom Adapter to unlock fax and modem capabilities, further expanding the functionality of this remarkable machine.
Aesthetically, the Centris 660AV models featured an older auto-inject floppy drive opening, reminiscent of the Centris 610. However, most of the Centris models and all of the Quadra models, including the 660AV, sported a drive similar to the Power Macintosh 6100, lacking the auto-inject feature. The distinctive deep round indentation at the center of the floppy drive slot allowed for full insertion of the disk.
The Quadra AV Macs, including the 660AV, introduced a groundbreaking universal ROM code-named SuperMario, which would later be employed in all PowerPC systems. This ROM featured the advanced SCSI Manager 4.3 and Sound Manager 3.0. The "vectorized" design of the ROM made it easier to patch, further enhancing the user experience.
The Macintosh Quadra 660AV received high praise for its multimedia capabilities. On August 7, 1993, Jonathan Chevreau of the National Post lauded the Quadra 840AV and Centris 660AV as the next most interesting multimedia computers, ranking Apple among the vanguard of the desktop multimedia industry. Byte magazine also recognized Apple's trailblazing efforts, alongside Silicon Graphics, in establishing audio and video input as default features in these Macintosh models and the Indy desktop PCs. The inclusion of these features had the potential to revolutionize communication in the business world.
When it comes to specifications, the Macintosh Quadra 660AV packed a punch. It boasted a 25 MHz Motorola 68040 processor, offering users formidable processing power for its time. Users could choose between 4 MB or 8 MB of RAM and select from a range of hard drive options, including 230 MB or 500 MB. The inclusion of a CD-ROM drive and a 1.44 MB floppy drive further expanded its capabilities. The Audio-Visual card, equipped with RCA video and S-video I/O, made it a versatile choice for multimedia production.
Regrettably, the Macintosh Quadra 660AV's reign was short-lived. Merely months after its introduction, Apple unveiled the Power Macintosh 6100, replacing the 660AV in the lineup. However, to cater to users not ready to transition to PowerPC, Apple offered a Power Macintosh upgrade card that could bring the 660AV up to the specifications of the 6100 for $1,399.
Sadly, the Macintosh Quadra 660AV met its discontinuation on September 12, 1994, making it 29 years old as of today. Nevertheless, this computer remains etched in the memories of Apple enthusiasts as a pivotal moment in the company's history. It marked a shift towards more powerful and user-friendly personal computers. While the Macintosh Quadra 660AV may be a distant memory for some, for others, it will forever symbolize Apple's unwavering commitment to delivering state-of-the-art technology.
As we reflect on the Macintosh Quadra 660AV's remarkable journey, we can't help but appreciate its role in shaping the landscape of personal computing. Apple's relentless pursuit of innovation continues to inspire the industry, making it evident that the Macintosh Quadra 660AV's legacy lives on, even as technology progresses at an astonishing pace.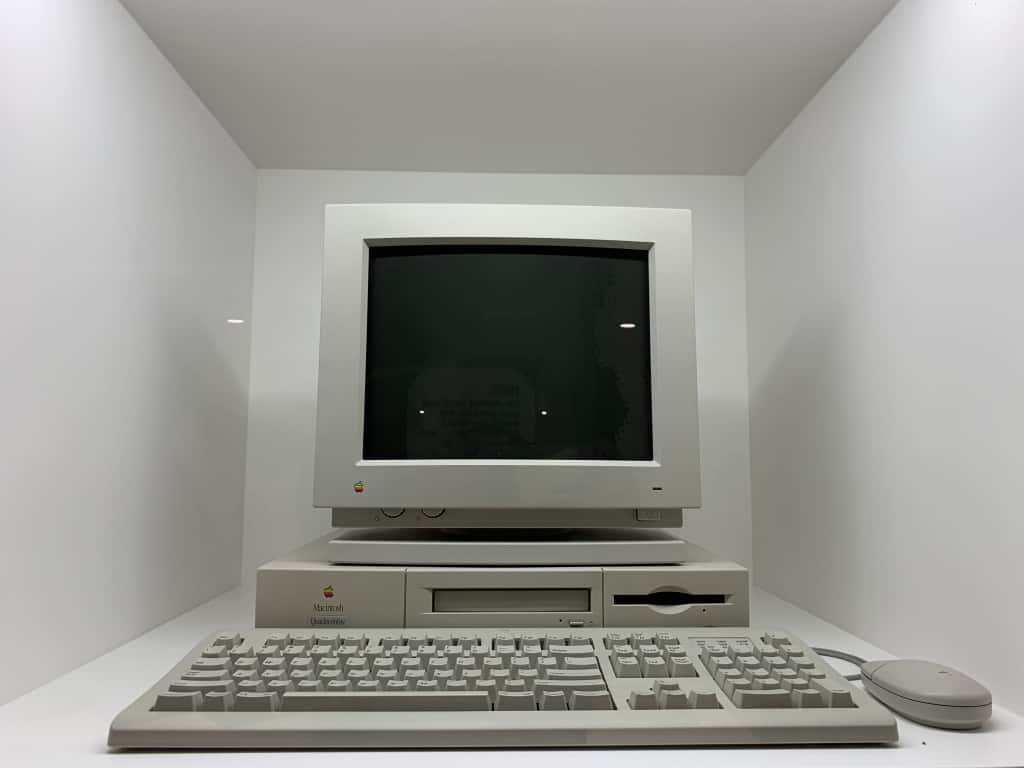 Macintosh Quadra 660AV Details
Introduced
October 21, 1993
Discontinued
September 12, 1994
Model Identifier
60
Model Number
M9040
Order Number
M2691LL/A
Original Price
$1,970
$2,300
$2,400
Colors
Platinum
Weight
14 Ibs.
6.350 KG
Dimensions
3.4" H x 16.3" W x 15.6" D
8.63 cm H x 41.4 cm W x 39.62 cm D
Mac Quadra 660AV Tech Specs
Processor
| | |
| --- | --- |
| Processor | Motorola 68040 |
| Processor Speed | 25 MHz |
| Architecture | 32-bit |
| Number of Cores | 1 |
| System Bus | 25 MHz |
| Cache | 8 KB L1 |
| Coprocessor | AT&T 3210 digital signal processor |
Storage & Media
Storage
230 MB
500 MB
Media
1 – 1.44 MB Floppy
1 – CD-ROM (Optional)
Memory
Built-in Memory
4 MB
8 MB
Maximum Memory
68 MB
Memory Slots
2 – 72 pin SIMMs
Minimum Speed
80 ns
ROM
Unknown
Interleaving Support
No
Display
Graphics
| | |
| --- | --- |
| Graphics Card | None |
| Graphics Memory | 1 MB |
| Display Connection | 1 – DB-15 |
Expansion
| | |
| --- | --- |
| Expansion Slots | 1 – 7″ NuBus |
| Hard Drive Interface | SCSI |
Connections
| | |
| --- | --- |
| Ethernet | AAUI-15 |
| Modem | None |
| ADB | 1 |
| Serial | 2 |
| SCSI | 1 – DB-25 |
| Floppy Port | None |
| Audio In | 1 – 3.5-mm stereo input jack |
| Audio Out | 1 – 3.5-mm stereo output jack |
| Display | 1 – DB-15 |
Software
Power
| | |
| --- | --- |
| Backup Battery | 3.6 V lithium |
| Maximum Continuous Power | 86 W |
| Line Voltage | Unknown |
Further Reading and References
Would you like to know more about Apple products? Stay up-to-date with the latest Apple News. Check our blog for the latest releases, rumors, and updates in the world of Apple.
Disclaimer: The data presented in this article is under continuous development and has been manually collected from various sources based on their availability. The author of this article may revise this dataset as additional research is conducted and reviewed. Please note that the information is provided "as is" and "as available" without express or implied warranties. The author cannot be held responsible for any omissions, inaccuracies, or errors in the published information. Any warranties relating to this information are hereby disclaimed.
Last updated: July 16, 2023