On March 7, 1989, Apple introduced the Macintosh Two-Page Monochrome Display, a revolutionary piece of technology that forever changed the world of displays. As part of the Apple Display series, this 21-inch monochrome monitor, which was manufactured and sold by Apple until its discontinuation on December 1, 1992, quickly became a game changer for Macintosh IIcx users.
Today, 34 years later, the Macintosh Two-Page Monochrome Display serves as a reminder of the remarkable advancements we've witnessed in display technology over the years.
Featuring a remarkable resolution of up to 1152 x 870 pixels and a 77 dpi screen, the Macintosh Two-Page Monochrome Display delivered an unprecedented level of clarity and detail to Macintosh users. Its DA-15 video connection made it effortless to connect with other devices, ensuring seamless integration into existing setups.
While the initial price tag of $2,149 positioned it as a high-end product in its time, Macintosh enthusiasts recognized the value of this pioneering display. Its superior quality and performance made it a popular choice among professionals and power users seeking the ultimate monochrome display experience.
Although the Macintosh Two-Page Monochrome Display is no longer available for purchase, its impact on the world of displays cannot be understated. Apple's first 2-page monitor for the Macintosh, this display set the stage for future advancements and innovations in the industry.
Interestingly, the display's fixed resolution of 1152 x 870 pixels resonates with the width of the 2001 Titanium PowerBook G4's screen, which had 1152 x 768 pixels. The subsequent PowerBook G4 released in 2002 raised the bar even higher with a resolution of 1280 x 854 pixels, making it ideal for displaying two pages side by side, even on the go.
The Macintosh Two-Page Monochrome Display boasted a thoughtful design, with the power button discreetly placed at the back of the monitor. Additionally, it featured a built-in 3-port ADB hub for enhanced connectivity convenience. Brightness and contrast controls were conveniently located on the right side of the display.
This monitor's width exceeded that of the Mac IIx, allowing it to comfortably sit on top of most desktop Macs. To enhance stability, the display was compatible with the Apple Universal Monitor Stand, ensuring a secure and ergonomic setup for users.
Apple provided users with instructions on maintaining the display's pristine condition. The company recommended utilizing a screen saver to prevent phosphor burn, a common issue caused by static elements on the screen such as the menu bar, drive icon, and Trash.
For cleaning, Apple advised applying household glass cleaner to a clean cloth or paper towel and gently wiping the screen. It was crucial to avoid directly spraying the cleaner onto the CRT, as it could seep down the screen and potentially damage the internal electrical circuitry.
The Macintosh Two-Page Monochrome Display was a true pioneer that made a lasting impact on the world of displays. Its exceptional resolution, ease of connectivity, and meticulous design set a new standard for display technology.
Although it may have been surpassed by subsequent advancements, the Macintosh Two-Page Monochrome Display remains a testament to Apple's commitment to innovation and quality. As we celebrate its 34 years since release, we pay homage to this groundbreaking piece of technology that paved the way for the future of displays.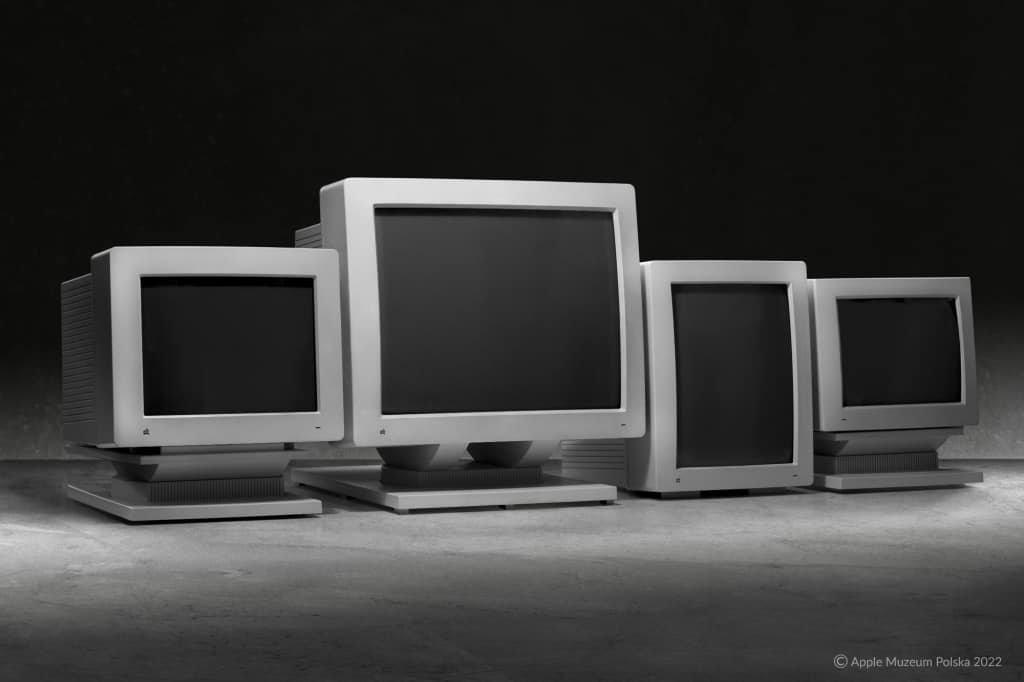 Macintosh Two-Page Monochrome Display Details
Introduced
March 7, 1989
Discontinued
December 1, 1992
Model Number
M0402 (Revision A)
M1025 (Revision B)
Order Number
Unknown
Original Price
$2,149
Colors
Platinum
Weight
60 Ibs.
27.215 KG
Dimensions
19.1" H x 19.6" W x 18.6" D
48.51 cm H x 49.78 cm W x 47.24 cm D
System Requirements
Display Specs
| | |
| --- | --- |
| Type | CRT (Trinitron) |
| Size | 21" |
| Viewable Area | 19" |
| Colors | Monochrome |
| Brightness | Unknown |
| Resolutions | 1152 x 870 pixels at 75 Hz |
| Viewing Angle | Unknown |
| Contrast Ratio | Unknown |
| Response Time | Unknown |
| Pixel Pitch | Unknown |
| Pixel Density | 77 dpi |
Connections
| | |
| --- | --- |
| Connection | DA-15 |
| Audio | None |
| Camera | None |
| Ports | Unknown |
Power
| | |
| --- | --- |
| Maximum Continuous Power | 100 W |
Further Reading and References
Would you like to know more about Apple products? Stay up-to-date with the latest Apple News. Check our blog for the latest releases, rumors, and updates in the world of Apple.
Disclaimer: The data presented in this article is under continuous development and has been manually collected from various sources based on their availability. The author of this article may revise this dataset as additional research is conducted and reviewed. Please note that the information is provided "as is" and "as available" without express or implied warranties. The author cannot be held responsible for any omissions, inaccuracies, or errors in the published information. Any warranties relating to this information are hereby disclaimed.
Last updated: May 20, 2023