The 90s was a decade that witnessed unparalleled technological advancements, and amidst this revolution, Apple Inc. stood at the forefront, reshaping the way people worked and communicated. One of the most iconic products to emerge from this era was the Apple Workgroup Server 8150. Introduced on April 25, 1994, this compact and powerful server became a game-changer for small and medium-sized businesses, liberating them from the constraints of large and expensive mainframe computers.
At its core, the Workgroup Server 8150 was powered by an 80 MHz or 110 MHz PowerPC 601 processor, boasting exceptional speed and efficiency. Paired with 8 MB or 16 MB of RAM, this server delivered smooth multitasking and rapid performance, catering to the growing demands of businesses in the digital age.
The Workgroup Server 8150 offered a range of storage capacities, including 500 MB, 700 MB, 1 GB, 2 GB, or 4 GB hard drives. This provided ample space for businesses to store critical data and run applications without worry. Additionally, its innovative CD-ROM drive, available in 2x or 4x configurations, facilitated easy software installations and efficient data backup, ensuring smooth operations for all users.
In an era where data exchange was paramount, the Mac WGS 8150 boasted a 1.44 MB Floppy drive, enabling effortless data transfer between computers. This feature enhanced collaboration and information sharing, solidifying its position as a reliable and indispensable tool for businesses.
The introduction of the Macintosh Workgroup Server 8150 revolutionized the landscape for small and medium-sized businesses. It enabled them to streamline their operations, work more efficiently, and communicate seamlessly with their teams. No longer shackled by the constraints of cumbersome mainframe computers, businesses could now enjoy the benefits of cutting-edge technology at an affordable cost.
As Apple shifted its focus to more advanced server computers, the Workgroup Server 8150 was eventually discontinued on February 26, 1996. Nevertheless, its legacy endures, as it remains a cherished and revered product among Apple enthusiasts and tech aficionados.
The Workgroup Server 8150 featured a familiar expandable tower case design, drawing inspiration from the Quadra 800. This design was an embodiment of Apple's commitment to creating aesthetically pleasing and functional devices.
For businesses seeking a Macintosh solution, Apple offered the Power Macintosh 8100 as the business version of the Workgroup Server 8150. This alternative continued the tradition of efficiency and innovation that the Workgroup Server 8150 epitomized.
The Apple WG Server 8150, a revolutionary product from the vibrant 90s era, forever transformed the way businesses operated. It empowered small and medium-sized enterprises, providing them with a compact and affordable server solution that delivered unrivaled performance and versatility. Today, as the Workgroup Server 8150 turns 29, it stands as a symbol of Apple's pioneering spirit and the lasting impact of technology on our lives.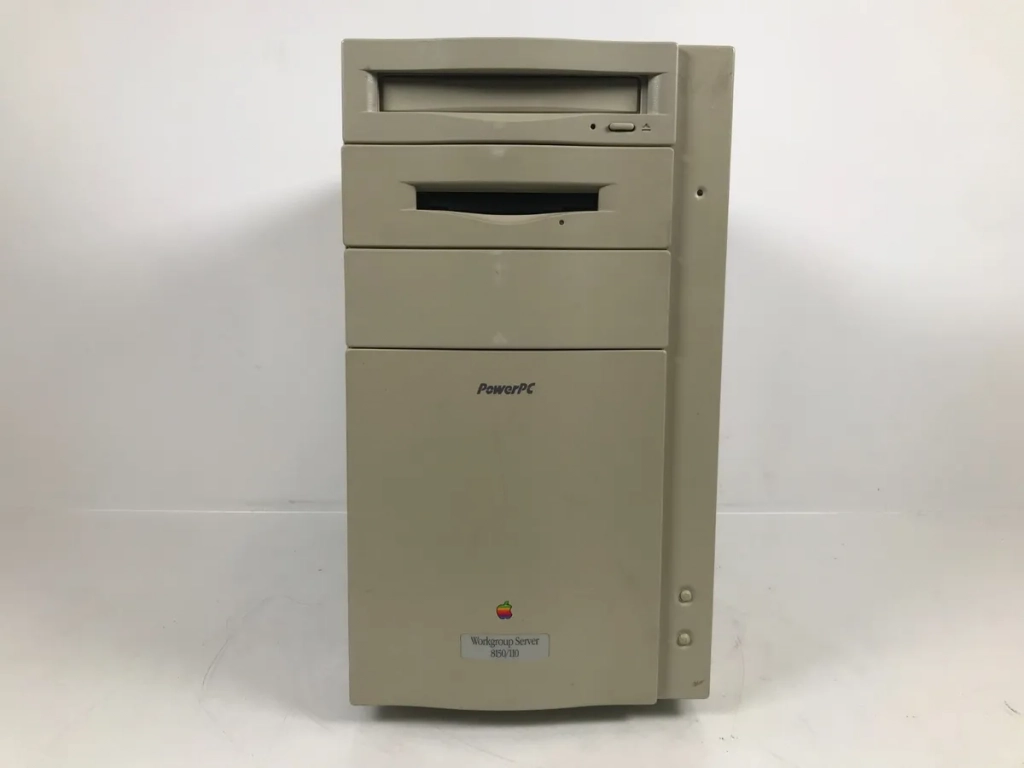 Workgroup Server 8150 Details
Introduced
April 25, 1994 (80 MHz)
April 3, 1995 (110 MHz)
Discontinued
April 3, 1995 (80 MHz)
February 26, 1996 (110 MHz)
Model Identifier
40 (110 MHz)
65 (80 MHz)
Model Number
M1688
Order Number
M4141LL/A
Original Price
$7,460
$7,650
$7,900
Colors
Platinum
Weight
25 Ibs.
11.339 KG
Dimensions
14" H x 7.7" W x 15.75" D
35.56 cm H x 19.55 cm W x 40 cm D
Mac WGS 8150 Tech Specs
Processor
Processor
PowerPC 601
Processor Speed
80 MHz
110 MHz
Architecture
32-bit
Number of Cores
1
System Bus
36.7 MHz (110 MHz)
40 MHz (80 MHz)
Cache
32 KB L1
256 KB L2
Coprocessor
Built-in FPU
Storage & Media
Storage
500 MB
700 MB
1 GB
2 GB
4 GB
Media
1 – 1.44 MB Floppy
1 – 2x CD-ROM (80 MHz)
1 – 4x CD-ROM (110 MHz)
Memory
Built-in Memory
8 MB
16 MB
Maximum Memory
264 MB
Memory Slots
8 – 72 pin SIMMs (Group of 2)
Minimum Speed
80 ns
ROM
Unknown
Interleaving Support
No
Display
Graphics
Graphics Card
None
Graphics Memory
None
Display Connection
1 – DB-15
1 – HDI-45
Expansion
| | |
| --- | --- |
| Expansion Slots | 3 – 7″ NuBus |
| Hard Drive Interface | SCSI |
Connections
Ethernet
AAUI-15
Modem
None
Wi-Fi
None
Bluetooth
None
ADB
1
Serial
2
SCSI
1 – DB-25
Floppy Port
None
Audio In
1 – 3.5-mm analog input jack
Audio Out
1 – 3.5-mm analog output jack
1 – Built-in speaker
Display
1 – DB-15
1 – HDI-45
Software
Original OS
System Software 7.1.2 (80 MHz)
System Software 7.5 (110 MHz)
Maximum OS
Mac OS 9.1
Firmware
Macintosh ROM
Power
| | |
| --- | --- |
| Backup Battery | 3.6 V lithium |
| Maximum Continuous Power | 150 W |
| Line Voltage | 100-240 V |
Further Reading and References
Would you like to know more about Apple products? Stay up-to-date with the latest Apple News. Check our blog for the latest releases, rumors, and updates in the world of Apple.
Disclaimer: The data presented in this article is under continuous development and has been manually collected from various sources based on their availability. The author of this article may revise this dataset as additional research is conducted and reviewed. Please note that the information is provided "as is" and "as available" without express or implied warranties. The author cannot be held responsible for any omissions, inaccuracies, or errors in the published information. Any warranties relating to this information are hereby disclaimed.
Last updated: July 30, 2023