In an exciting announcement today, Apple introduced macOS Sonoma, the latest iteration of its beloved Mac operating system. With a slated release for this autumn, macOS Sonoma ushers in a wave of innovative features that are sure to captivate Mac users worldwide. From interactive desktop widgets to enhanced video conferencing capabilities, Apple has spared no effort in refining the Mac experience.
Widgets, which have long been a staple of the iPhone, now make their debut on Mac with a delightful twist. These new interactive widgets blend seamlessly into your desktop wallpaper, ensuring they never disrupt your workflow. Thanks to Continuity, the same widgets you love on your iPhone can now be seamlessly accessed on your Mac, providing a consistent and intuitive experience across devices.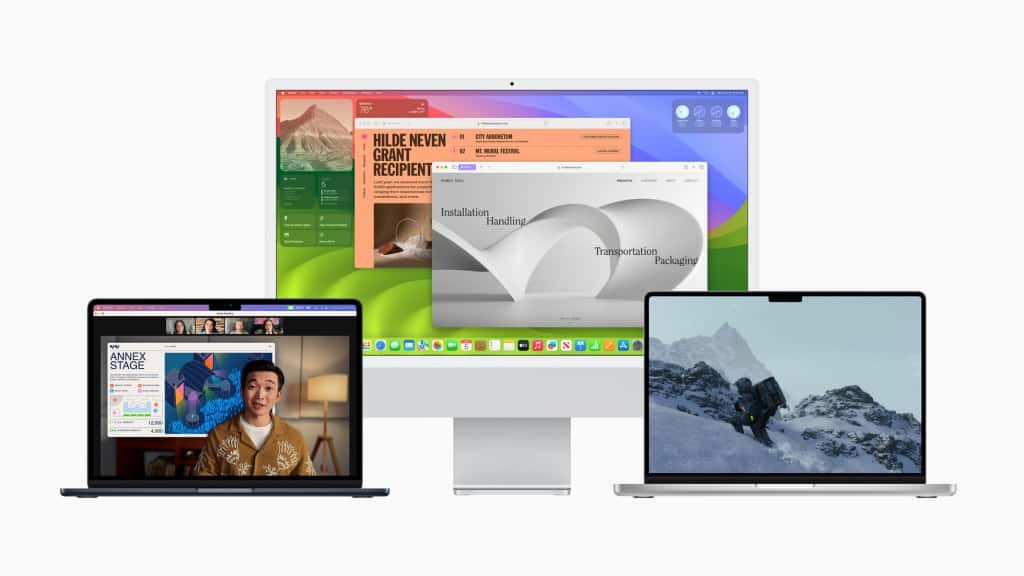 Taking a step forward in video conferencing, macOS Sonoma brings forth a range of powerful features designed to enhance virtual interactions. The Presenter Overlay feature allows users to position themselves in front of the content they are sharing, fostering a more engaging and immersive experience. Additionally, the introduction of Reactions empowers participants to express their emotions during video sessions, adding a new layer of interactivity. Notably, Screen Sharing has also undergone significant improvements, streamlining the process and making it more user-friendly.
True to tradition, Apple has bestowed Safari with a plethora of noteworthy updates within the Sonoma ecosystem. Private Browsing receives a substantial upgrade, fortifying user privacy by offering enhanced protection against trackers and potential device intrusions. Introducing Profiles within Safari, users can now create separate browsing environments for distinct topics, such as work and personal use. Moreover, the new web app creation feature provides a seamless and efficient pathway to access favorite websites with the ease and familiarity of traditional applications.
In a stunning visual treat, macOS Sonoma treats users to a mesmerizing collection of slow-motion videos showcasing breathtaking locations from around the world. These stunning screen savers transport users to serene landscapes, the depths of the ocean, bustling cityscapes, and the majesty of our planet Earth. Reminiscent of the captivating screensavers seen on tvOS, this feature adds an artistic touch to idle moments, transforming them into a visually enriching experience.
For avid gamers, macOS Sonoma introduces the highly anticipated Game Mode, delivering an optimized gaming experience like never before. With smoother and more consistent frame rates, players will be fully immersed in their virtual worlds. What's more, Game Mode significantly reduces audio latency with AirPods and minimizes input latency with game controllers, ensuring a seamless and ultra-responsive gaming environment. Compatible with any game on Mac, this new mode promises to elevate the gaming experience to new heights.
Related articles
Excitingly, the beta version of macOS Sonoma is available today exclusively through the Apple Developer Program, enabling developers to explore and integrate the latest features into their apps. A public beta will follow suit next month, providing a broader audience with the opportunity to preview the cutting-edge advancements. As for the general public, the highly anticipated public release of macOS Sonoma is scheduled for this fall, promising a revolutionary experience for all Mac users.
With macOS Sonoma, Apple reaffirms its commitment to delivering exceptional user experiences. The fusion of innovative features and refined functionalities sets a new standard for the Mac operating system. As we eagerly await the official release, the future of Mac computing has never looked brighter.