In the fast-paced world of technology, where devices come and go at lightning speed, it's easy to forget the trailblazers that shaped the industry we know today. Cast your mind back to the 90s, a time when personal digital assistants (PDAs) were all the rage, and Apple was at the forefront of innovation with its groundbreaking Newton MessagePad 110. Introduced on March 4, 1994, this sleek PDA quickly captured the hearts of tech enthusiasts and early adopters alike.
The Newton MessagePad 110 was a true marvel of its time, boasting specifications that were remarkably impressive, even by today's standards. Powered by a 20 MHz ARM 610 RISC processor, it boasted 640 KB of RAM and 4 MB of ROM. The device featured a 336 x 240 screen, and users had the option to power it using 4x AAA batteries or an external power supply. It's safe to say that the Newton MessagePad 110 packed a punch in its compact frame.
Despite its initial popularity, the MessagePad 110 was unexpectedly discontinued just a year later, on April 1, 1995. While it may have been 29 years since its launch, for those who remember, this iconic device remains an indelible part of technology history.
Codename "Lindy," the Apple Newton MessagePad 110 boasted a 20 MHz ARM 610 processor, 4 MB of ROM, 1.0 MB of SRAM (480k usable), and infrared-beaming capabilities. Its sleek handheld case housed a 320×240 pressure-sensitive monochrome display, which worked in perfect harmony with the provided stylus. Compared to its predecessors, the MessagePad 110 featured a rubberized housing that offered a slimmer, more comfortable grip, increased RAM, better battery life, and an improved version of the NewtonOS (1.3).
The Newton MessagePad series was groundbreaking in its approach to handwriting recognition and basic artificial intelligence. It was one of the first PDAs to attempt to understand natural handwriting and use AI to connect relevant information seamlessly. It's important to note that while the Newtons were not technically "Macs" as they didn't operate MacOS, they utilized the NewtonOS, another impressive development by Apple.
The MessagePad 110's debut on March 4, 1994, came with a price tag of $599, and it was released alongside the MessagePad 100, an updated and discounted version of the original MessagePad. The 110 was eventually succeeded by the MessagePad 120 and discontinued in April 1995, leaving behind a legacy that would shape the future of mobile computing.
Designed by the legendary Jonathan Ive, the MessagePad 110 introduced a rubberized form factor that set it apart from its predecessors. While the processor remained the same as the MessagePad 100, the memory was increased to 1 MB of static RAM, with 544 KB dedicated to Newton OS 1.2 and 480 KB available for user data. The device also featured a PCMCIA Type II slot, allowing users to expand storage space with ease.
Over time, Apple released a software update to Newton OS 1.3, available to MessagePad 100 and 110 users on January 30, 1995. However, this update increased the system's memory footprint to 639 KB, leaving only 385 KB for user data. Despite this limitation, the Newton MessagePad 110 remained a beloved device for many users.
It's undeniable that the Apple Newton MessagePad 110 played a pivotal role in launching the "PDA" trend, defining the concept of a "Personal Digital Assistant." At the helm of Apple was CEO John Sculley, who coined the term "PDA" to categorize the new breed of products that Newton would pioneer.
Though the Newton MessagePad series has long since been retired, its impact on the technology landscape remains profound. The device's attempt to recognize natural handwriting and utilize AI laid the groundwork for future innovations in mobile computing and user interaction. So, while the Newton MessagePad 110 may be a distant memory for some, it will forever be etched in the annals of tech history as a true trailblazer that helped shape the devices we know and love today.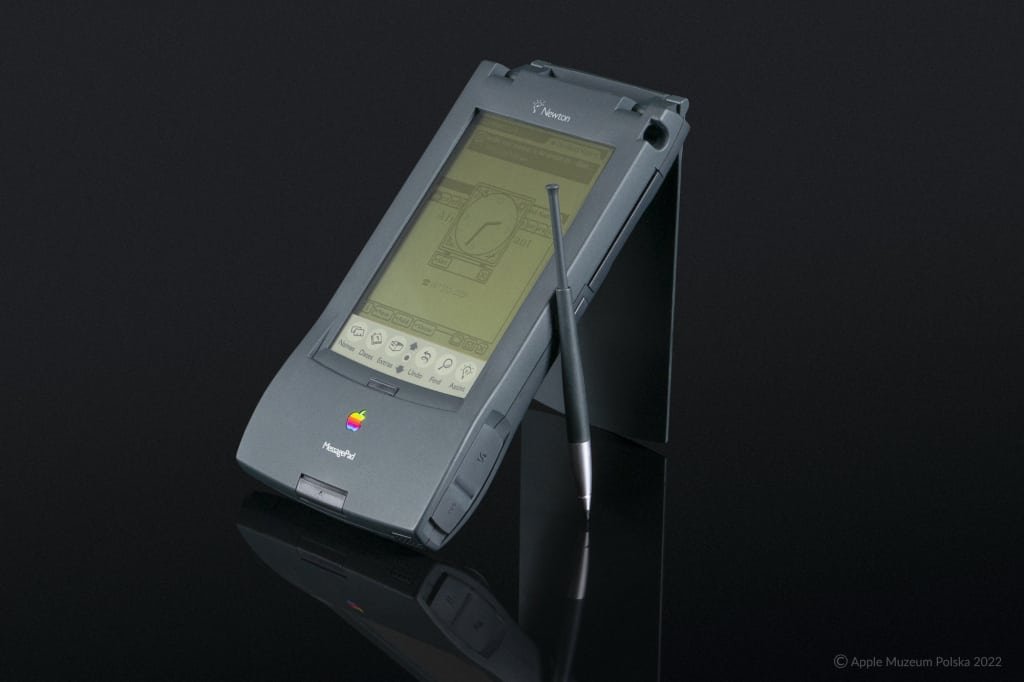 Newton MessagePad 110 Details
Introduced
March 4, 1994
Discontinued
April 1, 1995
Model Identifier
2
Model Number
Unknown
Order Number
H0123LL/A
Original Price
$599
Colors
Dark Grey
Weight
0.9 Ibs.
408.23 Grams
Dimensions
7.25" H x 4.5" W x 0.75" D
18.41 cm H x 11.43 cm W x 1.9 cm
MessagePad 110 Tech Specs
Processor
| | |
| --- | --- |
| Processor | ARM 610 RISC |
| Processor Speed | 20 MHz |
| Architecture | 32-bit |
| Number of Cores | 1 |
Memory
Display
| | |
| --- | --- |
| Input Method | Flat Pen |
| Resolution | 336 x 240 |
Expansion
| | |
| --- | --- |
| Expansion Slots | 1 – PCMCIA-Slot II |
Connections
| | |
| --- | --- |
| Serial | 1 – LocalTalk compatible |
| Infrared | 1 – Low-power, half-duplex |
Software
Power
Battery
4 AAA or NiCd re-chargeable battery or external power supply
Battery Life
10-28 hours (4 AAA)
4-12 hours (NiCd)
Further Reading and References
Would you like to know more about Apple products? Stay up-to-date with the latest Apple News. Check our blog for the latest releases, rumors, and updates in the world of Apple.
Disclaimer: The data presented in this article is under continuous development and has been manually collected from various sources based on their availability. The author of this article may revise this dataset as additional research is conducted and reviewed. Please note that the information is provided "as is" and "as available" without express or implied warranties. The author cannot be held responsible for any omissions, inaccuracies, or errors in the published information. Any warranties relating to this information are hereby disclaimed.
Last updated: July 29, 2023