In the ever-evolving world of technology, there are products that shine brightly for their innovative spirit and then gracefully fade into the annals of history. One such luminary, the Apple Newton MessagePad 130, was unveiled on March 1st, 1996, and forever changed the landscape of personal digital assistants (PDAs). While it had a relatively short lifespan, being manufactured and sold by Apple only from 1996 to 1997, the MessagePad 130 remains a captivating relic in the timeline of technological progression.
Back in the mid-'90s, when the tech world was still finding its feet in the realm of portable computing, the MessagePad 130 was a trailblazer. With a starting price of $800, it packed a punch with its 20 MHz ARM 610 RISC processor, 2.5 MB of RAM, 8 MB of ROM, and a 320 x 240 screen. Powered by 4 AA batteries or an external power supply, it epitomized true mobility.
The MessagePad 130 wasn't just an electronic organizer; it was a bridge between the past and the future of personal computing. Its legacy lives on as a testament to the relentless pursuit of innovation at Apple.
The MessagePad series was the brainchild of none other than Sir Jonathan Ive, who joined Apple in September 1992. The speed at which this project evolved is nothing short of astonishing. Within two weeks, Ive's design transformed from an idea into a tangible prototype. It was a rushed endeavor to replace the original Newton MessagePad 100, but the results were astounding.
Ive's design was characterized by intuitive functionality and meticulous attention to detail, even extending to the packaging. Both the Apple Industrial Design group and the visionary Steve Jobs were astounded by the initial prototype, leading to its production.
The accolades followed suit, with awards such as the Best of Category at I.D. Design Review 1994 and Gold Industrial Design Excellence Award 1995, solidifying its place in design history.
The MessagePad 130, while groundbreaking, faced its share of challenges in the marketplace. Some might argue it was simply ahead of its time. Interestingly, the developmental groundwork laid during the Newton era from 1987 to 1998 conceivably paved the way for the future titan, the iPhone, a personal digital assistant that could also make phone calls.
The MessagePad 130 wasn't just about the hardware. It was a platform for the future. It featured a user-controllable backlighting system and a durable, non-glare screen, making it usable in various lighting conditions – something we now take for granted.
Running on the award-winning Newton 2.0 operating system, it was a powerhouse of productivity. It allowed users to organize information, integrate with Windows and Mac OS-based computers, and communicate via fax, email, beaming (infrared), and wireless paging. The new backlit screen made accessing critical information possible in almost any working environment.
The MessagePad 130 catered to a wide audience. Mobile professionals like corporate executives, small business owners, consultants, and sales/marketing professionals found it to be a high-end solution. Vertical markets such as healthcare, field services, sales force automation, and transportation also benefited from its backlit screen, especially in nighttime or dark working conditions.
Some standout features included the transflective LCD with EL backlight, non-glare writing surface, and additional system memory for improved performance with emerging technologies like Internet Protocol (IP) applications and wireless LANs. It had built-in organization functions, customizable name and address files, time-zone maps, a calculator, currency exchange, and even Pocket Quicken for managing finances.
Data input was a breeze. Whether you prefer digital ink, printed text, hand-drawn graphics, or an on-screen keyboard, the MessagePad 130 accommodates your needs. Handwriting recognition software swiftly transformed your scribbles into typed text, and there was even an optional external keyboard.
The MessagePad 130 was a communication powerhouse. It received wireless messages, and alphanumeric pages, and handled fax and email with ease. It allowed information exchange with both MacOS and Windows-based computers, expanding its utility.
As we glance back, 27 years later, at the Apple Newton MessagePad 130, it's not just nostalgia that washes over us; it's a profound appreciation for the pioneering spirit that led to its creation. This unassuming device, with its user-friendly design and groundbreaking features, laid the foundation for the PDAs and smartphones that are an integral part of our lives today. The MessagePad 130 may have been a fleeting memory, but its impact on the tech world endures, reminding us of the remarkable journey we've made in the realm of personal digital assistants.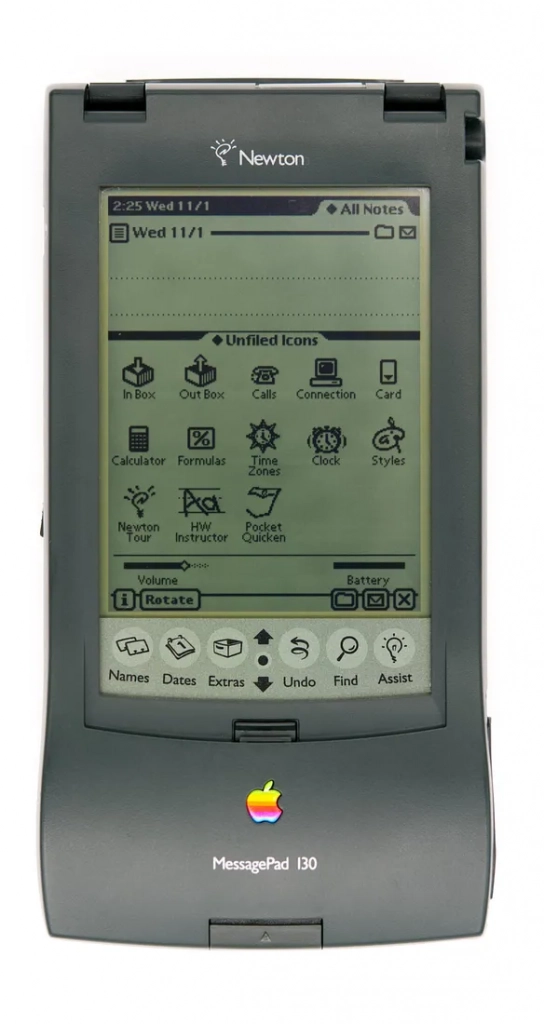 Newton MessagePad 130 Details
Introduced
March 1, 1996
Discontinued
April 1, 1997
Model Identifier
3
Model Number
Unknown
Order Number
H0188LL/A
Original Price
$800
Colors
Dark Grey
Weight
1 Ibs.
453.59 Grams
Dimensions
8" H x 4" W x 1.2" D
20.3 cm H x 10.16 cm W x 3 cm
MessagePad 130 Tech Specs
Processor
| | |
| --- | --- |
| Processor | ARM 610 RISC |
| Processor Speed | 20 MHz |
| Architecture | 32-bit |
| Number of Cores | 1 |
Memory
Display
| | |
| --- | --- |
| Input Method | Telescoping Pen |
| Resolution | 320 x 240 |
Expansion
| | |
| --- | --- |
| Expansion Slots | 1 – PCMCIA-Slot II with 325 mA capacity |
Connections
Serial
1 – LocalTalk compatible
1 – RS-232 compatible
Infrared
1 – Low-power, half-duplex at up to 38.4 kbps within 3.28 ft. (1 m)
Software
Power
| | |
| --- | --- |
| Battery | 4 AAA or NiCd re-chargeable battery or external power supply |
| Battery Life | Up to 12 hours |
Further Reading and References
Would you like to know more about Apple products? Stay up-to-date with the latest Apple News. Check our blog for the latest releases, rumors, and updates in the world of Apple.
Disclaimer: The data presented in this article is under continuous development and has been manually collected from various sources based on their availability. The author of this article may revise this dataset as additional research is conducted and reviewed. Please note that the information is provided "as is" and "as available" without express or implied warranties. The author cannot be held responsible for any omissions, inaccuracies, or errors in the published information. Any warranties relating to this information are hereby disclaimed.
Last updated: September 3, 2023