In August 1993, Apple unveiled the Newton MessagePad, a groundbreaking personal digital assistant (PDA) that promised to revolutionize the way we interact with technology. With its sleek design and impressive specifications, the Newton MessagePad was poised to change the game.
However, despite its innovative features, the device struggled to gain traction in the market, ultimately leading to its discontinuation. Today, as we celebrate its 30-year anniversary, let's take a closer look at the Apple Newton MessagePad and its impact on the world of personal computing.
The Apple Newton MessagePad, released in 1993, was a trailblazer in the world of handheld devices. Powered by a 20 MHz ARM 610 RISC processor, the MessagePad packed impressive computing power into a compact and portable form factor. Boasting 640 KB of RAM, 4 MB of ROM, and a 336 x 240 screen, it was a device ahead of its time. Whether powered by 4 AAA batteries or an external power supply, the MessagePad offered unparalleled portability and versatility.
The Newton MessagePad introduced several innovative features, including its ability to store contacts, manage calendars, and translate handwriting into type. However, this handwriting recognition feature did not perform as flawlessly as expected, contributing to the device's struggle in the market. Additionally, the high price tag of $700 made it inaccessible to many potential consumers. Despite these challenges, the research and development behind Newton would later influence the successful Apple iPhone.
Although the Newton MessagePad's lifespan was short, lasting until 1994, it left a lasting impact on the world of technology. While it may have been a commercial failure for Apple, the device paved the way for the development of other PDAs and smartphones that transformed the way we communicate and access information. The Newton MessagePad remains a fascinating piece of technology, cherished for its role as a pioneer in personal computing.
The Newton MessagePad exemplifies the characteristics of new media defined by Lev Manovich. Its ability to translate human text into computer text, enabling the manipulation and transfer of data, embodies the principles of numerical representation, modularity, automation, variability, and transcoding. Newton's technology bridged the gap between human input and computer code, providing a foundation for future advancements in the field.
Apple's advertising campaign for Newton targeted a wide range of users, showcasing the device as a portable companion that could fit seamlessly into any lifestyle. The slogan "Your World, Your Newton" emphasized personalization and connected the device to a cultural practice of always being on the go. By framing Newton's capabilities around familiar technologies like pagers, calendars, and fax machines, Apple aimed to facilitate user understanding through comparisons to old media.
Despite Apple's advertising efforts, the Newton MessagePad's faulty hardware and inability to deliver on its promises ultimately led to its downfall. Early reviews and media coverage highlighted the device's shortcomings, contributing to its negative reputation. In 1998, Steve Jobs made the decision to discontinue the Newton. However, the concept of the personal digital assistant lives on in the form of smartphones and tablets that have reshaped our lives.
The Apple Newton MessagePad may have fallen short of its initial expectations, but its significance as a groundbreaking device cannot be denied. With its ambitious features, Newton paved the way for future advancements in portable technology. While its lifespan was brief, the device will always be remembered as a pioneer in the evolution of personal computing. The legacy of the Newton MessagePad lives on in the devices we use today, reminding us of the progress that can be made from even the most innovative failures.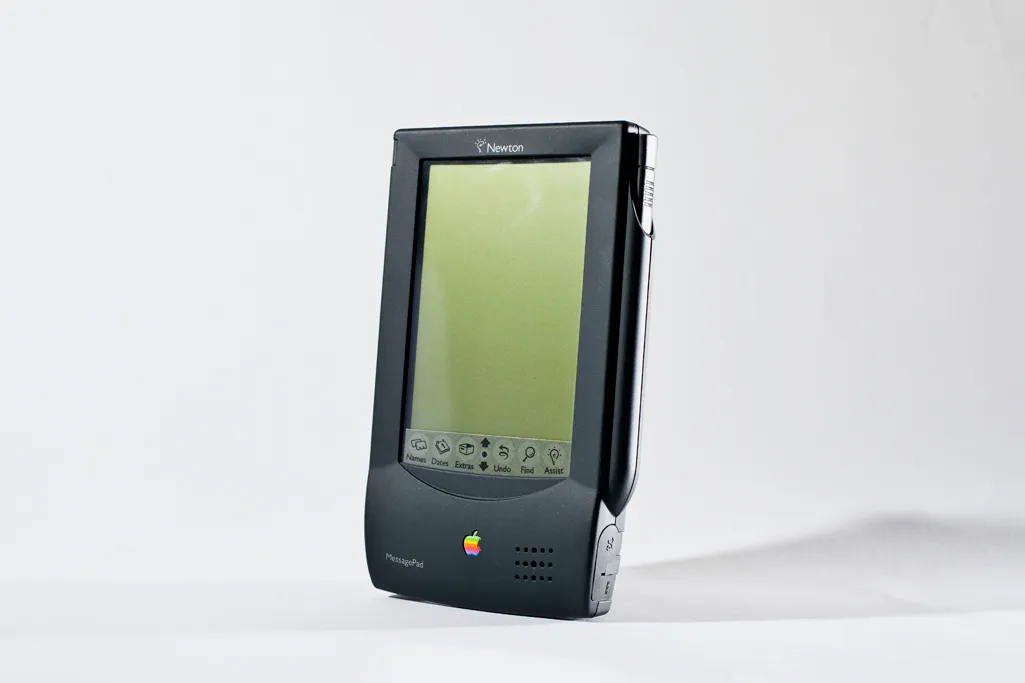 Newton MessagePad Details
Introduced
August 3, 1993
Discontinued
March 4, 1994
Model Identifier
1
Model Number
H1000
Order Number
Unknown
Original Price
$700
Colors
Grey
Weight
0.9 Ibs.
408.23 Grams
Dimensions
7.25" H x 4.5" W x 0.75" D
18.41 cm H x 11.43 cm W x 1.9 cm
MessagePad Tech Specs
Processor
| | |
| --- | --- |
| Processor | ARM 610 RISC |
| Processor Speed | 20 MHz |
| Architecture | 32-bit |
| Number of Cores | 1 |
Memory
Display
| | |
| --- | --- |
| Input Method | Flat Pen |
| Resolution | 336 x 240 |
Expansion
| | |
| --- | --- |
| Expansion Slots | 1 – PCMCIA-Slot II |
Connections
| | |
| --- | --- |
| Serial | 1 – LocalTalk compatible |
| Infrared | 1 – Low-power, half-duplex |
Software
Power
| | |
| --- | --- |
| Battery | 4 AAA or NiCd re-chargeable battery or external power supply |
| Battery Life | Unknown |
Further Reading and References
Would you like to know more about Apple products? Stay up-to-date with the latest Apple News. Check our blog for the latest releases, rumors, and updates in the world of Apple.
Disclaimer: The data presented in this article is under continuous development and has been manually collected from various sources based on their availability. The author of this article may revise this dataset as additional research is conducted and reviewed. Please note that the information is provided "as is" and "as available" without express or implied warranties. The author cannot be held responsible for any omissions, inaccuracies, or errors in the published information. Any warranties relating to this information are hereby disclaimed.
Last updated: July 8, 2023