In the ever-evolving world of technology, where today's cutting-edge device becomes tomorrow's relic, it's always intriguing to take a step back in time and explore the innovations of the past. In 1996, Apple unveiled the Power Macintosh 4400, a computer that not only marked a significant moment in Apple's history but also showcased the company's willingness to experiment and adapt.
On November 15, 1996, Apple introduced the Power Macintosh 4400 to the world. With a starting price of $1,500, it was positioned as an affordable entry point into the Power Macintosh series, making Apple's technology accessible to a broader audience.
At the heart of the Power Macintosh 4400 lay cutting-edge technology for its time. It was powered by a 160 MHz or 200 MHz PowerPC 603e processor, came with either 16 MB or 32 MB of RAM, offered a 1.2 GB or 2 GB hard drive, and featured either an 8x CD-ROM or 12x CD-ROM drive, along with a 1.44 MB floppy drive. These specs, though modest by today's standards, were quite impressive in the mid-'90s.
One of the standout features of the Power Macintosh 4400 was its use of the "Tanzania" architecture, originally designed for Macintosh clone manufacturers. This architecture featured a unique riser card with three slots, allowing users to customize their desktops. They could accommodate a 7″ PCI card, a 12″ PCI card, and a Comm Slot II card, offering versatility that was ahead of its time.
Apple had a trick up its sleeve for those seeking even more power. The Power Macintosh 4400 could be upgraded to a PowerPC G3 processor using an L2 cache slot, turning it into a performance beast. This flexibility appealed to tech enthusiasts looking for a machine that could evolve with their needs.
In a bold move, Apple also offered a PC-compatible version of the Power Macintosh 4400. This variant featured a 166 MHz Cyrix P166x86 processor, designed specifically for MS-DOS or Windows. It came equipped with a 166 MHz Cyrix 6×86 PCI card, allowing for up to 80 MB of RAM to be dedicated to the DOS/Windows operating system. Apple's foray into the PC market at that time was a testament to its commitment to innovation and adaptability.
What set the Power Macintosh 4400 apart from its predecessors was its reliance on industry-standard parts, a move aimed at keeping costs low. This decision not only made it more affordable but also signaled Apple's willingness to embrace change and adapt to the needs of its users.
Regrettably, the Power Macintosh 4400 was discontinued on October 11, 1997, marking the end of an era. However, its legacy lives on, serving as a significant piece of computer history and a testament to Apple's innovative spirit.
The Power Macintosh 4400 was more than just a computer; it was a statement of Apple's adaptability and innovation. While it may be 27 years old, its impact on the tech world is still felt today. In an industry where change is constant, taking a moment to appreciate the pioneers like the Power Macintosh 4400 reminds us of the roots from which modern technology has grown.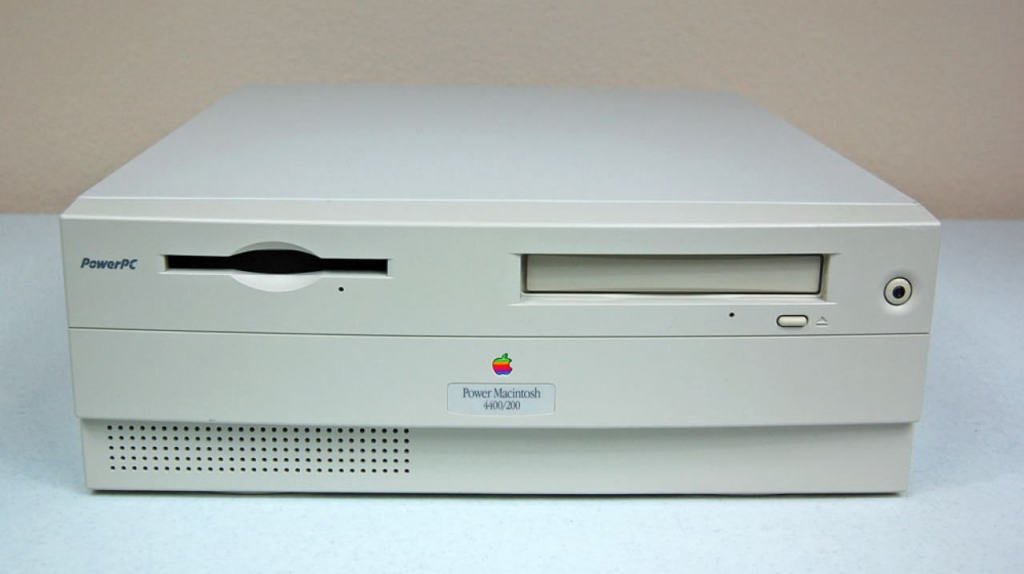 Power Macintosh 4400 Details
Introduced
November 15, 1996 (160 MHz)
February 17, 1997 (200 MHz)
Discontinued
October 11, 1997
Model Identifier
514 (160 MHz)
515 (200 MHz)
Model Number
M3959
Order Number
M5767LL/A
M5817LL/A
Original Price
$1,500
$1,700
$2,400
Colors
Platinum
Weight
24 Ibs.
10.886 KG
Dimensions
5.43" H x 15.12" W x 17.37" D
13.79 cm H x 38.4 cm W x 44.11 cm D
Power Mac 4400 Tech Specs
Processor
Processor
PowerPC 603e
Cyrix P166x86*
Processor Speed
160 MHz
166 MHz*
200 MHz
Architecture
32-bit
Number of Cores
1
System Bus
40 MHz
Cache
32 KB L1
256 KB L2 (Optional)
Coprocessor
Built-in FPU
*PC version only
Storage & Media
Storage
1.2 GB
2 GB
Media
1 – 1.44 MB Floppy
1 – 8x CD-ROM or 12x CD-ROM
Memory
Built-in Memory
16 MB
32 MB
Maximum Memory
160 MB
Memory Slots
3 – 168 pin DIMM
Minimum Speed
60 ns
ROM
Unknown
Interleaving Support
No
Display
Graphics
Graphics Card
None
Graphics Memory
1 MB
4 MB
Display Connection
1 – DB-15
Expansion
Expansion Slots
3 – 12″ PCI (160 MHz)
2 – 12″ PCI (200 MHz)
1 – Comm II (200 MHz)
Hard Drive Interface
IDE / ATA
Connections
Ethernet
None
Modem
10BASE-T (Optional only in 200 MHz)
Wi-Fi
None
Bluetooth
None
ADB
1
Serial
2
SCSI
1 – DB-25
Floppy Port
None
Audio In
1 – 3.5-mm analog input jack
Audio Out
1 – 3.5-mm analog output jack
1 – Built-in speaker
Display
1 – DB-15
Software
Power
| | |
| --- | --- |
| Backup Battery | 4.5 V Alkaline |
| Maximum Continuous Power | 150 W |
| Line Voltage | 100-130 V or 200-230 V |
Further Reading and References
Would you like to know more about Apple products? Stay up-to-date with the latest Apple News. Check our blog for the latest releases, rumors, and updates in the world of Apple.
Disclaimer: The data presented in this article is under continuous development and has been manually collected from various sources based on their availability. The author of this article may revise this dataset as additional research is conducted and reviewed. Please note that the information is provided "as is" and "as available" without express or implied warranties. The author cannot be held responsible for any omissions, inaccuracies, or errors in the published information. Any warranties relating to this information are hereby disclaimed.
Last updated: September 24, 2023